Turn yourself into an emoji on your Galaxy phone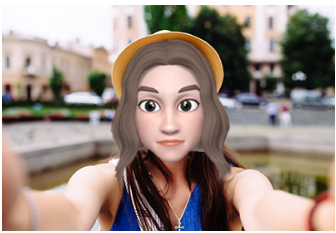 If you're always sending selfies and emojis to your friends and family, you're going to love your Galaxy phone - it lets you turn yourself into an emoji. You can even send the emoji to your contacts in Messages!
Note: This feature is only available on select phone models running Android 9.0 and up.
Create and edit your emoji
Important: On some phones, you can only adjust your emoji's fine details before you save your emoji. You cannot change those details after you've saved the final version.
When you're ready to see the cartoon version of yourself, open the Camera app and then tap AR Emoji. Tap Create My Emoji, and then, if needed, tap Allow. Follow the on-screen instructions, and when you're ready, tap Capture. Tap your desired body type, and then tap Next. Meet your very own emoji.
Is something is a little off? You can edit some of the finer details before you save your emoji. Tap the Edit icon in the upper right-hand corner, select your desired categories, and change your emoji's features as needed. When you are done, tap the check mark to save your emoji.
Personalize messages with your emoji
Why have your own emoji if you can't share it with anyone? No worries, adding an emoji to your Messages is a cinch.
Open the Messages app and create a new message. Tap the Enter message field and the on-screen keyboard will appear. Tap Stickers (the square smiley face) and you'll see GIFS of your very own avatar. Select your desired emoji, and then tap Send.
Delete emojis and emoji stickers
Note: This option is only available on select phones.
You recently changed your style and feel like making a new emoji to match your new image. If you want to delete an old emoji, feel free.
Open the Camera app and tap AR Emoji. Touch and hold the emoji you want to delete and then tap the red Delete icon. You will be asked if you want to delete that emoji's stickers. Tap Delete to confirm.
Note: Tapping Remove my emoji (or the stop icon) does not delete your emoji. It just changes the camera from AR mode to its regular live feed.
If you've made tons of emojis, your phone could be getting overloaded with stickers! Even if you delete an emoji, its stickers may still be saved in your Gallery. To save some space, you can delete some emoji stickers from Gallery.
Navigate to Gallery and then tap Albums. Tap My Emojis and then browse through your stickers. Select the stickers you want to delete and then tap Delete. To confirm, tap Delete again.
What's new on Galaxy S10, Note10, and A50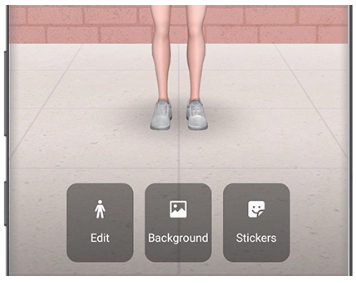 On newer phones, emojis have been given a complete makeover. They have a whole new design and more customization features than ever. First, you can make your emoji an adult or child, based on your age. There are also more options for both male and female emojis if you prefer to make your emoji gender neutral or androgynous. You can also give
your
emoji a name and edit it whenever you want. If you're not crazy about their outfit, you can download a new one from Galaxy Apps.
The coolest part is that you can interact with your emoji in the My Emoji home screen, and make your own custom stickers! After you've made your emoji, tap AR Emoji, and then tap Studio to be taken to the My Emoji home screen. Here you'll be able to access all of the customization features mentioned above.
what a hell are you doing for just two years old flagships.... what is the reason for kicking out s8/Note series from one ui 2 list....you have been forcing us to spend more money for staying with you updated... Right now we have to say goodbye to Samsung if you are not considering 8 series for one UI2
about what community......out of samsung.......
oah yeah how cam.....ok and I torn
🤗
🤗
🤗
🤗
🤗
👈
👈
👈
👍
......