It feels like my screen is having blue light filter on all of the time at full and low brightness and greenish screen coloration in mid level brightness.
I have searched for lots of solutions, but at the end the problem seem to arise from software rather than hardware. I am still using it and hurts my eye to use it all full brightness. If my eyes proves to be damaged by this full brightness SAMSUNG its your responsibility call.
I have seen community post complaining of this since 2020 few got solved by activating AOD but not for many of us. Fix this bug.
NOTE: I have contacted samsung service and they said it's issue from software issue itself and they are unsure if it will be fixed after display replacement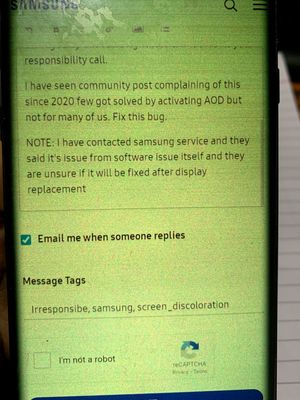 Dear Samsung member,
Greetings from Samsung customer support.
We acknowledge your query and apologize for the inconvenience caused to you and will surely assist you regarding the same. Please follow the easy troubleshooting steps which might help to solve the issue.
Check the device in safe mode: Power off the device>Press and hold the Power key for one or two seconds to turn on the device>>When the Samsung logo appears, press and hold the Volume down key.
Note: If your device functions correctly in Safe Mode, it is most likely that the issue lies with a 3rd party application that can be uninstalled to resolve the problem.
To exit the safe mode, restart the device.
Update device software: Settings >> Software update >> Download and install>>Check for software update >> If Software update available>>Download>>Downloading updates>>Install now.
Note: Your phone will restart after the update is installed.
Reset the device:
Note: Kindly create a data backup of your device via the smart switch mobile application or http://www.samsung.com/in/support/smartswitch pc suite.
Remember the Google password before resetting the device because it is required during the initial setup.
If you do not remember then advise to reset (Forgot password) the Google account.
For this; Open Gmail (https://accounts.google.com/servicelogin)>>Select forgot password>>Select "try another way" like mobile number, security question, etc.>>Select Next>>Enter a new password>>Tap on Next.
Apps>settings> general management>reset (Reset your device to its factory default settings. This will erase all data, including files and downloaded apps.)
In case the issue still occurs. We request you kindly visit the service center for a physical inspection of your device. You can locate your nearest service center with this given link: https://www.samsung.com/in/support/service-center/
Thank you for writing to us.
Warm Regards,
Samsung Customer Support.