As we near the end of November and get closer to the final month of December (yes, it's been nearly three years since the pandemic started, in case you might have forgotten!), the reality of just how quickly Samsung has been rolling out the Android 13 and One UI 5.0 update to Galaxy devices is suddenly starting to dawn on us.
Samsung's first official Android 13 release was for the Galaxy S22 series, but it has consistently added a new name to the list of devices that have received the coveted update since then. This week alone, a little over five devices have gotten the Android 13/One UI 5.0 treatment, and for anyone who cares about updates, this is the one of the best Thanksgiving gifts they can hope for.
Samsung's efforts at speeding up the update process for the gazillion smartphones it sells is impressive, that is an undeniable fact. But clearly no one expected what's happening this year! Android 13 and One UI 5.0 are on nearly 30 Galaxy devices at the time of this writing, which means Samsung could be well on track to fulfil its goal of updating every eligible phone and tablet 2023 (a goal we were told by Samsung in a recent interview, which is worth checking out.)
And while these updates have been rolling out for a few weeks, things have gotten extra busy just as Thanksgiving has come around. Coincidence? Maybe, maybe not, but one thing is for sure: Samsung's been developing a preference for delivering updates right around big holidays (mostly Christmas), and this year is no different.
Oh, and speaking of Thanksgiving and the holiday spirit, Samsung also has some pretty crazy deals on its devices as part of its Black Friday sales, which you simply should not miss out on. Just visit Samsung.com and take the reigns from there, and perhaps buy a gift or two for your loved ones!
If you're looking for new phones, we'd recommend taking a look at the Galaxy Z Fold 4 or Z Flip 4 if you prefer a fresh take on smartphones, or a Galaxy S22-series device if you want the best in a normal form factor. Over in the mid-range section, the Galaxy A53 is one of your best be. Samsung's also got discounts on TVs and other home appliances, so get your favorite items while they're hot!
Or just update your Galaxy smartphone or tablet to One UI 5.0 if the upgrade is available in your country or
for your device
. If you buy either of the devices mentioned before, remember that those big updates will come for at least the next three years after you purchase one of those devices, and that beats anything the competition in the Android sphere has to offer you.
Here is the screenshot of one ui 5.0 update
(Source:- twitter)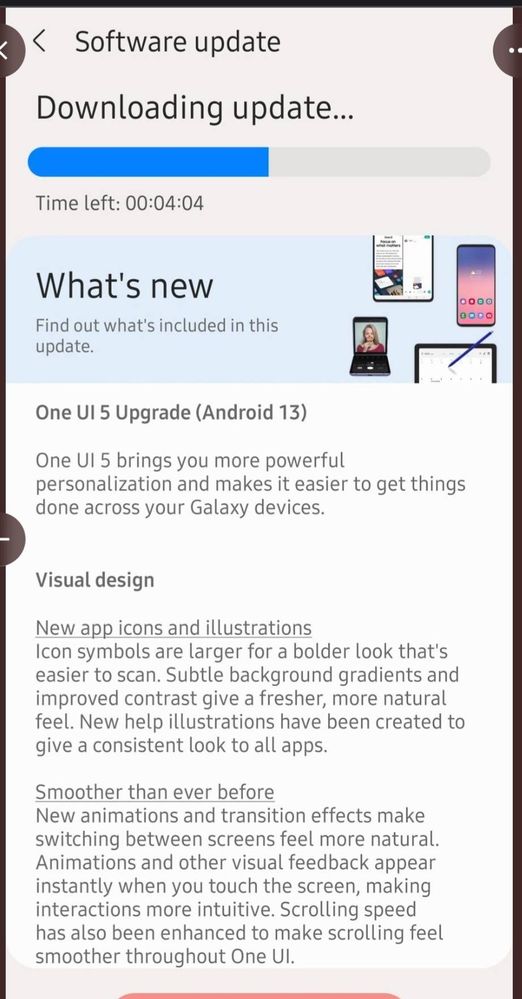 As of NOWNO UPDATE IS RELEASED FOR A52S 5G.ONE UI 5.0 WILL COME IN DECEMBER . SO PLEASE STOP SPAMMING