Options
Mark as New

Bookmark

Subscribe

Email to a Friend
Hi, I'm new here, bought my watch 4 few weeks ago. I bought this watch for few good reason and one of them is this GOOGLE PAY. I installed the google pay from the playstore, then registered all my cards, then it will work few mins to an hour then I got this error that "Can't use Google Pay, Google pay hasnt launched in this location yet." (attached photo of the error) Tried to uninstall and reinstall it then tried to use it once with one transaction and it worked. unfortunately after few mins I got this error again.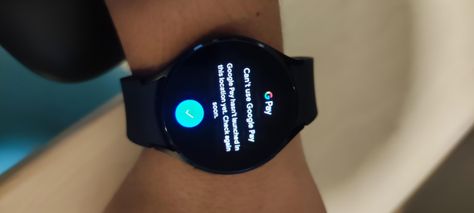 I have done all the steps of troubleshooting this issue, including factory reset, changing my country in google setting but still the same. I am currently in UAE where google pay for watch is activated and I should not be getting this kind of error.
Tried to check with the local service center, but after trying all the steps that I have already done, there answer to this problem is that I am not using a SAMSUNG PHONE. Isn't it ridiculous? they said that the country of my phone should by under UAE for it to work (which ironic since my phone is also bought from UAE) and the watch country should be in sync with the phone that's why it is not working.
I find it hard to believe that the main problem is my phone, so I posted it in reddit and the guy on reddit said he has One plus phone and his GPAY is working very well. So its not about the phone.
Did any of you experience the same thing? any thoughts on this and how can I fix this issue?
Thanks in advance!