Have you heard of it? It is one of the best features from Samsung and it's underrated too. It brings you a seamless experience between your samsung device and others.A bit like DEX.
Samsung Flow
⚪
You can use your phone from your PC or Tablet (S series)
Smart View
⚪
You can share text,media,files ... Anything seamlessly
Share anything back and forth
⚪
Sync the clipboard across devices
⚪
Recieve notifications on PC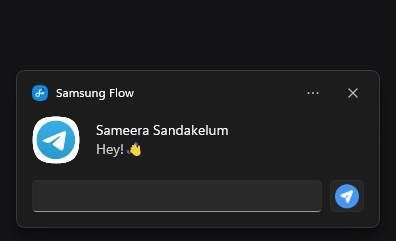 Get your notifications at a glance
⚪
Even reply to conversations!
And The best thing is... It works locally so they will never leave your local area connection... You can connect with either Bluetooth ,Wifi ,Lan or even with your USB cable and even automatically.
Also when using smart view, Your phone screen will blank so less distractions! You even can listen to the phone's audio on PC! Magic huh? When using smart view
If you are power user and need a productive tip... I'll tell you just to try it
😊
Now finally it supports almost every OneUI device!
Galaxy Store:
Windows Store:
Samsung Feature Video:
Put your ideas , experience , and more tips in comments and see ya soon!