Options
Mark as New

Bookmark

Subscribe

Email to a Friend
Need solution please. Before update Android11 my phone was perfect. But after Android11 with UI 3.1 update i couldn't give fast charge to my phone. Usually i put my phone on charge at 30%. When charge level is at 60~65% phone automatically stop from taking charging. This problem came after update. How can i overcome this problem? Please help🥺
(I couldn't find any problem in charging port & charger. It's a system problem)
Options
Mark as New

Subscribe

Email to a Friend
Let it charge till it stops(60%), then don't remove your charger. In samsung community app go to phone care>Interactive checks. Do the charging test.
If the above method is not working then drain your battery completely to zero, then don't turn on your device and keep your device for charging and check if it's charging completely or stopping in between. If not working I think you need to go to the service center.
If it's useful click 3 dots>Accept solution
👍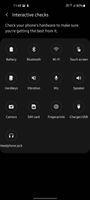 Options
Mark as New

Subscribe

Email to a Friend
Well if nothing is working then head to Samsung center they will do it for you under warranty.
Options
Mark as New

Subscribe

Email to a Friend