An exciting reward awaits at the end of this passage. Answer the question below and be a lucky winner!
User privacy, security and efficient browsing - these have always been the heart and soul of Samsung Internet! Samsung Internet browser's latest iteration- Samsung Internet 19.0 has been rolled out with powerful, cutting-edge features to help protect users from online threats while providing a smooth browsing experience.
Privacy info with Lock Icon
This new feature is an informative icon that is displayed on the web address bar, informing users about key elements like secure status of the webpage, tracking data and permissions for the current webpage.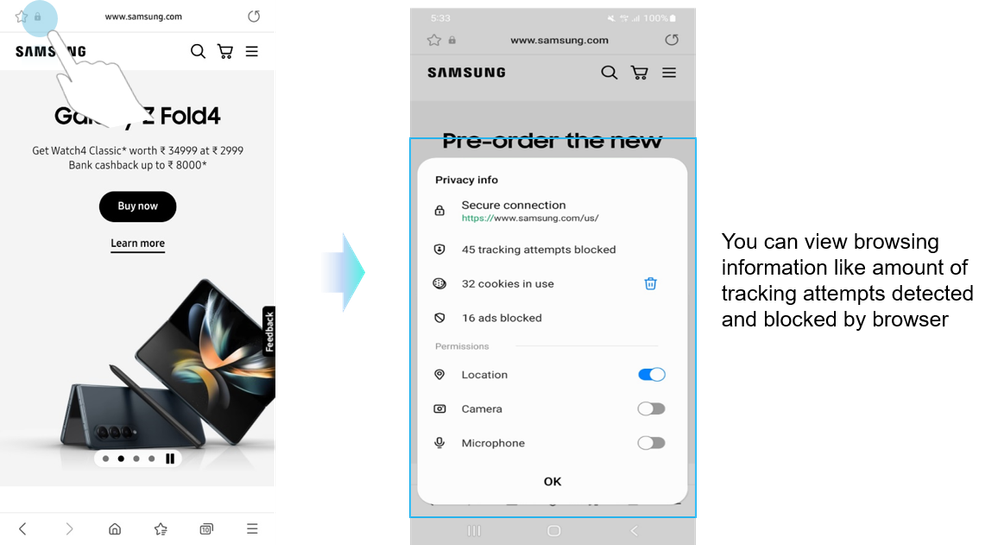 Note- Availability of on/off buttons for permissions may differ from website to website. The buttons for location, camera and microphone will be shown within 'Privacy Info' settings only for websites where users can either approve or deny each permission. Some websites may only ask for selective permissions, such as the location permission, in which case only the location on/off button will be available.
Enhanced private browsing
Samsung Internet 18.0 introduced an enhanced Smart Anti-Tracking (SAT) functionality that helps prevent cross-site trackers from getting around the tracker blocking.
Samsung Internet 19.0 takes this AI-powered function a step further and aims to detect and provide protection against domains that collude with known trackers. It also improves lookalike phishing protection to prevent users from accessing fraudulent and malicious websites.
Add-ons support in Secret mode
The add-ons menu is a great way for users to personalize and enhance their browsing experience. The feature was already available for normal browsing mode, but Samsung Internet 19.0 allows users to make use of add-ons menu in Secret Mode as well. This gives users the opportunity to personalize their browsing experience with enhanced privacy and security.
Users can now access extensions in Secret mode
Here's how this works-
Ad blocker detail page
Users can now have full visibility on how well their privacy settings are working. With Samsung Internet 19.0, users can visualize the number of ads blocked per day for the past week in the form of a chart.
Samsung Internet also allows users to access and sync bookmarks between their PC Chrome browser and Samsung Internet mobile browser. The Synchronization can be easily done by using Samsung Internet Chrome Extension.
Upgrade to Samsung Internet v19.0 now, where web engine has been upgraded to Chromium m102.
Drop us a note in the comment section for any queries or feedback and we'd be happy to assist you.
Thank you for being a part of the Samsung Internet Browser family!
Hey there.
Did you enjoy reading the article? Now, up for a quick question?
Which privacy information can be accessed using lock icon?
a) Secure connection status
b) Smart anti-tracking data
c) Cookies data
d) Ad blocker blocking data
e) All