Hi guys,
Maintenance mode is a new feature that only available on Android 13, and the idea behind it is very simple.
Since Samsung only provides the option to create multiple user accounts on tablets, it has introduced Maintenance mode to allow users to keep their data secure when they send in their phone for repairs or let someone else use it.
When enabled, Maintenance mode creates a separate user account that allows access to the core functionalities of the device, such as pre-installed apps, while keeping your pictures, videos, and other sensitive data from being accessible. It also disables the use of third-party apps, and Samsung apps that are downloaded through the Galaxy Store and any data or accounts created in Maintenance mode is deleted once the mode is turned off.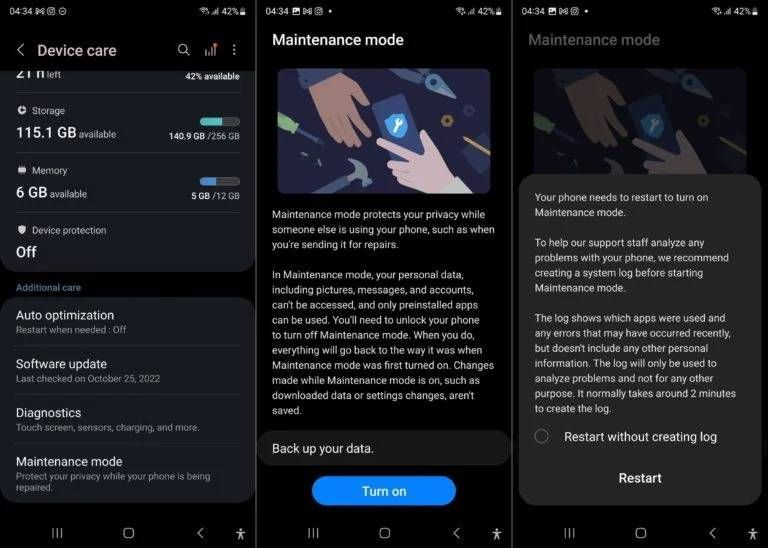 And Maintenance mode is pretty easy to turn on. Once your Galaxy smartphone is running Android 13/One UI 5.0, you will be able to find the feature in the Settings » Battery and device care section of the device. Tapping the Turn on button will restart your phone in Maintenance mode – this will automatically create a system log that helps Samsung's repair staff diagnose any issues, though you also get the option to not create a log if you so choose.
To switch off Maintenance mode, all you need to do is drag down the notification panel, and click the mode's notification to restart the phone and resume normal operation. Exiting Maintenance mode requires authentication via fingerprint or other biometrics, so you can rest assured that no one will be able to get access to your private info even when they restart the phone.
Source :- sammobile.com