Options
Mark as New

Bookmark

Subscribe

Email to a Friend
ESET security is one of the best security system & working security system on Android right now. I have been using for almost an year. And its keep giving me the best service than any other apps had given me yet.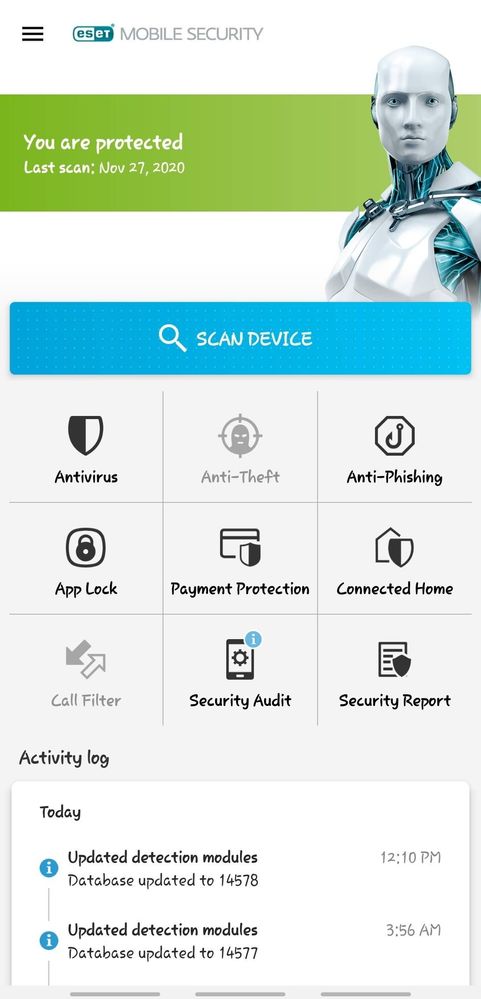 Features:
App Lock: Everyone downloads certain apps to lock their apps. ESET comes with an perfect App Lock service. You can lock your apps with Passcode, Pin Code & Fingerprint lock if you have it.
Antivirus: The antivirus constantly checks every bit of file you have. It checks the app when you download it. Also it doesn't give fake virus claims like other security apps.
Anti-Theft: The best mode for your phone's safety. It helps you lock your phone if the thief even extracts one of your sim cards & try to unlock you phone with wrong passcode. The thief can never break the wall until he puts the passcode of your account correctly. And also you can erase your file from your phone remotely through ESET website.
Note: I don't recommend this mode if you don't have wifi or if you don't keep your wifi on. Because then even you can't unlock your phone if it gets locked somehow.

Anti-Phishing: Sometimes you get malware or viruses from websites or some websites can even harm your phone, hack you front & rear camera, access your data. This features comes to save you from that risk. It will block & warn you about certain websites that can be harmful.
Also it gives you Payment Protection, Call Filter, Connected Home, Security Audit, and your all time or daily or weekly Security Report.
Also you'll need premium subscription to get almost half of these features. But the price is fair for all the protection. And most importantly it works. I'm not supposed to say this neither I reccomend this, but you can get free license keys for a month or even an entire year from YouTube eset related videos or a simple google search. Because it's immoral & then cancel the premium features suddenly so your phone can suddenly become vulnerable & someone can just snatch the phone right then.