Smart alert is perfect for those of us who aren't great at noticing when we have calls or texts to reply to – who grab their phone and keys and sling them in a bag as they rush out the door – or who just doesn't check their devices often.

With Smart alert, your phone will vibrate when you pick it up if there are missed calls or messages to view. So next time you grab your phone in a hurry, you'll know if you've missed something.

Here's what to do:
With the device unlocked, swipe down from the top of the screen to reveal the Quick Settings panel.
Tap the Settings icon. It's the cog-like symbol on the right-hand side near the date and time.
Now find Advanced features and tap Motions and gestures
Scroll down to Smart alert and slide the toggle to activate
Your device will now vibrate when picked up, to notify you of missed notifications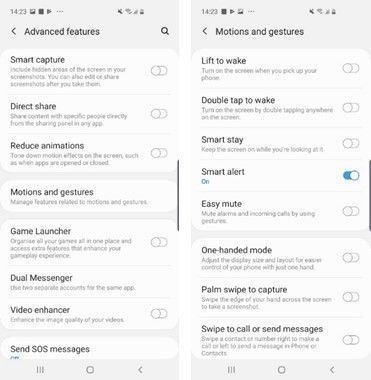 To activate Smart alert, find Motions and gestures in Settings
If you've got a tip or trick of your own to share, create a post and use "Tips &Tricks" in the title.