Samsung OLED™ implements 'Real Black' of less than 0.0005nit, the contrast ratio is close to infinity. The contrast ratio is the difference between the maximum luminance (white) and minimum luminance (black) of a display expressed by a number and is a significant factor in determining image quality as it can express the degree of lightness and darkness in detail.
With a contrast ratio of 1,000,000:1 or higher, Samsung OLED™ is the best display for realising High dynamic range (HDR) because it can express detailed, deeper and more three-dimensional images.
LCD
OLED
Reaction rate
1.5 times UP
In the 5G era, where high-spec content such as games, 8K high-resolution video, and VR/AR is increasing, the refresh rate and response speed of the display are important for smoother and more natural image quality. Samsung OLED™ is a display suitable for users who enjoy dynamic and colourful high-end contents with fast response speed and clear image quality.
OLED realises fast response speed with fast electron mobility and current driving characteristics that do not require liquid crystal. Samsung OLED™ supports a high refresh rate of 120 Hz and has a response speed of about 1.5 times faster than LCD, so you can see fast and natural movements without delay.
OLED for Samsung smartphones has obtained the "Seamless Display" certification by recording the industry's highest levels in "Blur Length" and "Motion Picture Response Time (MPRT)" in the evaluation of global certification company SGS.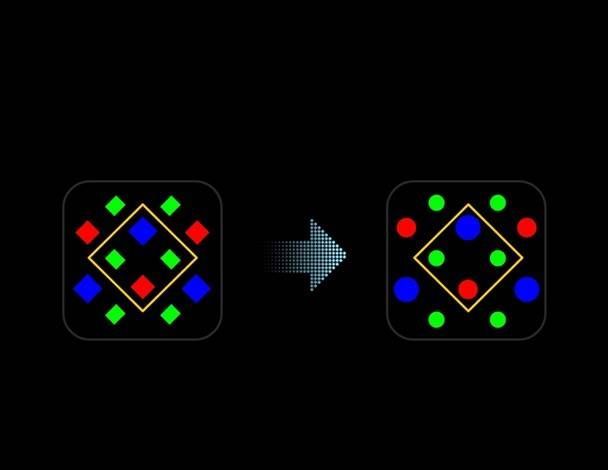 Diamond Pixel™
Round Diamond Pixel™
Diamond Pixel™ is characterized by increasing the green element and arranging pixels in a diagonal direction of 45 degrees, paying attention to the fact that the human retina is most sensitive to green among red (R), green (G) and blue (B). In particular, in the case of the text where readability is important, straight lines up, down, left and right, as well as diagonal lines are expressed clearly and precisely to realize clear picture quality.
Round Diamond Pixel™ is an image quality optimization technology that improves the diffraction control of sub-pixels compared to the conventional Diamond Pixel™, which is an angled sub-pixel.