Options
Mark as New

Bookmark

Subscribe

Email to a Friend
Hey Members,
Hope you are well and doing great.
So lately, I have gone through various posts regarding OLED panel burn-In issue in the community and many people are asking for the solution. So in this post, I will cover the whole topic of Screen burn-In issue and Image retention and how you can fix it or make yourself safe from experiencing it.
What is OLED Screen burn-In issue?
If you have or plan to purchase a TV or phone with an OLED screen, you can expect exceptional picture and color quality. One thing you may not expect, however, is for remnants of the picture to get "burned" into the display.
It is a issue where persistent exposure to bright, static image elements can 'wear out' areas of an OLED screen's organic materials faster than the rest of the screen, leaving permanent ghostly traces of static image elements behind.
How long it takes for burn-in to occur depends on a few factors, such as brightness and contrast settings, the size of the screen and the image displayed, but it's likely to take hours before any noticeable discoloration will set in.
On your TV screen, burn-in may happen when you leave the TV on a channel with a stationary image such as a logo or news feed, or if you pause the screen and forget to come back to it. Playing a video game with a constant image, such as a scoreboard or heads-up display, can also cause burn-in if you play non-stop for a long time.
As far as burn-in on your smartphone, stationary blocks such as navigation buttons and notification bars are often the main culprits. You may not notice it during normal phone use, but when the full display changes, say to watch a video, you might see a faint impression of where the camera button was — that's burn-in.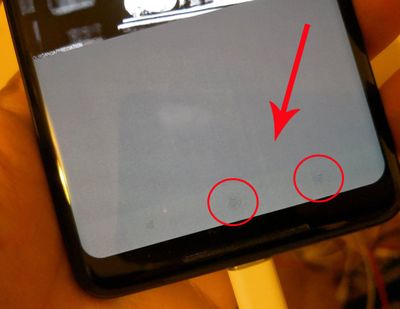 It can be of three types:
1. Light burn
2. Medium burn.
3. Heavy burn.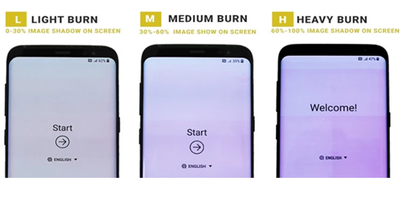 What is Image retention?
Image retention is the temporary appearance of a ghostly residue of bold static image elements on the screen. This disappears over time when you're not watching the same content that caused the retention, or when an OLED TV recycles itself when you power it down. Screen burn is permanent (or extremely long term) image retention that never disappears (or that takes weeks or months to disappear).
There is it seems to be a connection between image retention and screen burn, to the extent that image elements that cause image retention can lead eventually to screen burn. You could even see image retention as a warning that something you're watching a lot could eventually lead to screen burn, and so needs to be handled with extra care (more on this later). But the two are not the same in either their cause or the permanency of their effect.
How to prevent screen burn-in on OLED screens
The best way to avoid the distraction of burn-ins is to prevent them from happening to begin with. Here are a few measures you can take to protect your TV or smartphone from burn-ins.
1. Lower screen brightness
Go to your TV or phone's display settings and make sure brightness isn't set to max. For TVs with preset picture displays, the vivid or dynamic settings often default to the highest brightness, so you'll want to adjust the brightness when using those presets. Keep the brightness at 50% or lower to minimize the risk of burn-in.
2. Lower the screen timeout, use a black or moving screensaver
Most smartphones have a screen timeout setting. It's designed to save battery life more than anything, but it's also helpful for preventing screen burn-in. Make sure this setting is turned on and set the timeout to 30 seconds or less. If your phone display goes to a screensaver after the display timeout, choose an all-black or moving screensaver to avoid burn-in.
3. Change the screen frequently
Avoid leaving your TV on the same channel continuously, especially if there is a static image such as a logo or news feed on the screen. Use a commercial break to flip through the channels and give those pixels a break. Or if your video game has a stationary image, turn the screen off or change to a different input and display every now and then to help keep the image from getting burned-in.
How to fix screen burn-in on OLED screens
If you notice burn-in on your TV or smartphone's screen, you have essentially two options: wait to see if it goes away, or use a pixel refresher or an app to fix burn-in.
1. Give it some time
Like we mentioned before, noticing a burned-in image isn't a cause for immediate alarm. More likely than not, it's just image retention and the problem will fix itself after a few hours, just make sure to change the screen occasionally or turn it off for a while.
2. Run a pixel refresher or an app designed to detect and fix screen burn-in
For burn-in on your phone display, you can try any of the various burn-in "fixer" apps made for Android and iOS devices. Many of these apps are designed to test your phone for burn-in and run a pixel refresh or adjust your display settings so that the burn-in is less visible.
3. Try a colorful video.
Try playing fast-paced videos with lots of color changes on your device for some time.
4. Replace the screen.
If none of the above works, your best bet is to either replace the screen yourself or talk to your mobile carrier about a replacement device.
Hope it cleared all you doubts and answered all your questions.
I will be back with some more posts like this. Untill then, signing off,
MrGEEK