Options
Mark as New

Bookmark

Subscribe

Email to a Friend
Hello Samsung,
We need some more free flipfonts in galaxy store for better customization. Right now only 2 free fonts available for download. In addition compare to previous UI aka Samsung Experience we're able to apply atleast 4 different fonts (choco cooky, rosemary, cool jazz, gothic bold are all gone) but now only 2 fonts and 2 are only for optional (download) if you like. I don't understand why Samsung removed such features in next version of UI. Please don't remove customizable options instead add more for users like me.
2 Solutions
Options
Mark as New

Subscribe

Email to a Friend
as of now you can get some new font from zfont app
and now they added those font also
1. Download the "zfont3"App from playstore
👇
👇
https://play.google.com/store/apps/details?id=com.htetznaing.zfont2
2. Open it and click on "dashboard "
3. Click on "Category>English" (Samsung one ui supported fonts here only)
4. Click on specific font.
5. Download started.
6. Close zfont App.
7. Go to settings >display >font and style >set by default font.
8. Go to settings >account and backup >backup >take backup of "settings" only
9. Then in the same way restore back "settings" only
10. Then go to settings >display >font and style >and change your default font to downloaded font.
More info in this post;
https://r2.community.samsung.com/t5/Others/Zfont/td-p/6608425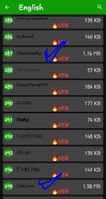 Options
Mark as New

Subscribe

Email to a Friend