I am using Samsung Note 10 and seems to have a problem detecting NFC card or tags while iPhone and Blackview are all ok.
Wonder if anyone can assist?
Have you turned on NFC from SETTINGS > CONNECTIONS > NFC & CONTACT LESS PAYMENTS?
You can also turn it on by tapping on the NFC toggle in quick settings.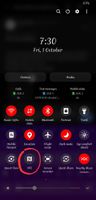 Are you using any phone case?
If yes, try without that. Also make sure, your device software is up-to-date (Also all apps from both stores).
You can also try clearing the cache and data of samsung pay app.
(Settings > Apps > Samsung pay> Storage > clear cache > clear data).
If nothing works try a forced restart too. (Press and hold the power button and volume down button together for 10-15 seconds till phone restarts and shows the Samsung logo.)
Hi,
Please bring your device to a Samsung Service Center to have it checked out my a technician and help resolve the issue.
Find the nearest service center near you online, or on Samsung.com, or by calling the call center or passing by one of the Samsung brand stores.