Hello All
I am facing issue after Ultra 22 upgrade.
Camera stop working and when i open it, it freezes, nothing work like front and back, no settings inside camera opens.
Weired part is face recognition is working to unlock the phone. Tried resetting the settings ans clear cache but still same, did anyone else face the same issue?
I already submitted the diagnostic logs to support and waiting for the updates? Its new phone just 4 months before and nothing as harsh use or falling down etc, i am worried as i dont want to go to service center which is of no use
Its shows like this, nothing worked or pressed inside cam app, galaxy store all updated. I m worried what could be the issue, have plan for vacation next week and without camera how it could be?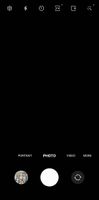 Send a error report to samsung and please run a diagnostic test again after sending the error reprot, by the samsung members app or dialing *#0*# and clicking one camera to try it out. If the three methods don't work, please visit a samsung help centre. If this thread was useful considering up-voting if helpful.