Before, there was an "upcoming alarm" notification 30mins or 1hr before the alarm time. It was useful in case u woke up earlier than ur alarm then u can just dismiss it early.. but now , that feature is goneee. You had to toggle ur actual alarm u set. which is very inconvenient coz couple of times u just forget to turn it on again to use in the next day.. its annoying.
Yes that was a helpful feature. Actually it is still there, but I think the duration is very low as you said. Today I noticed it just one minute before the alarm.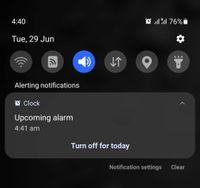 Hi,
Please bring the device to a Samsung Service Center and have it checked out by a technician.
Find the nearest Service Center to you on Samsung.com