I have bought Samsung s22 1week ago I am facing battery draining problem. Although I have done remote diagnostic and visited services centre they are telling no issue but I am very clear about battery draining issue. Will Samsung team understand my problem will they sortout??
1.Disable Always-On Display
2.Disable Unused Notification
3.Check Battery Usage
4. Clear app memory and recycle bins of all apps

Do this and they check if the problem gets fixed
1- please do not use fast charging unless it's necessary
2- turn on adaptive battery
wait for a week , your device will be automatically optimized as per your usage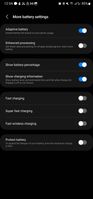 Please follow these steps:

• Adaptive Battery,
• Optimise device in device care,
• Analyse the apps that consume more battery and then sleep or deep sleep those apps.
• Restart,
• Send a error report if the issue persists.

Up-vote this thread if helpful. And mark it as a solution.