The Microsoft Outlook app on Samsung's Galaxy Note10 brings the most powerful productivity features of the Outlook email client — which you already use on your PC — right into the palm of your hand.
Ready to start taking advantage of Outlook on your Galaxy mobile device? Here some tips to get you started, from using the Focused Inbox to managing your calendar and beyond.
Setting Up Your Email in Outlook
Setting up your email in Outlook on your Galaxy Note10 is pretty straightforward:
Open the preloaded Outlook mobile app. When the welcome screen comes up, tap the blue Get Started button to begin. If you have an existing account registered on your Note10, Outlook will offer to add it for you. Otherwise, you'll just need to enter an existing email address to get started.
When you're ready, tap Add Account at the bottom right. From there, you can set up an email account from any provider, including Outlook, Live, MSN, Hotmail, Gmail, Microsoft or Yahoo. There is also a separate button in gray to add via a Google account. Type in the email address and tap Continue at the bottom right.
Now enter the account password and tap Sign In. Outlook will then show a brief message that it's authenticating your account. When it's done, you're good to go.
If you want to add another account, tap Continue at the bottom right and repeat the above steps. Otherwise, tap Skip at the bottom left.
Once you're all done, you'll see a series of welcome screens introducing Focused Inbox, Calendar and Search — all of which are covered in this article. When you're done viewing these welcome screens, tap the white check mark at bottom right to proceed.
Managing Your Focused Inbox
Focused Inbox intelligently presorts your emails, placing your most important messages in Focused and the rest in Other. When an important meeting request comes in, for example, you can RSVP right away rather than lose it in the stream of incoming messages.
To create an inbox that highlights everything you need and nothing you don't, the system analyzes the messages and contacts you interact with. It then moves spam, bulk and automatically generated emails out of your main inbox. The more you use Focused Inbox, the better it gets. You can use Focused Inbox on all your email accounts, both personal and professional.
To find an email that didn't show up in the Focused Inbox, tap on Other to see a full list. You can also easily change email classification between Focused and Other. Just open an email and select Move to Focused or Non-Focused from the overflow menu.
Sometimes Focused Inbox will notify you that it has put messages from a particular sender in the Other view. When that happens, you'll see the notification appear in a thin gray bar right below the Focused Inbox menu, just as you would on your PC. You can then quickly peek at a message that landed in the Other view.
Many people find that Focused Inbox helps them stay on top of their most important messages, especially as it learns their preferences over time. You can turn Focused Inbox off if you want to, though:
From the main Outlook screen, tap the menu icon at the top left.
Tap the gear icon that shows up at the very bottom to open the Settings menu.
Navigate down to the Mail section of your settings and toggle Focused Inbox on or off as you wish.
Filtering and Threading Email Messages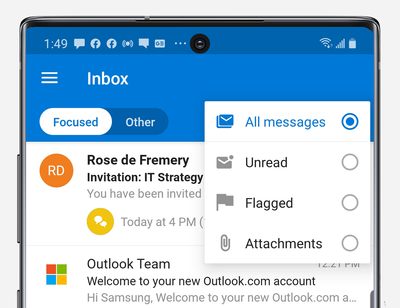 You can filter messages from within the Focused or Other inbox. To do so, tap Filter on the right side of your screen and choose to see only messages that are unread or flagged or have attachments. When you're done, tap the X to the right of the filter's name and you'll have your full inbox view once more.
Outlook threads email conversations by default, but some people may want to see each message separately. To adjust this, go to Settings, navigate down to the Mail section and toggle "Organize mail by thread" off.
Adding an Email Signature
To add a standard signature to your Outlook emails, tap Signature within the Settings menu. This will open a text editor where you can create a signature for each of your email accounts.
Navigating Your Outlook Calendar
The Outlook app features an integrated calendar that is accessed by tapping the calendar icon at the bottom right. In the calendar, just pull down the drawer at the top to navigate to another date or month. The icon at the top right lets you shift between an agenda, day, three-day or month view.
To add an appointment or event, navigate to the date you want and tap the plus symbol at the bottom right. You can add people to your event, set the time and location and even make it a recurring meeting, just like in the desktop version of Outlook.
Not only can you view your regular calendar in Outlook, but you can also customize your calendar settings, add interesting calendars and even integrate other apps like Evernote and Facebook.
Customize Your Calendar and Event Notifications
The Outlook app provides several options for customizing your calendar, from the layout to when and how alerts pop up.
Within Settings, navigate down to the Calendar section. From here, if you'd like to change the day of the week on which your calendar begins, you can tap on Week Start.
You can also tap on Notifications to view detailed settings for alert times. For example, when you tap on Events, you can choose to receive an alert for an upcoming appointment 30 minutes, an hour or even a week before it's scheduled to begin. You can also tap Sound to delve into granular settings for the sounds you want to play when calendar events happen. If you don't want to receive notifications for upcoming appointments, you can simply toggle them off. If you want your Note10 to vibrate when a calendar appointment comes up, you can do that too.
Add Interesting Calendars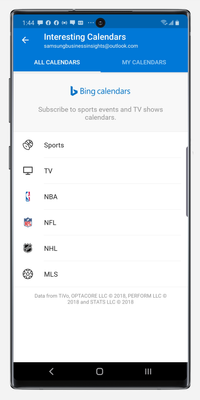 Not only can you view your office calendar at a glance in Outlook, you can now add interesting calendars that help you stay on top of your favorite sports teams and television shows. You can access calendars for all sorts of interesting sports and entertainment programming — from the NBA to Comedy Central — right on the device you use to manage your work and your personal life. These calendars can be accessed under Interesting Calendars in your Settings menu. Choose your time zone, the TV channel or sports league and the team or program you want to add a calendar marker for.
Add Calendar Apps
The Outlook calendar also allows you to integrate reminders, events and tasks from popular apps like Evernote, Facebook, Wunderlist and Meetup.
Within Settings, tap the Calendar apps menu. To add calendar reminders from Evernote, for example, you'll tap the plus icon to the right of Evernote. From there, you'll see a login screen where you can enter your Evernote login information and then grant Outlook access to your Evernote data for a specific period of time.
Search All Folders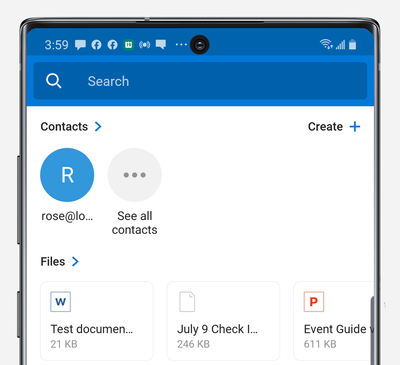 To search for an email, contact, event or file, just tap the magnifying glass icon in the bottom center of your screen. From there, you can search for anything you need. When you're done, simply tap on the envelope icon at the bottom left to get back to your inbox.
Handy AI Features and Outlook Add-ins
As you get comfortable using Outlook on your Note10, you'll notice it has some artificial intelligence (AI) features. For example, Outlook can automatically add flight information to your calendar or give you tracking info on an order headed your way. Don't worry, Outlook isn't reading your email. It's simply taking the information that arrives in your inbox and highlighting it for you within the app in an actionable way. All of these features are designed to help you get more out of your email and calendar tools, saving time in your busy day so you can stay focused on your top priorities.
If you use collaboration or productivity tools to streamline your projects, you'll be glad to know that Outlook integrates with many of them, too. To connect Outlook with Skype, Word, Evernote or another Microsoft application, go to your Outlook settings and navigate down to Explore Microsoft Apps. Tap on your preferred app and you'll be prompted to set it up on your Note10. When you're done, you'll see that they show up on your PC version of Microsoft Outlook, too.
Thank you so much for keeping us updated always ❤