In today's fast-paced business environment, smartphones have become our most essential productivity tools and are at the core of many new business transformation initiatives. So, when it comes to outfitting a workforce with mobile devices, it's tempting to look at the latest flagship phone — with the fastest of processors and minutest of bezels. But, inevitably, cost comes into play and IT decision makers are forced to consider more affordable alternatives.
Fortunately, today's midrange smartphones offer incredible performance, design and capabilities, so your team can do everything from keeping up with nonstop communications to capturing crisp photos for timely collaboration on the go.
With all the choices available and dozens of specifications to compare, how do you know which one is right for you and your business? Look for these five must-have features, from processor speed to security and beyond, to see the greatest impact for your productivity.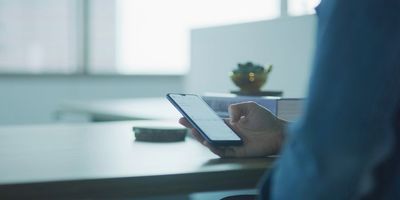 1. Speed and Storage Capacity
Speed can mean the difference between a happy customer and a frustrated one, which is why you need a midrange smartphone that doesn't sacrifice speed for price. Make sure to pick a smartphone that has the processing power necessary to run your mission-critical business apps. With enough RAM, your employees can multitask more efficiently on the go, too. That way, they can get more done in less time and your business can make a good impression with every new customer. A good starting point is 2GB of RAM, but for smoother multitasking look for 4GB onboard.
Storage capacity is also important. Few things are as frustrating as suddenly getting a notification that your phone's internal storage is full and you're unable to download a key file heading into an important client meeting. Rather than sapping your employees' productivity by making them constantly have to clear space on their device, give them the tools they need to close the deal.
Think you might need more storage in the future? Then make sure your smartphone has the option to expand its existing storage with a microSD card. For example, Samsung's Galaxy A10e and Galaxy A20 devices feature 32GB of built-in storage that you can boost to up 512GB with an optional microSD card. With this flexibility, you can get the storage you require without buying more phone than you need.
2. An Expansive Display
When your employees are interacting with customers, the size of the display they use can be critical for clearly explaining the finer aspects of a product or service. With a fuller display, for example, your team can show elegant diagrams and/or zoom in on precise details within an image, or can call up a quick tutorial video in vibrant color.
Business smartphones have begun featuring larger screen sizes over the past five years. Employees can elevate their productivity with a large 6.4-in. Infinity Display, like the one found on the new Galaxy A20, gaining a clear, edge-to-edge view of all their work. Combined with the robust processing power mentioned above, your team can work far more efficiently while on the go, confident that they have the technology they need to get the job done.
Of course, not every business role requires an expansive display. Depending on what your team is doing, you may indeed decide that a midrange smartphone with a larger screen is precisely what's called for. Alternatively, you may opt for a smaller device instead. The good news is that whatever your business needs, there's an affordable midrange smartphone to match.
3. A High Quality Camera
Many teams rely on their smartphone to quickly capture and share images and video, which is why it's important to choose a smartphone with a high quality camera system. Your employees can capture meeting notes or project areas in their entirety with an ultra-wide lens, for example, texting or emailing snapshots to their colleagues for follow-up before their meeting even wraps up.
A high grade camera system can also capture crisp photos and videos, providing colleagues in remote locations with a detailed view of everything they need to see for their work, whether it's a project site or an event space. This visual capability can help your team coordinate complex tasks across distances, keeping your business moving smoothly regardless of where everyone happens to be located. The Galaxy A50 stands out in this respect, featuring a 25MP/5MP/8MP multilens rear camera system, including an ultra-wide 123 degree field of vision lens for capturing vivid photos.
4. Built-in Security
Security is imperative to every business today, so it goes without saying that you need an affordable smartphone that also keeps your business data secure. For this reason, you'll want to select a device that has built-in security you can trust.
You'll also want to make sure that the business smartphone you choose fully integrates with a robust mobile device management (MDM) solution, allowing your IT team to easily configure your devices, access mobile security controls, apply security policies to your devices and update software across your fleet. A defense-grade security platform such as Samsung Knox, which is built into Samsung devices from the chip up, will secure your critical data as your business continues to grow.
Biometric sensors are another key security feature to consider. With the in-display fingerprint scanner found on the Galaxy A50, unlocking your device is as easy as touching the screen. Your employees don't have to sacrifice convenience and productivity for security. What's more, you don't have to sacrifice budget flexibility in order to protect your business.
5. Maximum Flexibility With Unlocked
Flexibility is key to success in today's rapidly changing business landscape, so it's important to select a midrange smartphone that gives you the freedom to work the way you want. For example, an unlocked smartphone can give your company the freedom to switch carriers when needed. This allows you to save money without sacrificing coverage, which comes in handy in the case of nationally dispersed teams.
Going no contract is also an option, letting your employees use Wi-Fi only to save on cellular data charges. This way, you can reap significant savings while still taking full advantage of mobile apps and workflows. All of these options can help you achieve a lower total cost of ownership (TCO) while avoiding vendor lock-in, enjoying maximum budget flexibility.
With so many affordable smartphones available, it might seem tricky at first to figure out which one is best for your needs. By focusing on speed and storage, display size, camera quality, security and flexibility, you can quickly identify which smartphone fits the bill. Once you've picked out the right midrange smartphone for your fleet, you can be confident that you've made the right technology investment for your business.