Samsung's mobile software is constantly getting better through different means. Galaxy smartphones and tablets get improvements through massive Android OS (One UI) upgrades, while at the same time, Samsung's first-party apps keep getting better individually thanks to smaller updates.
Samsung released one such update for its Calendar app recently. It pushes the app version to 12.3.01.1000 and adds an option to color the color brightness for events. The update is rolling out through the Galaxy Store and should at least be available for devices running One UI 4.1.
How to change the color of Calendar events
After installing the latest Calendar update, you can change the color of event tags by opening the side (hamburger) menu first, then tapping the cog-shaped settings icon, accessing "Event colors," and selecting one of the four available options: very muted, muted, bright, and very bright.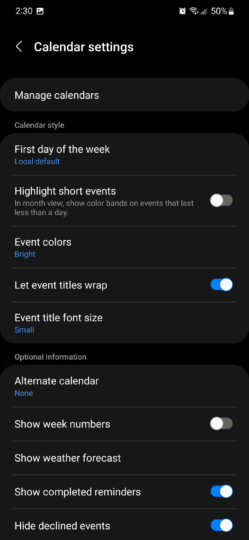 This new update adds just a visual setting for Calendar events, but doesn't have an effect on the Calendar's functionality. However, if you're having trouble noticing events or if they stand out too much inside the Calendar, now you can tweak the nuance of event labels a little bit more to your liking.
According to the official changelog, the update also adds support for Calendar widgets on the cover display of the Galaxy Z Flip 3. However, as far as we can tell, this option was already available, which could mean that the changelog might be carrying vestiges from previous updates.