Thank you for taking an interest in our products and services.
We would like to inform users about the One UI 4 upgrade with Android 12 update for our Galaxy customers.
Here is the detailed information.
Eligible Models
- Galaxy A01 (2022-To be confirmed)
- Galaxy A02 (2022-To be confirmed
* Models for which the initially scheduled update time period has changed, have been highlighted in blue.
The One UI4 - Android 12 release dates are subject to change based on the availability of software upgrades in India.
Update Completed
- Galaxy M12 (2022-Oct)
- Galaxy Tab A7 Lite (2022-Oct)
- Galaxy A11 (2022-Oct)
- Galaxy A12 (2022-Sep)
- Galaxy M32 (2022-Aug)
- Galaxy F42 5G (2022-Aug)
- Galaxy Tab A7(2020) (2022-July)
- Galaxy M02s (2022-July)
- Galaxy Tab A4 (2022-Jul)
- Galaxy A03s (2022-Jul)
- Galaxy M01 (2022-Jul)
- Galaxy M11 (2022-Jul)
- Galaxy A22 5G (2022-Jul)
- Galaxy A22 (2022-Jul)
- Galaxy A21s (2022-Jul)
- Galaxy M22 (2022-Jun)
- Galaxy M51 (2022-Jun)
- Galaxy A32 (2022-Jun)
- Galaxy Tab S6 (2022-May)
- Galaxy M32 5G (2022-May)
- Galaxy M21 (2022-May)
- Galaxy A51 (2022-May)
- Galaxy A71 (2022-May)
- Galaxy Tab S6 Lite (2022-Apr)
- Galaxy Tab S7 FE (2022-Apr)
- Galaxy M42 5G (2022-Apr)
- Galaxy M31 (2022-Apr)
- Galaxy Tab S7 Lite (2022-Apr)
- Galaxy Tab A4+(2020) (2022-Apr)
- Galaxy M52 5G (2022-Mar)
- Galaxy A52s 5G (2022-Feb)
- Galaxy A72 (2022-Feb)
- Galaxy S10e (2022-Jan)
- Galaxy S10 (2022-Jan)
- Galaxy S10+ (2022-Jan)
- Galaxy Note10 (2022-Jan)
- Galaxy Note10+ (2022-Jan)
- Galaxy Z Flip (2022-Jan)
- Note10 Lite (2022-Jan)
- Galaxy S20 Ultra 5G (2022-Jan)
- Galaxy Note20 5G (2022-Jan)
- Galaxy Note20 Ultra 5G (2022-Jan)
- Galaxy Z Fold2 5G/LTE (2022-Jan)
- Galaxy S20 (2022-Jan)
- Galaxy S20+ (2022-Jan)
- Galaxy S20 FE 5G (2022-Jan)
- Galaxy Tab S7+ (2022-Jan)
- Galaxy Tab S7 (2022-Jan)
- Galaxy A52 (2022-Jan)
- Galaxy Z Flip3 5G (2021-Dec)
- Galaxy Z Fold3 5G (2021-Dec)
- Galaxy S21 5G (2021-Nov)
- Galaxy S21+ 5G (2021-Nov)
- Galaxy S21 Ultra 5G (2021-Nov)
Providing a continued great experience is our first priority.
Update schedule and eligible models could be changed if we encounter any issues through ongoing review.
The update may also be halted for a while even after the official update, when an emergency fix is occurred.
We will notify through Samsung Members if there is any schedule or model list changes.
Thanks.
* Depending on model and country or network operator, supported functions and schedule may change.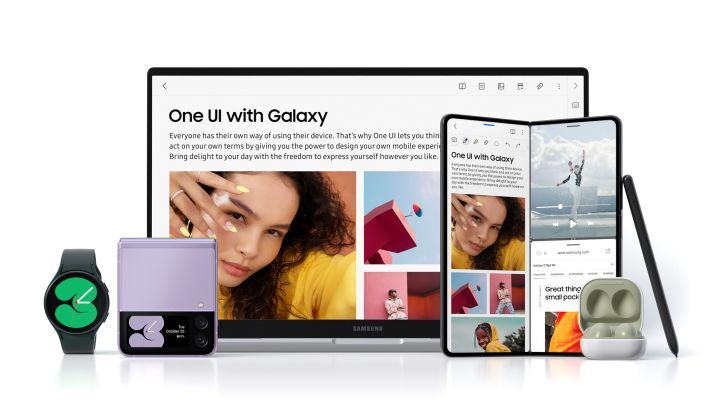 Your Galaxy, your Way
One UI 4 Upgrade (Android 12)
One UI 4 brings you a wide array of new features and enhancements for your Galaxy devices. More intuitive, more fun, more secure, and easier than ever.
Color palette
Customize your phone with unique colors based on your wallpaper.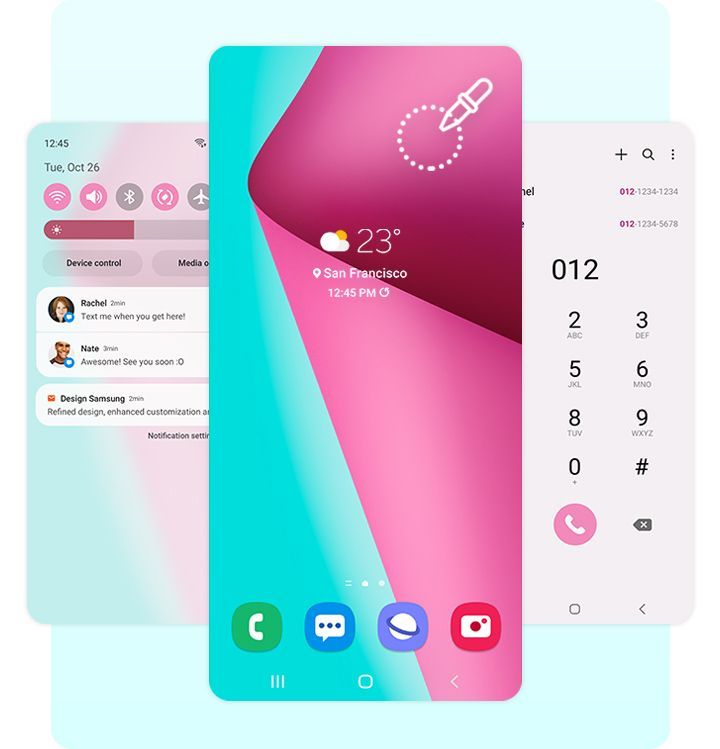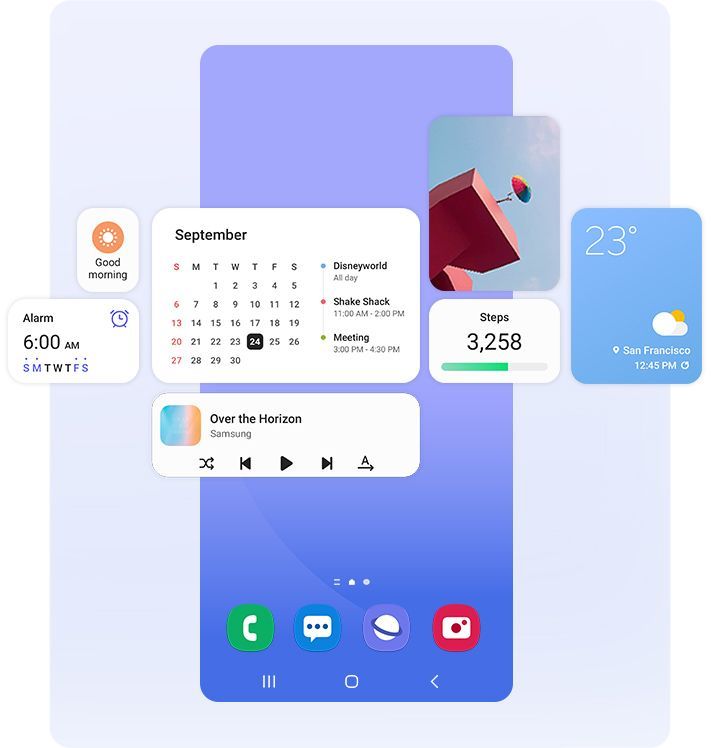 Privacy
Permission info at a glance
See when each app accesses sensitive permissions such as Location, Camera, or Microphone in Permission usage.
Camera and microphone indicators
A green dot will appear in the upper right corner of the screen when any app is using the camera or microphone.
Samsung Keyboard
Quick access to GIFs, emojis, and stickers
Get to your emojis, GIFs, and stickers directly from the keyboard with a single button.
Animated emoji pairs
Combine two emojis together, then add an animation to really get your feelings across.
Writing assistant
Keep your grammar and spelling on point with the new Writing assistant, powered by Grammarly (English only).
Home screen
New widget design
Widgets look better than ever, with info that's easy to see at a glance and a more consistent style.
Easier widget selection
Scroll through the widget list to see what's available from each app. You'll also get recommendations for useful widgets to try out
Lock screen
Listen where you want
Switch audio output from buds to speakers to your phone, all from the Lock screen.
Voice recording
Record a voice memo without unlocking your phone.
Calendar and schedule at once
Check today's schedule along with your calendar for the rest of the month on the Lock screen.
Camera
Cleaner Photo mode
The scene optimizer button only appears in Photo mode if there's low light or you're scanning a document.
Clearer zoom levels
Lens icons show the magnification level, so you know how much you're zoomed in.
Take quick videos
In Photo mode, you can touch and hold the Shutter button to start recording a quick video, then drag your finger to the Lock icon to continue recording without holding down the Shutter.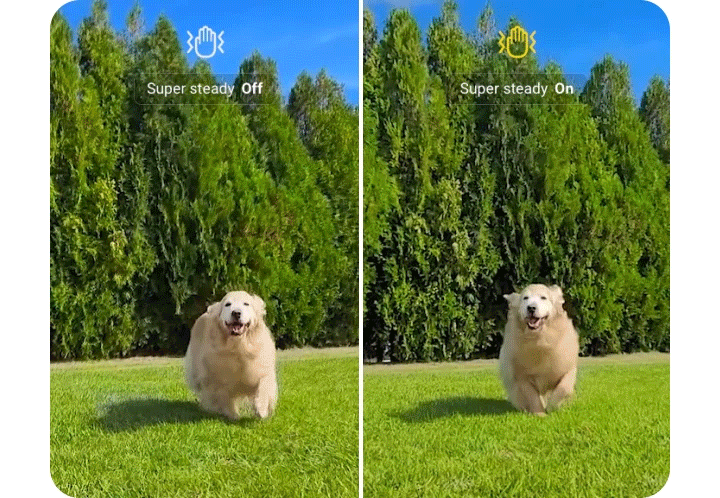 Pro photography
A cleaner look in Pro mode helps you focus on the shot, and the new level indicators help you keep shots balanced.
Gallery
Enhanced stories
Enjoy automatically created highlight videos by tapping the preview at the top of each story. You can also explore where the pictures in your stories were taken in the new Map view.
Easier albums
Sort albums by how many pictures and videos they contain. A cover image also appears at the top of the screen when you view an album.
More control over information
Change or remove the date, time, and location of your pictures to correct it or keep it private.
Photo and video editor
Emojis and stickers
Use an emoji to cover the face of a shy friend or add stickers to create fun pictures and videos.
Video collages
Make moving collages that include pictures, videos, or a combination of both.
Lighting control
The Light balance feature helps you pull out details from poorly-lit shots to make them look great.
Highlight reels
Just choose a theme, and the AI will add the music and transitions to your highlight video automatically.
Never lose the original
You can now revert both pictures and videos back to their original versions after they're saved, or save them as copies to keep both the original and edited versions.
AR Emoji
Jazz up your profile
Use an AR emoji as your profile picture in Contacts and Samsung account.
Face stickers
Pretend to be your emoji with new stickers of your emoji's face.
Dance the night away
Make your emoji dance with moves from 10 different categories including #Fun, #Cute, and #Party.
Design your own clothes
Use your own drawings to create unique clothes for your AR emojis.
Sharing
More customization
Customize the list of apps that appear when you share content to keep the clutter away and focus only on the apps you use regularly.
Easier navigation
Swipe left or right to scroll through apps and contacts when you're sharing.
Photo sharing
When you share a picture that's out of focus or not framed well, we'll let you know and give you suggestions for fixing it.
Calendar
Quick add events
Need to add something to your calendar in a hurry? Just enter a title and you're done.
Recover deleted events
Events you delete will stay in the Trash for 30 days.
Share with others
It's now easier to share your calendars with other Galaxy users.
Samsung Internet
Search from the Home screen
The new search widget helps you find what you're looking for, right from the Home screen.
Start in Secret mode
Samsung Internet will automatically start in Secret mode if you were using Secret mode during your last browsing session.
Device Care
Battery and security at a glance
Battery and security issues will appear right on the main screen so you can solve problems quickly.
Understand your phone's overall status
Your phone's overall status is shown as an emoji, so you can understand instantly.
Diagnostic checks
Access Samsung Members diagnostics from Device Care. Try the diagnostic tests to find out if your phone has a problem and get suggestions for solving it.
Samsung Health
All new design
Everything you need is in easy reach as four tabs at the bottom of the screen.
My page
Get a summary of your health stats, achievements, personal bests, and progress on the My page tab.
Challenge your friends
Starting a Together challenge is easier than ever. Invite friends by sending a link.
Bixby Routines
More conditions
Start a routine during a call, when a certain notification arrives, and more.
More actions
Turn on Enhanced processing and other features with a routine.
More control
Reorder actions by touching and holding them. Advanced options have been added to let you wait before an action starts, confirm actions, and more.
Accessibility
Always there when you need it
Access accessibility features more quickly with a floating button that's always available.
Mouse gestures
Perform actions more quickly by moving your mouse pointer to one of the 4 corners of the screen.
Adjust your screen at once
Adjust contrast and size at the same time with custom Display mode (High contrast or Large display).
Eye comfort
You can reduce transparency or blur to keep your eyes comfortable.
Extra dim screen
Turn on Extra dim for more comfortable reading in the dark.
More features and improvements
Better Always On Display
Set Always On Display to turn on whenever you get a notification.
Enhanced Dark mode
Dark mode now automatically dims wallpapers and icons. Illustrations in Samsung apps now have Dark mode versions with darker colors.
Safety and emergency menu
The new Safety and emergency menu in Settings lets you manage your emergency contacts and safety information all in one place.
Keep your eyes on the road
The new Driving monitor in Digital Wellbeing keeps track of when you use your phone while driving.
Skip an alarm just once
You can turn off an alarm just for one occurrence. It will turn back on automatically after it's skipped.
Switch from texts to calls
Tap the person's name at the top of the conversation to see their details or start a voice or video call.
More complete desktop experience
More apps are resizable in Samsung DeX. You can also change the touchpad scrolling direction in DeX settings.
Some apps will need to be updated separately after the One UI 4 upgrade.