The new normal is here, and mobile productivity is more essential to business success than ever. Whether you are a business professional busily working from home, or you're on the go keeping up with a flurry of emails, you need a powerful device to keep you constantly connected and fully productive.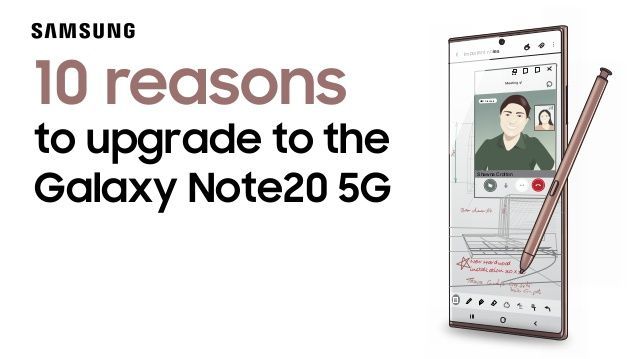 Samsung's Galaxy Note line has always been geared towards business productivity. The new Galaxy Note20 takes this to the next level, delivering a phone so powerful it does the work of a computer. From the signature S Pen and updated Samsung Notes app, to new features like wireless DeX and deep integration with Microsoft Office, the Note20 gives knowledge workers the ability to take their desktop anywhere.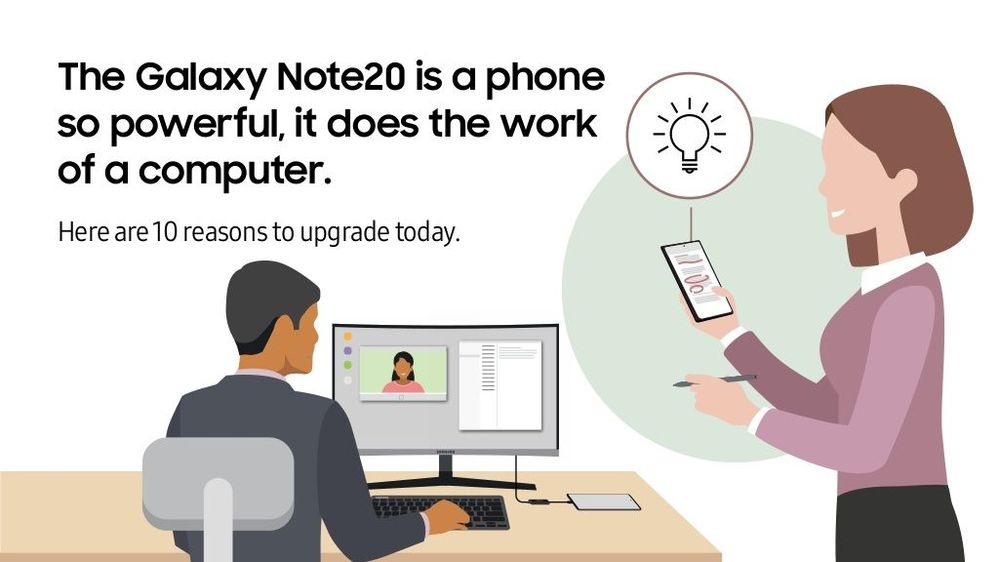 Here are 10 reasons to upgrade to the Note20 or even more powerful Note20 Ultra right now:
1. A lifelike pen-and-paper experience
As longtime Note users know, the S Pen is a modern stylus that lets you jot down notes, convert your handwriting to text, multitask and translate words while you're on the go. The moment inspiration strikes, you can capture your ideas with the S Pen and then share them with your colleagues.
The S Pen is also a powerful remote control for your phone, allowing you to advance slides from afar so you can keep the room engaged. You can even use it to remotely snap photos, capturing the moment with just a click of the button. With the introduction of the Note20, the S Pen now has four additional gestures for global actions that can be used across your apps.
There's also some significant updates to the Samsung Notes app, including the ability to create voice memos, import and annotate PDFs, and save your notes in Word, PowerPoint or PDF format. Saved notes sync across your Galaxy devices for easy reference.
2. Multitask with the best of them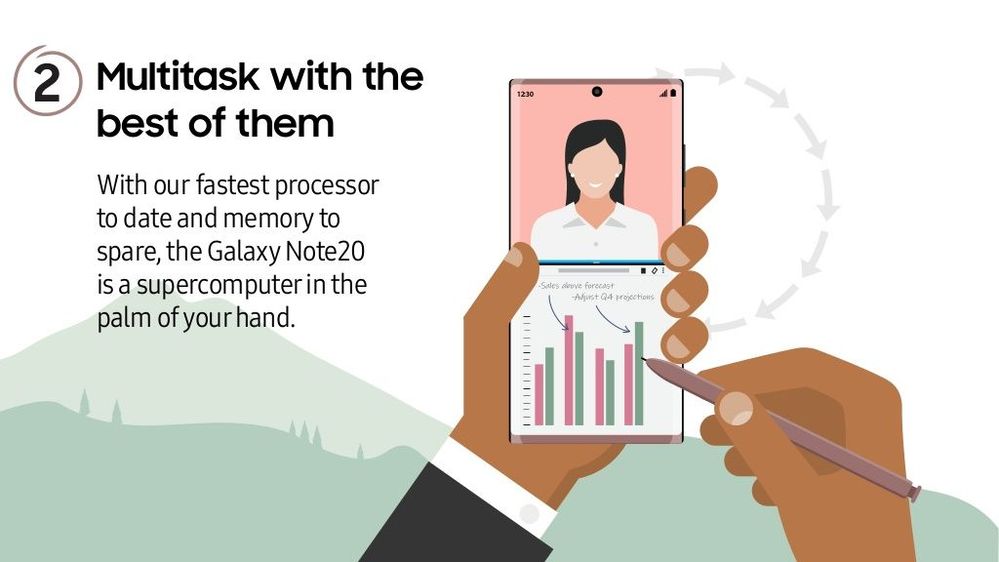 When it comes to the pace of business today, you can't compromise, and neither does the Note20. When you're putting the final touches on a time-sensitive report while joining a conference call from your home office, you need a smartphone that lets you multitask with speed and ease. The Galaxy Note20 has Samsung's fastest processor yet and memory to spare, providing you a handheld supercomputer that can support your unique work needs.
The Note20's lightning-fast processor powers you from one task to the next, and with up to 12GB of RAM you can work across multiple apps. You can catch every idea, knock out work and share all your moments without slowing down. And if you need to unwind with a gaming session at the end of a long day, Note20 can power you through that, too.
3. Samsung DeX, now wireless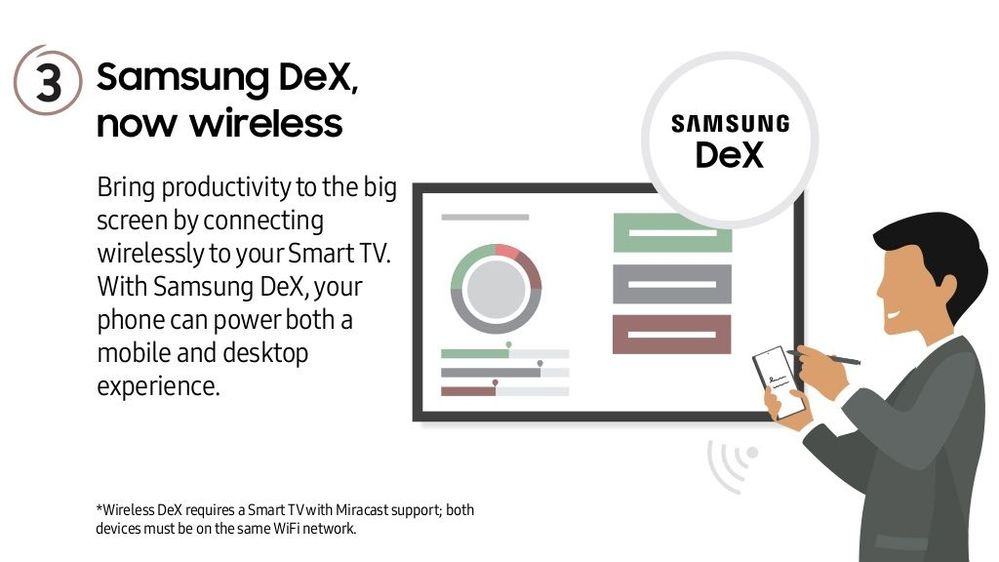 You no longer need a laptop to be productive. With Samsung DeX, your phone can power both a mobile experience and a desktop.
The original DeX allowed you to connect your Galaxy smartphone to a display using a HDMI cable, pair a keyboard and mouse with your phone and get to work.
Now, there's a new way to DeX. You can wirelessly connect your Note20 to your Smart TV, bringing all that productivity to the big screen. It's a great way to share content from your phone, whether it's a PowerPoint presentation or streaming video, on a larger display. And with the S Pen, you can remotely advance slides, or play and pause the video, with the click of a button.
You don't need any accessories to use Samsung DeX on TV, so you don't have to worry if you can't find the right cable in time for an important meeting. All you need is a TV or display that supports Miracast. Your Note20 and DeX will do the rest.
4. Office at your fingertips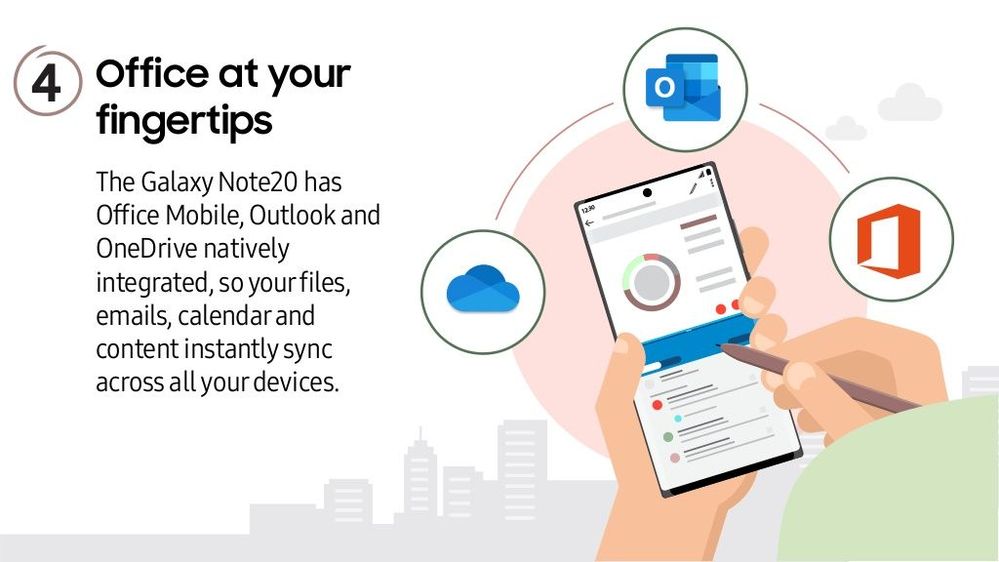 The Note20 features deep Microsoft integration, allowing you to get more done while you're working in DeX mode or on the go. With Office Mobile, Outlook and OneDrive natively integrated, your files, emails, calendar and content sync instantly across your Samsung devices.
Need to touch up a memo in Word as you're heading out the door? Just access it in OneDrive, make a few timely edits with the responsive S Pen, save and be on your way. Add annotations to PowerPoint presentations in the same fashion, all while keeping tabs on your Outlook inbox. Thanks to Samsung's partnership with Microsoft, you can perform all these important tasks on your Note20 just as you would on a PC.
5. Link to Windows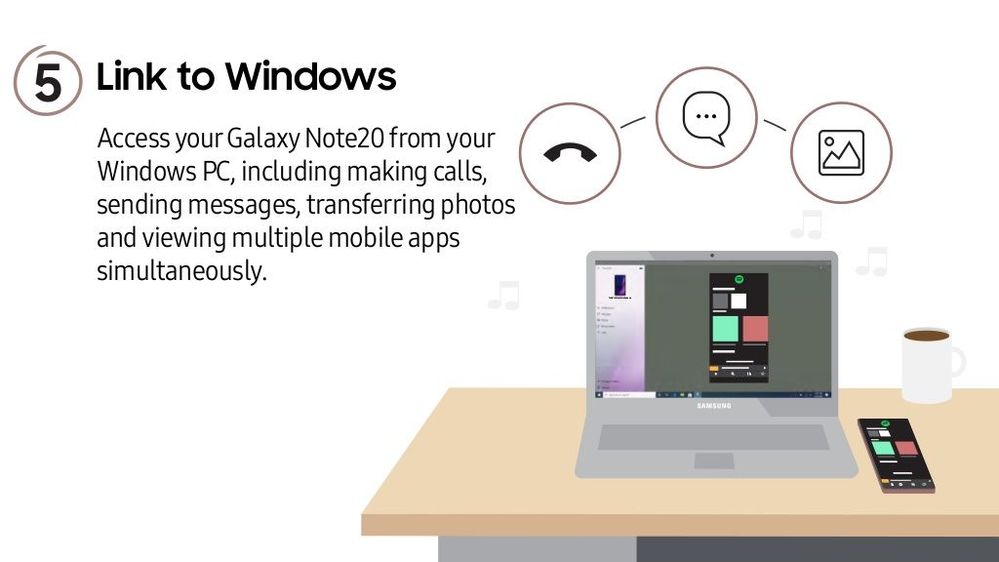 Tired of emailing photos to yourself so you can transfer them to your PC? As many Samsung Galaxy users know, there's a better way to do this. Link to Windows allows you to access your Galaxy Note20 from your Windows PC so you don't have to slow down. You can access up to 2,000 of your most recent photos and drag and drop them directly to your PC. You can also use Link to Windows to make calls, send messages and view multiple mobile apps simultaneously. It's a handy way to wirelessly access content and apps on your Note20 — right from your PC — whenever the need arises.
6. Intelligent all-day battery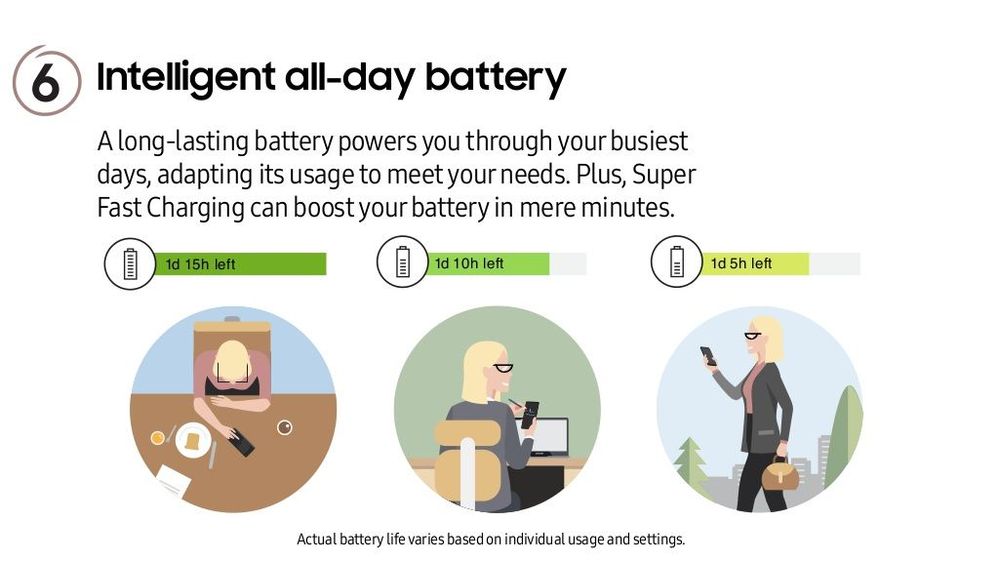 With all this PC-level productivity available on your Galaxy smartphone, you're going to need plenty of battery life to power it. Fortunately, the Note20 has a long-lasting battery that will get you through your busiest days. And it's intelligent, adapting power usage to meet your needs. Super Fast Charging boosts your battery in just minutes, letting you tackle all of those emails during the day with enough juice left over to get you through the evening too. Whether you're hopping on your last video conference or about to sign on for an evening work session, you can rest assured you have enough battery life for the job.
7. HyperFast 5G connectivity*

Your Note20 has hyperfast 5G to keep you connected to your work and the world. Stream with virtually no lag. Share and download large files in near real time. The Note20 delivers next-level speed for everything you love to do. Joining a videoconference from the road? Connect as smoothly as you would at the office or from home. The power of 5G lets you enjoy greater mobile productivity, experience more and never miss a beat. With the latest network technology in the palm of your hand, you'll be futureproofed and ready to take full advantage of all the ways work and play will continue to evolve in the new mobile era.
*Galaxy Note20 and Note20 Ultra are 5G ready. Compatibility dependent upon commercial availability of 5G network in Sri Lanka.
8. Pro-grade camera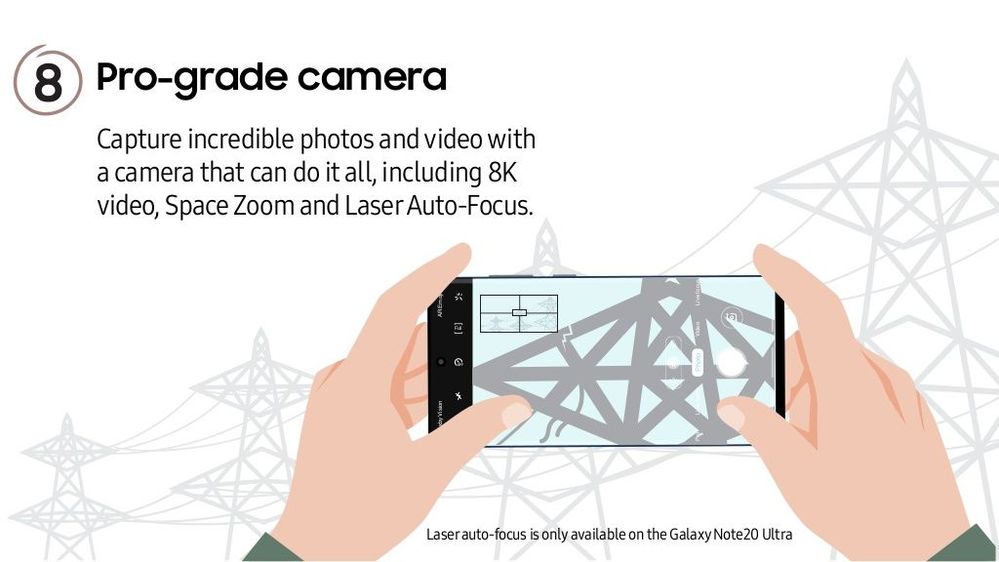 Capture amazing photos and video with a camera that can do it all, including shooting 8K video and Space Zoom. Laser autofocus on the Note20 Ultra helps keep everything looking sharp, while pixel binning technology means you can capture great shots even in low light. On Note20 Ultra, you also get a smoother viewing experience with the 120Hz Dynamic AMOLED 2X screen — double the refresh rate of your previous phone. The adaptive display automatically adjusts the refresh rate according the content you're viewing, saving battery power for when you need it most. This advanced mobile display also features low-blue light emissions, making it easier for you to get a restful night's sleep.
9. Defense-grade security
In the new normal, as you're increasingly working from home and staying productive on the go, you need to be confident that your business and personal information are secure. Samsung Knox delivers defense-grade security built directly into the device from the chip up — and it's always on, protecting your device wherever you are. The Note20's Secure Processor shields your data from even the most sophisticated hardware attacks, giving you peace of mind that your business (and personal) data is safe.
10. Made for business
The Galaxy Note20 is made for business, designed to support the new way you work. Close integration with Knox cloud-based device management solutions, paired with Samsung's expert business services team, ensures enterprise-wide mobile deployments are a breeze. You can secure, deploy and manage your devices with the Knox portfolio (licensed separately), opening you to new ways of doing business so you can innovate without limits.
One more thing…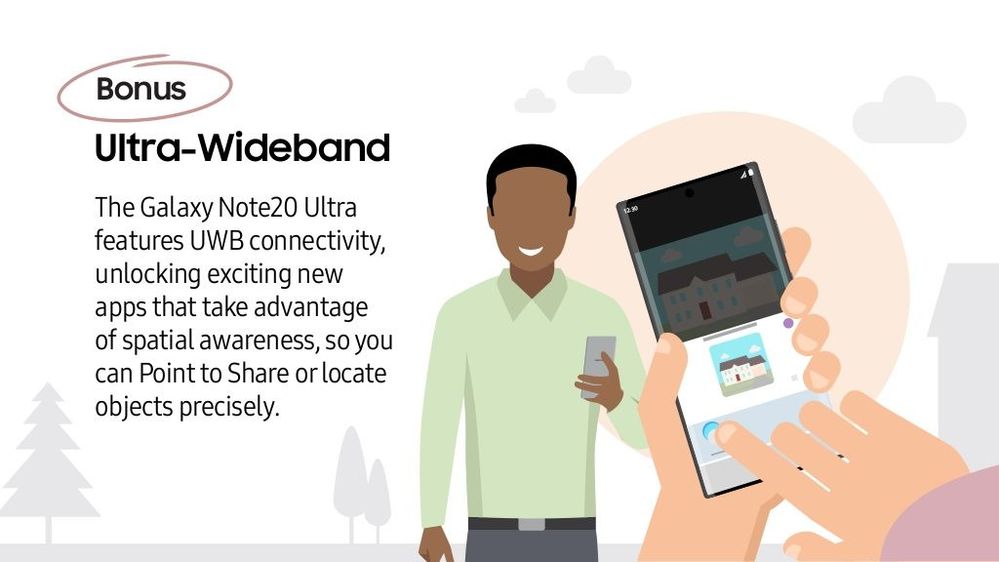 Need one more reason to upgrade? The Note20 Ultra incorporates next-gen ultra-wideband (UWB) technology, which unlocks exciting new apps leveraging spatial and directional awareness. Just point your phone to share content with other Galaxy Note20 users in a flash, or use it to keep track of what's important — whether it's your car keys or tagged items in a busy warehouse.
The Note20 puts work power in the palm of your hand. With the refined S Pen experience, rapid-fire multitasking, Samsung DeX on the big screen, deep Microsoft integration and more, you can enjoy PC-level productivity wherever your work takes you next.