Did someone get the
OneUI 4.0
for
Samsung A32 4G
Device. I didn't receive it yet. I Wanna know about it.
👋
😶
3 Solutions
Hi,
Kindly note that you will be receiving the update latest by next month cause for most of the devices it was delivered in Mind of April and for few in May and some will be receiving it june
As for the information thats on their site
https://www.sammobile.com/news/android-12-one-ui-4-1-update-lands-on-galaxy-a32-5g/
If you found my comment useful, kindly click on the 3 dots and select "Accept Solution"
Thank you so much
😊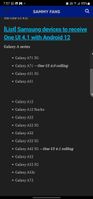 Ok so from what i was reading online, they will directly upgrade u to 4.1 instead of just 4.
The update has already rolled out for the 5G version. The 4G version should be seeing it very soon. Thats what was there for now.
I hope u will be patient
😊
If my comment helped you in any way, please consider hitting the 3 dot menu and accepting my answer as a solution.
Thanks
😊
😊
Sure bro no problem. If you have any other questions, feel free to post them here. Would be glad to help u out
😊