" Galaxy exploration
with
Levels and Badges "
Let your journey to the galaxy begin with the all-new Samsung Members Community Level and Badge!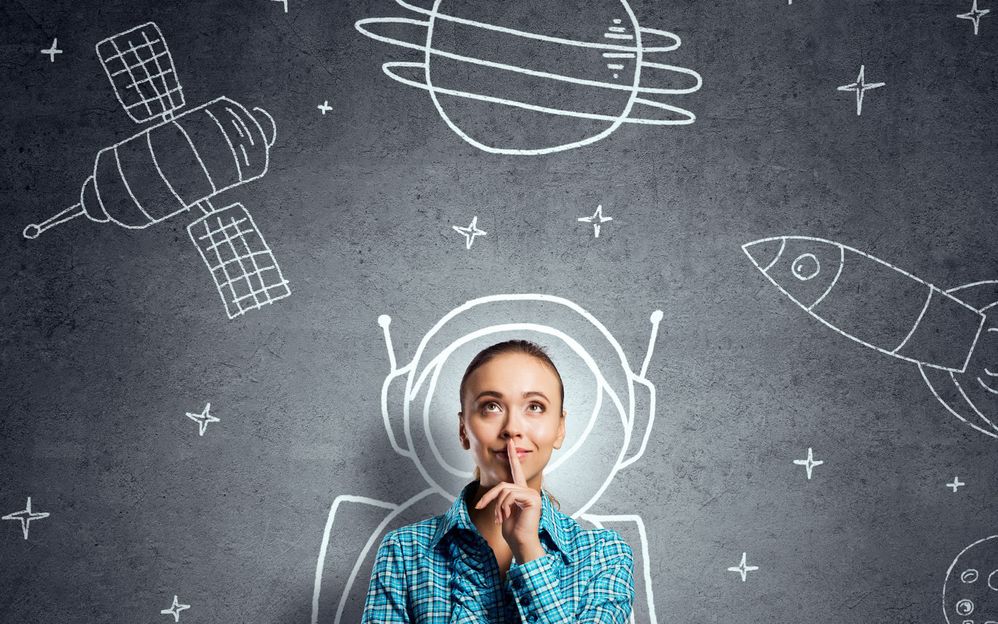 Community Level
Build experience,
one level at a time
Begin your Galaxy exploration at a Beginner level. Then, progress to Active level through
various community activities. Always go the extra mile in your exploration through providing helpful advice to become a community Expert.

Now, here's the tip on how you can reach up to the top!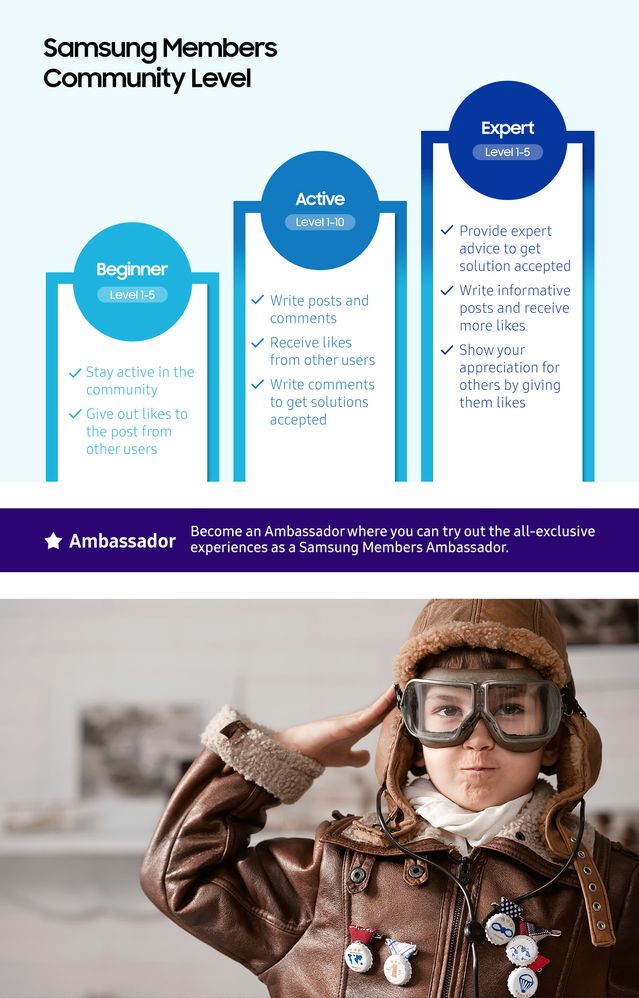 Community Badge
Special reward to
brighten your path
Collect various community badges throughout your exploration that helps you to track your progress.
※ The above badge creatives may be subject to change, depending on local circumstances.

※ Please note that Community events and Official Local/Global event badges will be rewarded to participants
attending events held after May 2019.
Pre-Launch Ops
Starting with the basics
They say preparation is half the work!

Give out as many likes, or post as many comments as the number shown on each badge to collect them all.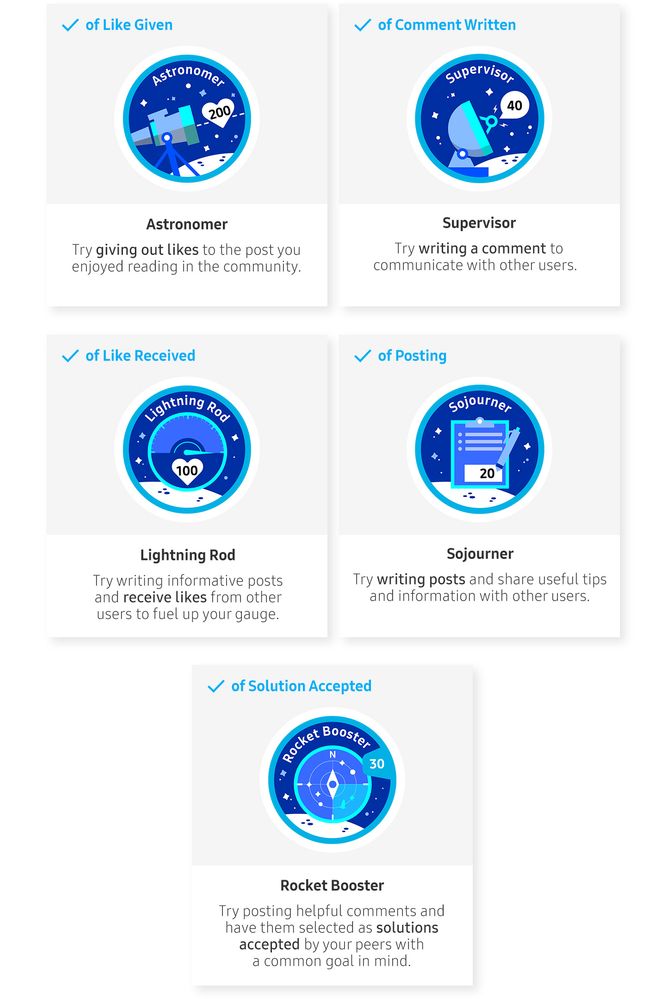 ※ The above badge creatives only shows the highest tiers of each category.
Badge creatives become more elaborate as the badge reaches higher activity number.

Into the Galaxy
Active participation
in various
community events
Launch success! It's time to explore for new possibilities. You can earn more badges by getting involved in various community events. More badges are on their way, so collect them all!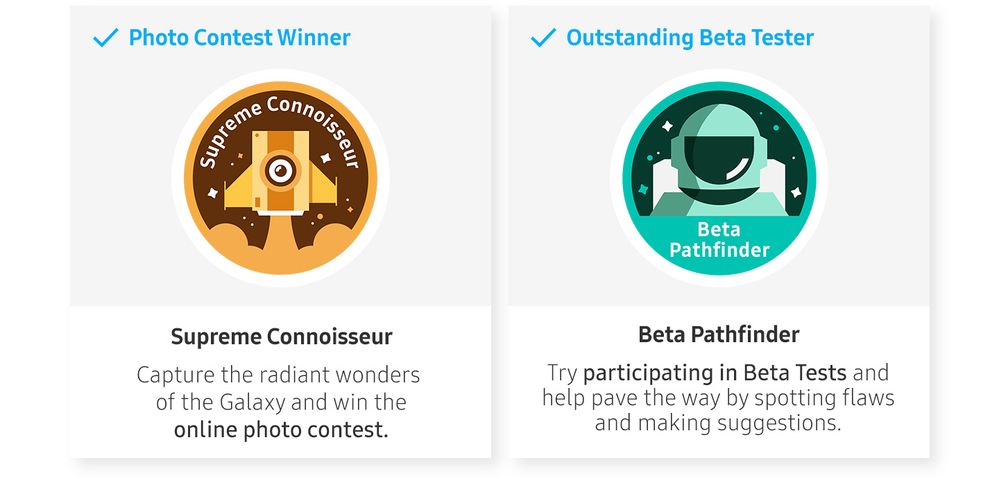 Galaxy Explorer
Official Event,
a place to meet other
Galaxy explorers
You have reached your destination!
The following badges are awarded to users invited to Samsung's official global/local events for their passionate Samsung Members activity.
Meet and greet fellow explorers at various events.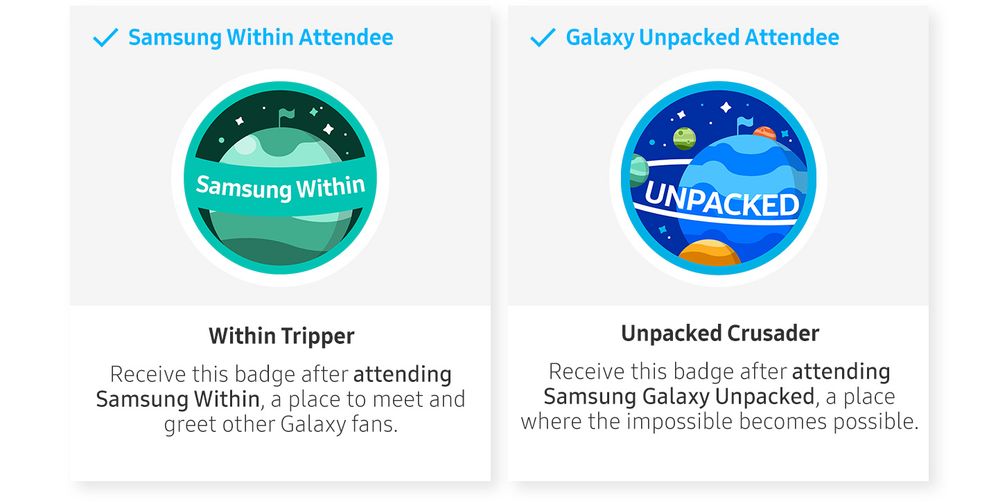 Ambassador
Creating together
a better tomorrow
This badge is awarded exclusively to Samsung Members Ambassadors for helping create a better tomorrow.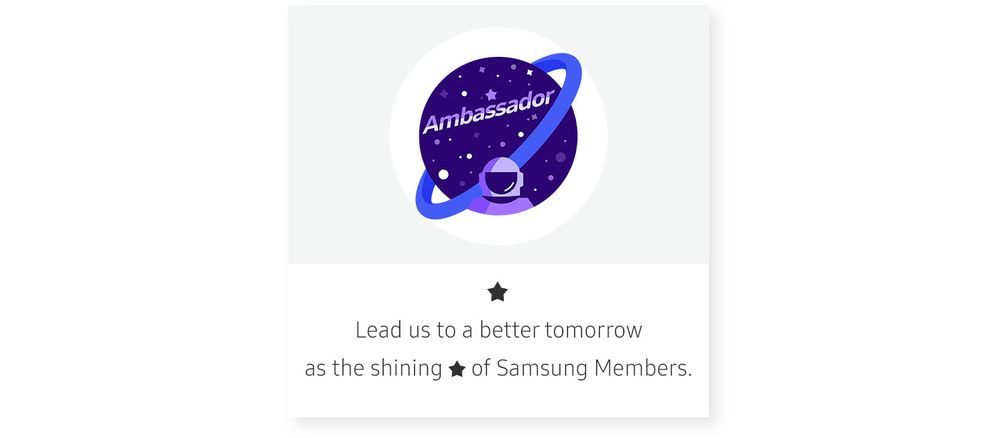 Now it's your turn!
Explore the Galaxy through active participation in Samsung Members community.
※ The above descriptions are based on Android 9.0 Pie.
Copyright© 2016-2019 Samsung Electronics
All Rights Reserved