I have locked whatsapp by fingerprint.
Today it not opening with my fingerprint
I tried to delete all fingerprints to open it, but when I try to enter fingerprint from settings, it shows me this message ( fingerprint sensor needs calibration )
I can not open WhatsApp till now
I manged to make my device open with pin . But WhatsApp not. Please help me.
Galaxy A52
This what appears when i try to open fingerprint from settings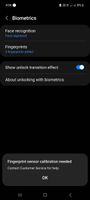 May the screen protector if you have changed recently
abdullahjalall
Hello. I'm omnia , Samsung Moderator
Thank you for asking the question
kindly follow the below steps:
On the Settings screen, Tap Display.
Activate Touch Sensitivity.
Deactivate Accidental touch protection.
Restart the device.
Register new fingerprint.
If you have any other question, can you explain it to us
We are at your service always
Thanks for your time