Options
Mark as New

Bookmark

Subscribe

Email to a Friend
Hello
How do I claim for my galaxy buds?
I had expected to get this as part of my contract and upgrade. However upon purchase I was told to claim on samsung members. The tricky part is, there's no option for free gifts on my benefits tab, help desk advised that I should send an email with invoice but still no response.
THIS IS A SCAM BY SAMSUNG TO GET YOU TO UPGRADE TO THE MOST PREMIUM PLAN
Hi, Ra2_k apologies for the inconvenience caused, kindly be advised that the Galaxy S21+ does not have any current promotions with Galaxy Buds and Galaxy watch as a purchase deal.
Options
Mark as New

Subscribe

Email to a Friend
Hi that doesn't make sense as what I bought clearly states samsung s21+ , free Galaxy buds and watch 💁‍
♂️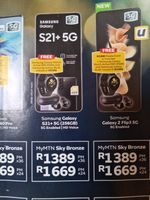 Hi, Ra2_k kindly be advised that the package should be of a network service provider the phone was purchased on, please contact the provider for further advice with the promotional package.