Whenever I connect my wired type c headphones I got notification that shows USB connector connected then within a second again shows USB connector disconnected.i checked AKG headphones with other devices it working just fine.. I'm using a 45W charger for my device is it because of that?or some other reason?how to solve this problem? Please answer!!
This what notification shows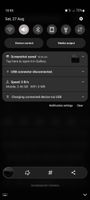 Hi there, it could be because of a faulty USB port on your phone. Check for any physical damage or corrosion, and gently clean it with a brush.
connect your phone to internet
connect headsets
accept updation of usb c firmware