Right from the beginning of the day to going back to bed at night, we spend a great deal of time on our smartphones. Be it streaming our favourite shows, browsing the web or connecting with people–it's almost next to impossible to imagine our days without a smartphone.
Technology is constantly evolving with the changing lifestyle. New networks have emerged every decade since the 1980s. How about a quick journey down the memory lane?
As obvious as it is, the journey began with 1G and the large phones that made phone calls possible.
After phone calls, came the era of 2G which offered the joy of "messaging".
Internet on mobile phones? Well, this is when 3G changed the game with access to internet on smartphones.
And it was around 2009, 4G brought a leap in data download speeds, allowing us to not only smoothly stream movies but also play video games on our smartphones.
What's next?
Enter 5G
5G is innovation at its best! It's going to change the way we consume the internet and deliver an experience never seen before. Higher connectivity, better location-tracking and IoT are just some of the things that 5G will upgrade. With a speed 20 times faster than 4G and ultra-low latency, 5G promises to reshape the future.
Let's find out what this means for you. Here's the internet revolution, brought to you by 5G!
Stream at a super-fast speed!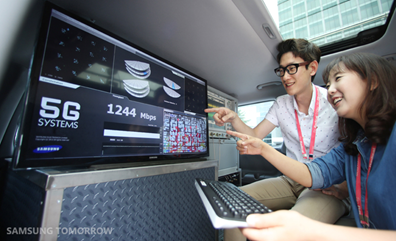 Source: https://news.samsung.com/global/samsung-electronics-sets-5g-speed-record-at-7-5gbps-over-30-times-fa...
Prepare to experience a new world of streaming. 5G aims to provide ultra-fast data speed, anywhere from 100mbps to 1Gbps so that you can watch HD videos, make HD video calls and view Augmented Reality or Virtual Reality content at a lightning-fast speed. Streaming 8K HD videos on your smartphone even in weak signal areas will be a breeze!
Catch the action, frame by frame
Frustrated during stadium games when you can't decide which detail to focus on? Now, there will be no missed moments the next time you watch a match live. 5G has enabled an era where a truly immersive sports experience is possible. With a VR headset, watch the game with any point of view and in super-crisp clarity.
Numerous cameras, drones and sensors feed live updates right into your device. You can watch what you want from any angle and can even slice the action frame by frame to see the athletes in action. With the speedy 5G, share the happiness of a victory in a jiffy. And if you can't make it to the location, worry not. A 5G supported VR headset means you get the stadium experience, even at home! Through a real-time 360 degrees broadcasting service, you can enjoy the thrill of the game right from the comfort of your couch.
Experience the new way of gaming!
Source: https://images.samsung.com/is/content/samsung/p5/global/business/networks/insights/white-paper/open-...
You know the fun of playing video games on your smartphone. But do you know the excitement of cloud gaming? No matter which video game you like, one thing is common–the need for speed. Games require ultra-fast processors, crisp displays and smooth performance for the ultimate gaming experience. With 5G, all these and more are now within reach.
Compared to PC gaming, mobile cloud gaming is a whole different ball game. It eliminates the need for hardware upgrade, making gaming affordable. What's more? You don't even need to download the game on your device! Simply connect your device to the internet and play your favourite games, anytime and anywhere. It's as easy as logging in online and getting right to playing.
What are the other services that 5G can offer in future?
In future, 5G is expected to make a huge impact on the whole industry and society beyond the lives of individuals. With the key characteristics of 5G technology, such as ultra-reliable low latency, massive connectivity and network slicing, sectors such as education and healthcare are about to undergo revolutionary changes. Some exciting 5G use cases can be checked in the below article:
https://www.cnet.com/pictures/16-things-5g-could-do-you-besides-fast-phone-downloads/22/
a) What can 5G bring to students while traditional teaching methods cannot?
Traditional passive learning method, lectures by an instructor in the classroom, will be replaced by active learning method as the student will have the freedom to decide which way he or she wants to take the class. By interacting with a virtualized character or real human teacher by AR, VR, or hologram, students can get immediate feedback from the teacher. AR or VR can visualize all the content that cannot be provided by traditional media. Dangerous, physically impossible, or extremely expensive education will be overcome by virtual training. Those could include: firefighter rescue methods, airplane piloting classes, observing the structure of a black hole in the universe or tracking marine life under the Mariana Trench, etc. 5G will lead you to a new horizon.
https://images.samsung.com/is/content/samsung/p5/global/business/networks/insights/white-paper/open-...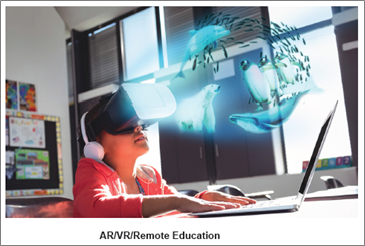 b) What difference will 5G bring about in healthcare?
Future healthcare will range from preventive medicine by monitoring and predicting potential diseases, to hospice care. For patients, 5G healthcare means tele-medicine and remote diagnosing. For doctors, 5G networks don't merely mean tele-surgery, they also provide a database of symptoms and diseases for diagnoses. For hospitals, 5G can help to decentralize the healthcare model.
During a surgery, stable, fast and near zero latency signal transmission is a must. Any latency in the transmission will lead to medical accident. Moreover it is almost a certainty that robots will not replace doctors in the near future, however, they will be powerful assistants for diagnoses, to set doctors free from the simple, repetitive and time-consuming work. A simple example would be a properly trained AI that can read hundreds of MRI photos to make a rough diagnosis about tumour size and location. Also, by reading the images of a retina, AI can help doctors to diagnose some vision-related diseases such glaucoma and macular degeneration. The low latency offered by 5G can pave the way for such use cases in the future.
https://images.samsung.com/is/content/samsung/p5/global/business/networks/insights/white-paper/open-...
5G x Samsung
Experience the speed and power of 5G with Samsung!
Right from the start, Samsung has been at the forefront of 5G technology. As far back as 2009, Samsung started its pioneering research in 5G. Collaborations are at the core of innovation and in 2015 Samsung established the first ever pre-5G spec in collaboration with Verizon and KT telecom operators. The first 5G demo came not long after during the Pyeongchang Winter Olympics in 2018. And finally, in 2019 Samsung announced the Galaxy S10 5G–the world's first commercial 5G smartphone.
5G technology continues to grow at an ultra-fast pace and Samsung continues to bring the 5G revolution in the palm of our hands, with one Galaxy device at a time. Are you ready to take the leap into the future with Samsung today!
5G Reading Links
- ITUT- 5G Vision :
- Samsung 5G White paper : https://images.samsung.com/is/content/samsung/p5/global/business/networks/insights/white-paper/5g-vi...

- Samung 5G Devcices Line up : https://news.samsung.com/global/the-power-of-5g-up-close-with-samsungs-expansive-line-up-of-galaxy-5...

- Interesting 5G use cases : https://www.cnet.com/pictures/16-things-5g-could-do-you-besides-fast-phone-downloads/22/
Disclaimer:
5G speed and latency numbers are for reference and comparison purposes only, the actual 5G speed and latency in India may vary.
Samsung 5G Devices compatibility depends upon 5G network availability in India