Imagine you are buying groceries from a nearby shop, and are in a hurry to reach home before it starts raining again. You decide to make a quick payment by scanning the QR at the table. Instead of opening an App and searching for the QR scan option, now you can make the payment by scanning QR directly via Camera or Quick Panel!
From Camera:
From Quick Panel:
Steps to make a payment with Camera/QR Scanner in Quick Panel
1. Ensure your phone has the latest software update installed
* Feature coming with software update, list of currently compatible models available at the end of this article
2. Open Camera and scan the payment QR
* works with UPI and Paytm QRs
3. Select the option to Pay with Samsung Pay or Samsung Pay Mini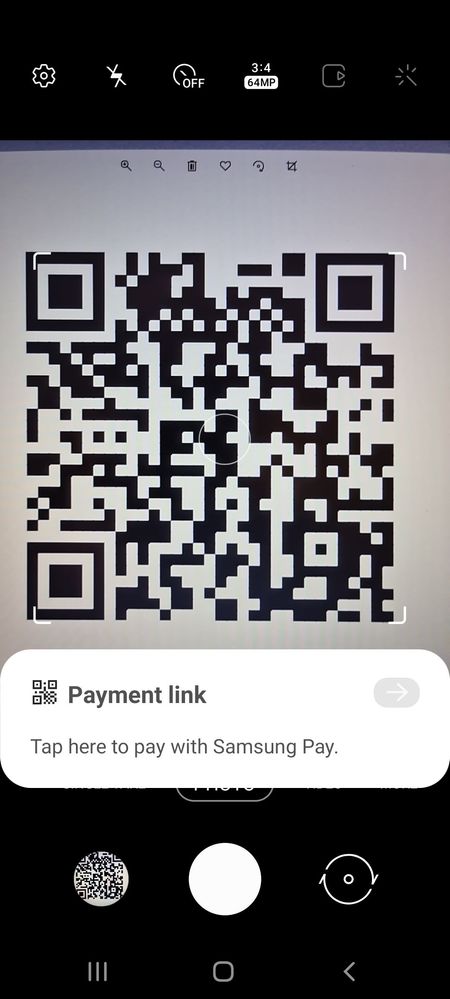 4. Complete the payment by entering the amount & UPI PIN!
So finish your grocery shopping quickly, and try out this new feature!
Feature live in:
Galaxy A22
Galaxy A30s
Galaxy A31
Galaxy A32
Galaxy A50
Galaxy A51
Galaxy A52
Galaxy A52s 5G
Galaxy A70
Galaxy A72
Galaxy F22
Galaxy F41
Galaxy F62
Galaxy Z Fold2 5G
Galaxy Z Fold3 5G
Galaxy M21
Galaxy M21 2021
Galaxy M30s
Galaxy M31
Galaxy M32
Galaxy M42 5G
Galaxy M52 5G
Galaxy Note 10
Galaxy Note 10 Lite
Galaxy Note 10+
Galaxy Note 20
Galaxy Note 20 Ultra 5G
Galaxy S10
Galaxy S10+
Galaxy S10e
Galaxy S20
Galaxy S20 FE
Galaxy S20 Ultra 5G
Galaxy S20+
Galaxy S20FE 5G
Galaxy S21+ 5G
Galaxy Z Flip
Galaxy Z Flip 3
*Google Play store, Chrome and HDFC Bank are the registered trademarks of Google and HDFC bank respectively.