Samsung Keyboard is loved and used by more than 580 Million users. These worldwide users have diverse needs and exhibit unique behavior. From communicating with family & friends to shopping online, the keyboard is vital to all their daily interactions with the smartphone.
Based on the insights from user interviews, Samsung Keyboard has introduced several features to address their pain points and delight them beyond their expectations. These features assist users not only in typing fast and accurately but also in being more creative and productive.
With support for over 470 Global and 40 Indian languages, Samsung Keyboard offers an enriched typing experience by empowering its users to skip the tedious, express effortlessly and enjoy maximum convenience at their fingertips.
SKIP THE TEDIOUS
Talking to users revealed that they spend a significant part of their day texting, writing emails, taking notes, engaging in social media, making online purchases and more. However, the speed of these interactions is impeded by mandatory and repetitive steps. Samsung Keyboard promises to make life easier by understanding user needs and offering the following easy-to-use features :
Intelligent OTP Suggestions
While transacting online, do you feel anxious about entering an OTP as fast as possible to avoid a timeout? Well, no more worries!

Samsung Keyboard suggests the received OTP for a hassle-free one-tap input experience. Trying to read notifications or going to the Messages app to retrieve OTP will now be a thing of the past. Samsung Keyboard will magically display the OTP right when you need it!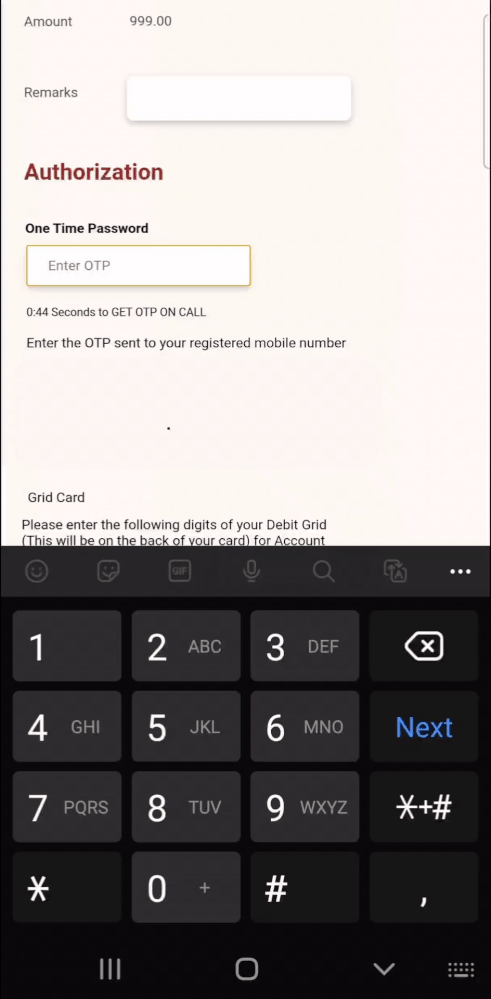 Smart Paste
Do you often take screenshots to share with others? Do you copy text from one app to share or save on another app? For instance, while reading articles, you might like to copy important information and save it in Samsung Notes. Sadly, copying and pasting manually every time gets quite annoying.

Understanding that you might want to use this across apps, Samsung Keyboard provides the copied text or screenshot as a suggestion for a single tap pasting experience.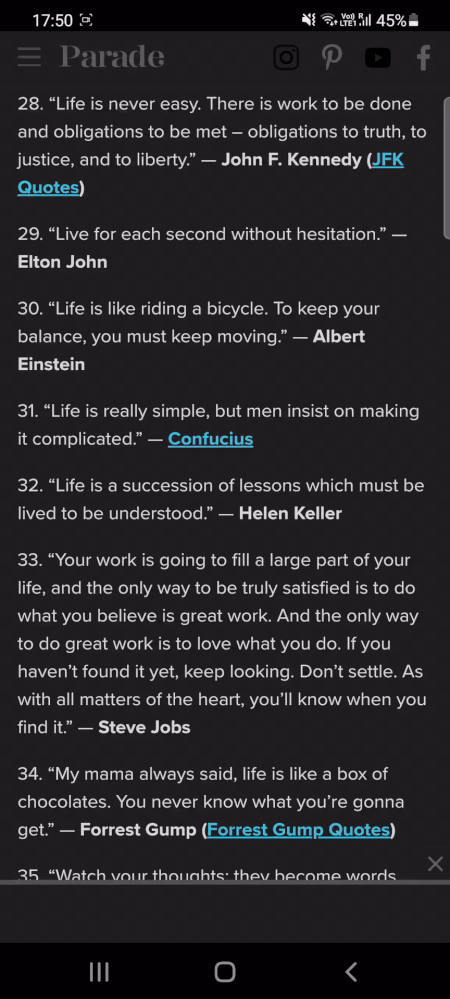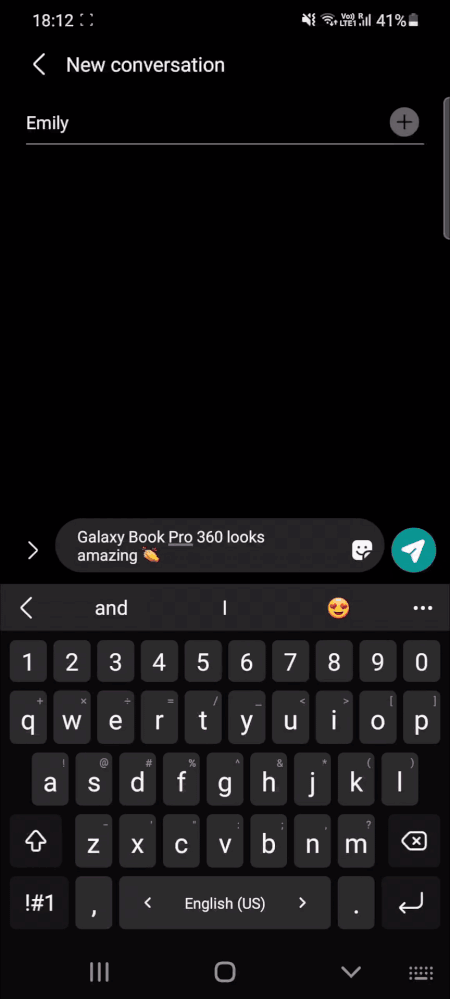 EFFORTLESS EXPRESSION
Users expressed that they love texting and are always looking for ways to be more artistic and more multilingual in their daily conversations. To embellish everyday chats with delightful props and eventually speed up texting, Samsung Keyboard offers the following exciting features :
Contextual & Personalized Emoji and Sticker Suggestions*
Let's be honest! Chats are boring without Emojis, Stickers and GIFs. However, the struggle to find the right one for a particular situation is no fun.

Imagine you are sending "Congratulations" to a friend but you just can't find the right sticker to go with it. Samsung Keyboard resolves this problem with real-time emoji and sticker suggestions depending upon on the context of your conversation. It also suggests exciting emojis & stickers, based on the symbol emoticon you type on a chat.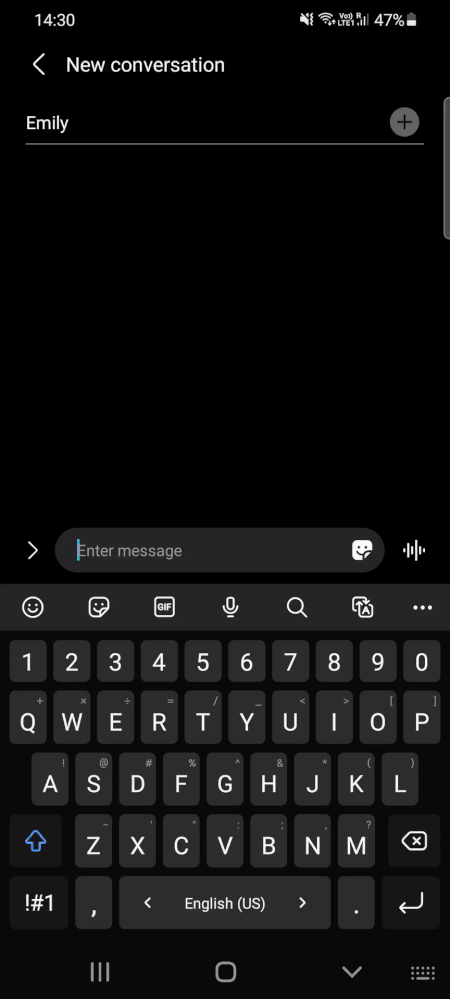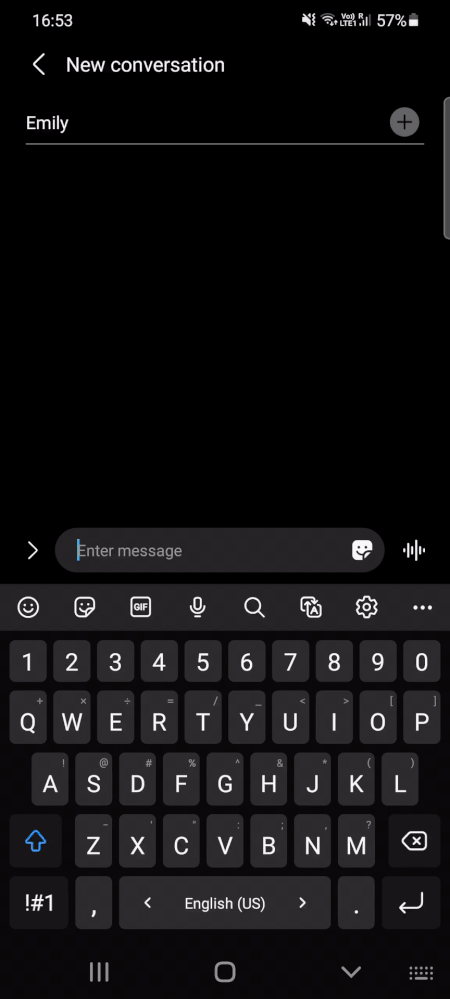 Emojis not only express your emotions, but they also represent your style and personality. For instance, when you wish someone "Happy Birthday", you always send a combination of birthday cake, confetti and party face emojis. You change the skin tone of a Thumbs Up emoji every time before sending it. You want to maintain your unique style, but it's painstaking to do this every single time.
Samsung Keyboard learns and personalizes emoji suggestions for you based on the emojis you frequently use together or the gender and skin tone emoji variants you prefer.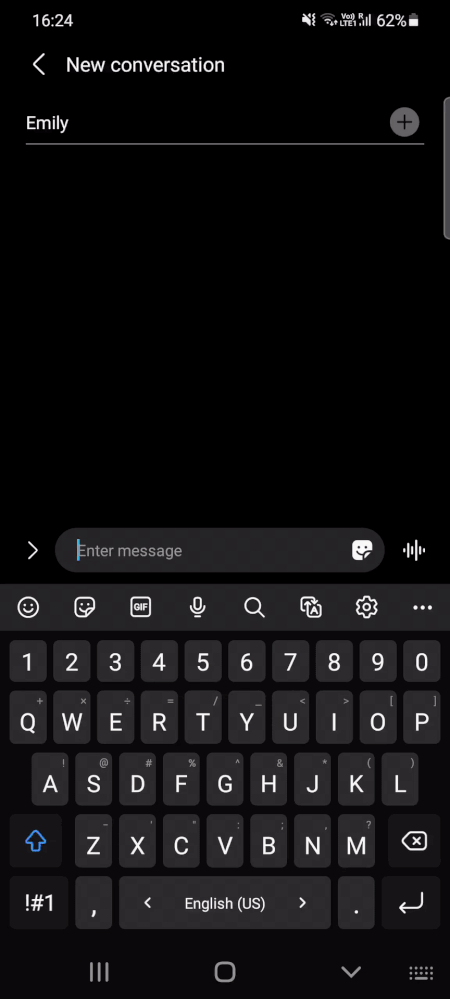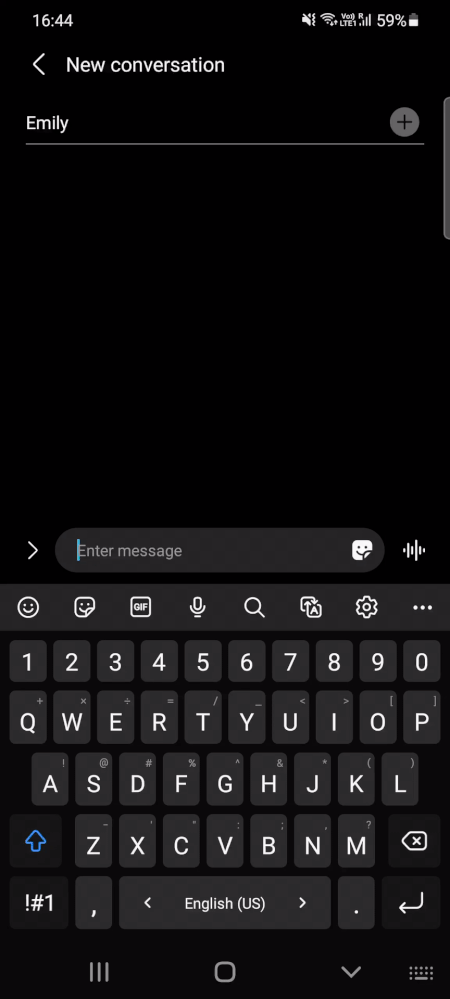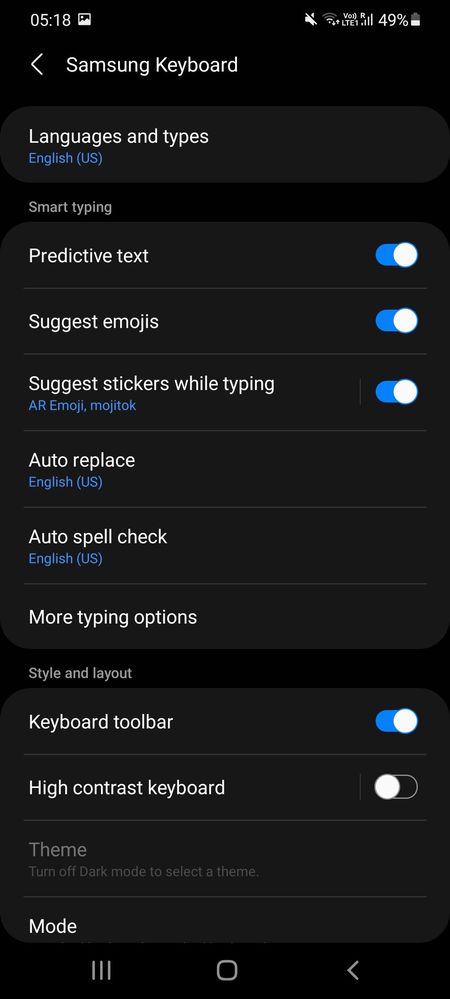 * To receive Emoji and sticker suggestions, go to Samsung Keyboard settings and enable "Suggest emojis" and "Suggest stickers while typing"
GIFs, Stickers and Emojis Search
Everybody wants their GIF game to be stronger, faster and quirkier than others, especially in group conversations. You want to react to a lame joke with the most sarcastic GIF. You know that you want to "smirk" in that moment, but how are you supposed to find the best GIF to express that without scrolling endlessly for minutes?

Samsung keyboard lets you easily search & share GIFs, Stickers and Emojis. Simply tap on the search icon in toolbar and type a keyword to receive related search results across these categories.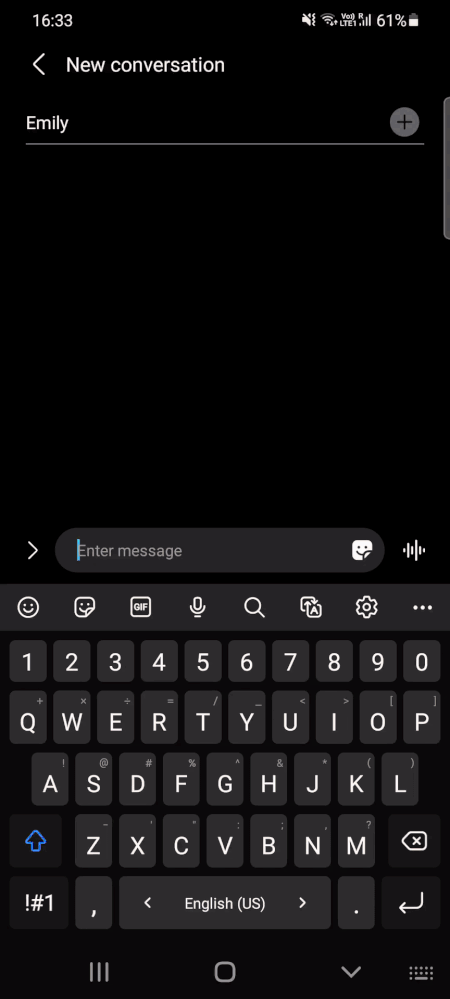 Multilingual Typing*
Do you find it difficult to type Hindi words with an English Keyboard? For instance, if you type "Hey. Kya haal hai? Chal aaj milte hai", keyboard will autocorrect many Hindi words to closest English words. And then, you will have to manually correct those changes. Also, when you start typing words in your native language, you may not find relevant suggestions for your next word. Hence, it ends up taking much time and effort to type a simple message.
Samsung Keyboard supports Multilingual Typing where you can easily use a combination of words from both - your native language and English while typing a message. It will understand the language you are typing in and provide suggestions in the same language.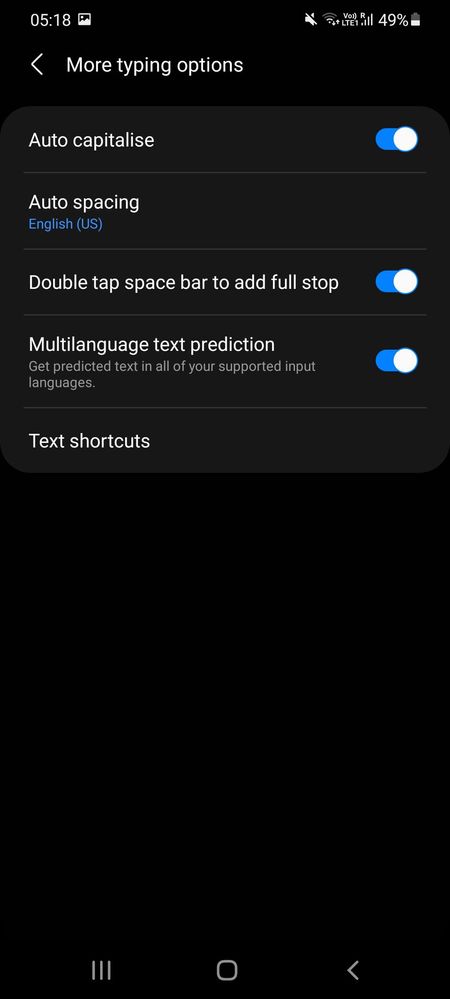 * To use this feature, go to More typing options in Samsung Keyboard Settings and enable "Multilanguage text prediction"
MAXIMIZED CONVENIENCE
Users admitted to being engaged in texting, composing emails and writing posts on social media throughout the day. For seamless experiences, they want these activities to proceed uninterrupted by mundane and inconvenient steps. Samsung Keyboard caters to this need through the following extremely helpful features :
Universal Search
Want to share a YouTube video with your friends while chatting with them? Now do this from the convenience of your keyboard, without exiting the chat or opening multiple apps.
Using Samsung Keyboard, you can search for content on YouTube or Netflix, and share with your friends right from the keyboard without switching between apps. In addition, you can also search for contacts, images in gallery or saved information in Samsung Pass. To use this feature, tap on search and then related icons in the toolbar.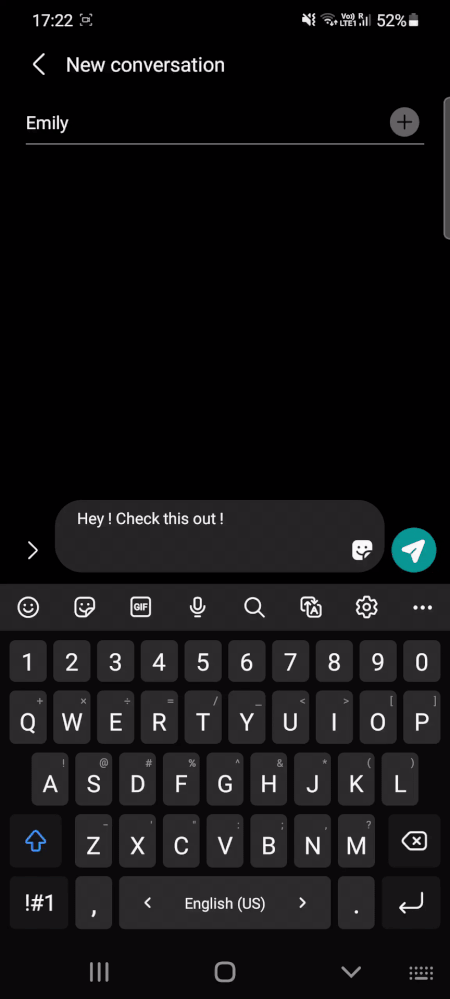 Translation in Keyboard
Suppose you are chatting with a Spanish friend and want to communicate in her language. Normally, you will have to rush to translate your messages online before sending them on the chat. Not anymore !
With Samsung Keyboard, you can easily translate and switch between languages without interrupting the ongoing conversation. Translation is available in the keyboard itself. To use this feature, just tap on the "Translate" icon in the toolbar.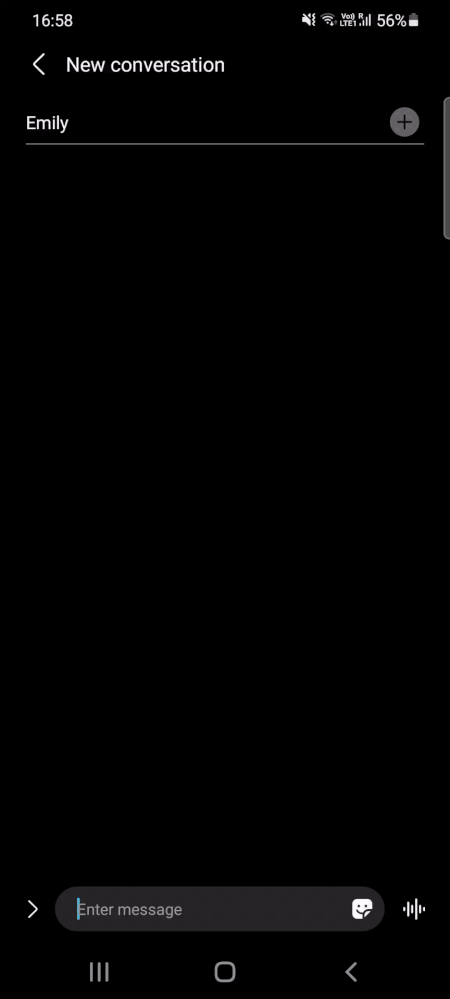 Undo Redo*
Imagine you are sincerely writing an email and you accidentally erase a whole paragraph! Though you try to figure out what just happened, you are worried about having to re-write the whole thing.
Samsung Keyboard lets you correct your mistakes effortlessly. With a left or right swipe on the keyboard with two fingers, you can instantly undo or redo your changes. So, the deleted paragraph can come back with just a swipe gesture.
*To use this feature, go to "Swipe, touch, and feedback" in Samsung Keyboard Settings, and set Keyboard swipe controls to "Cursor control"
Please Note : Your privacy is valued immensely at Samsung. Therefore, the intelligence applied for all these features remains entirely on your device assuring that you can use them without any privacy-related concerns.
Samsung Keyboard promises to elevate your typing experience to the next level. We will keep bringing more exciting features for you. Stay Tuned!
If you already use & love these features or cannot wait to use them, please leave a comment below.
Supported OS versions :
Intelligent OTP Suggestions, Personalized Emoji Suggestions (gender & skin tone) - One UI 3.1 & above ; Smart Paste, Emoji Combo Suggestions, Multilingual Text Predictions, Universal Search - One UI 3.0 & above ; Translation, Undo Redo - One UI 2.5 & above ; Real-time Emoji Suggestions, GIF and Sticker Search – One UI 2.1 & above ; Emoji Search – One UI 2.0 & above