Samsung Internet believes in enhancing the user experience, privacy and usability with each upgrade. We have a lot of exciting features ranging from URL bar at the bottom to web engine upgrade in store for our users with our latest update. Check out a quick overview of the latest offerings below.
Move URL bar to bottom
To improve accessibility of search, we have introduced an option to move the URL bar to the bottom of the page. You can choose the position of the address bar as per your convenience.
To change the position of the address bar, go to More -> Settings -> Layout and menu -> Address bar position and select the desired position (Top or Bottom)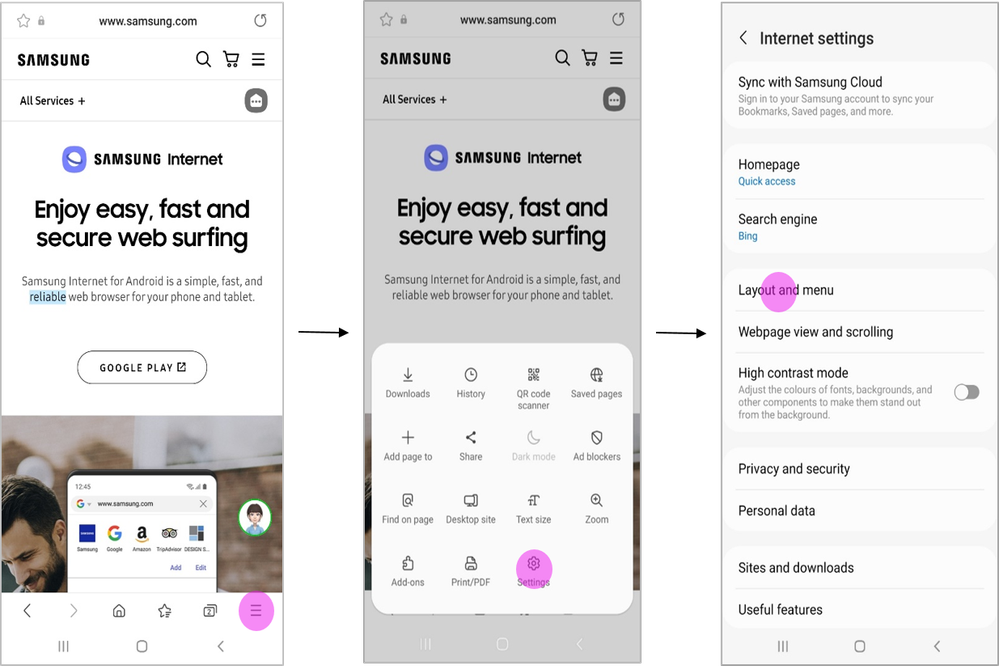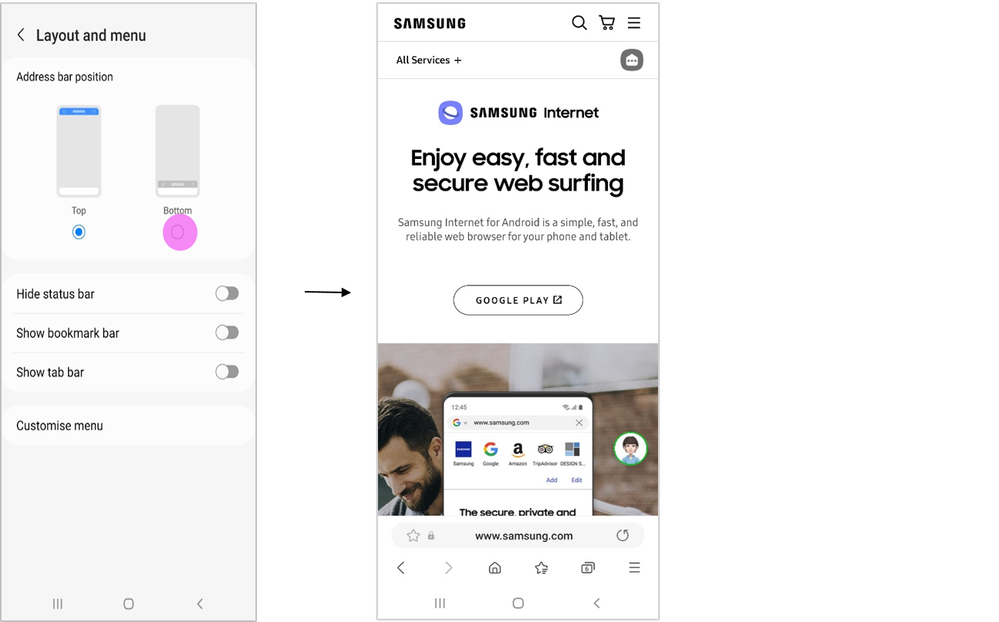 Switch to secure connection (HTTPS)
To further enhance your privacy, you can now choose to switch to a secure and encrypted HTTPS connection.
To enable this feature, go to More -> Settings -> Labs -> Switch to secure connection (HTTPS)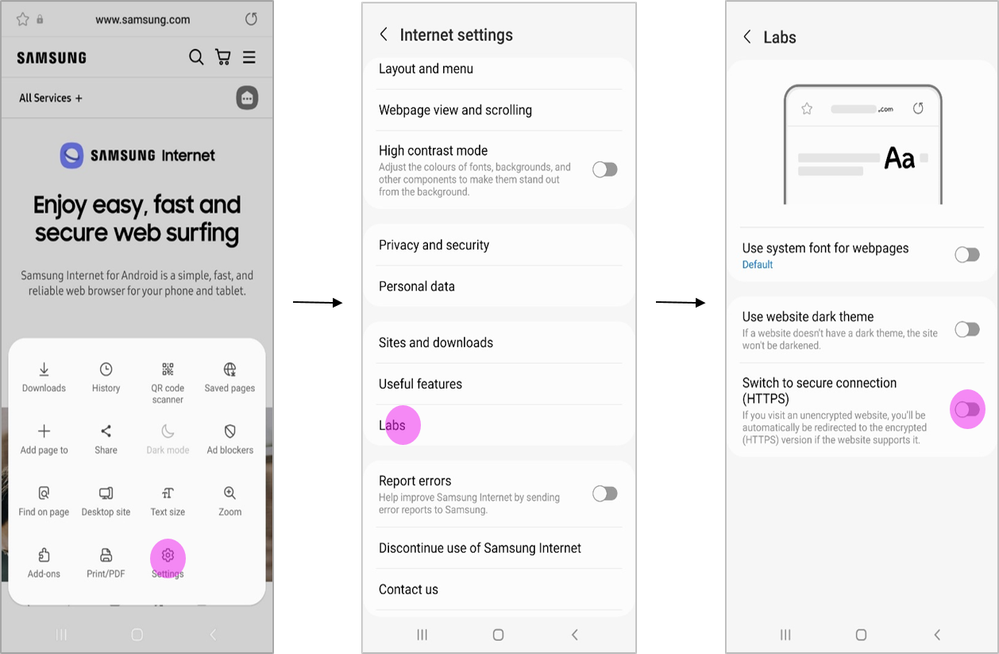 Smart Protect against 'Tracking Pixels'
Samsung Internet further enhances user privacy in its latest update by introducing 'Smart protect against tracking pixels'. The web is surrounded by trackers and 'pixel' is used by one of them. Tracking pixel is a very small, almost invisible graphic of 1x1 pixels which is used by websites to gather your personal information such as device operating system, IP address, and activities on a website, etc. Smart protect will find and block this tracker to protect your privacy.
Enhanced search experience in the address bar
Search experience has been taken a notch higher by introducing intuitive search suggestions in the address bar. A suggestion list is provided while typing the search keywords in the address bar. Order of the search results is as below:
Results that are preloaded domains or answer suggestions
Search suggestions related to user input
Bookmarks and history suggestions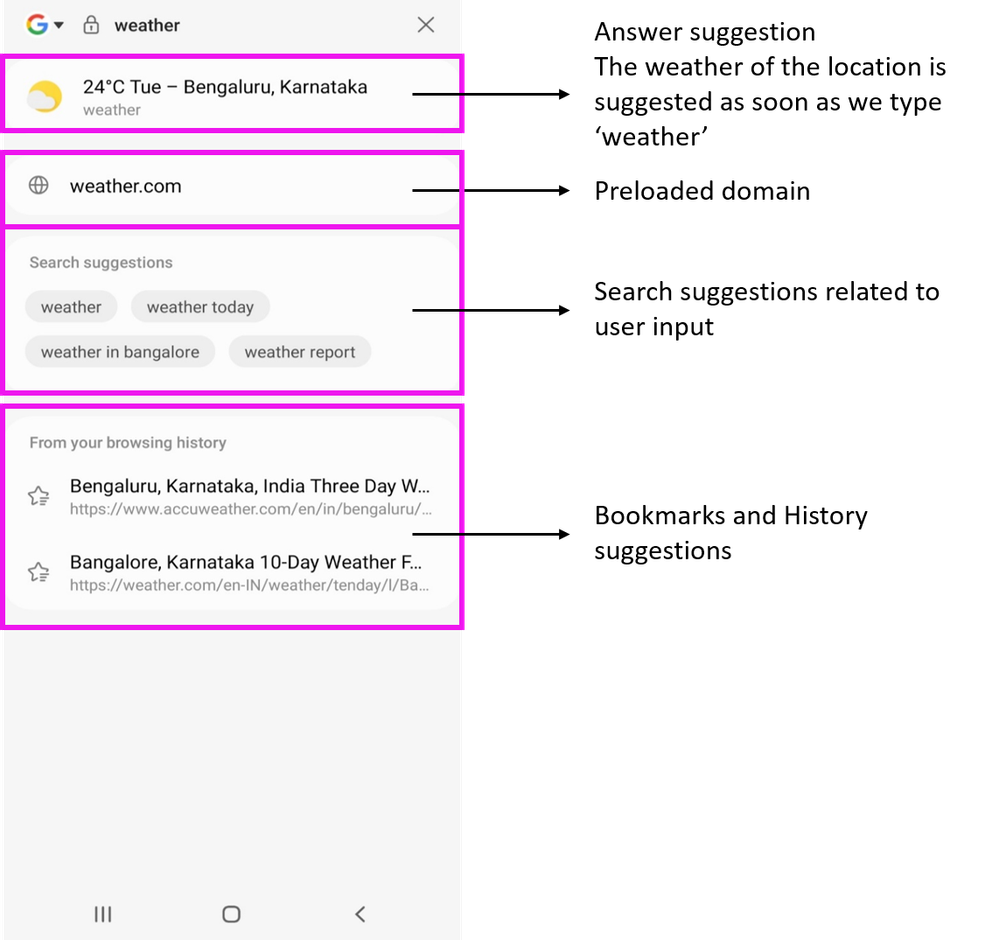 Page zoom- support on phone/tablet
A first of its kind for mobile browsers, the 'Zoom' feature enables users to zoom in to the webpage with ease.
To zoom the webpage, go to More -> Zoom -> slide the slider to the amount of zoom you desire and click on OK.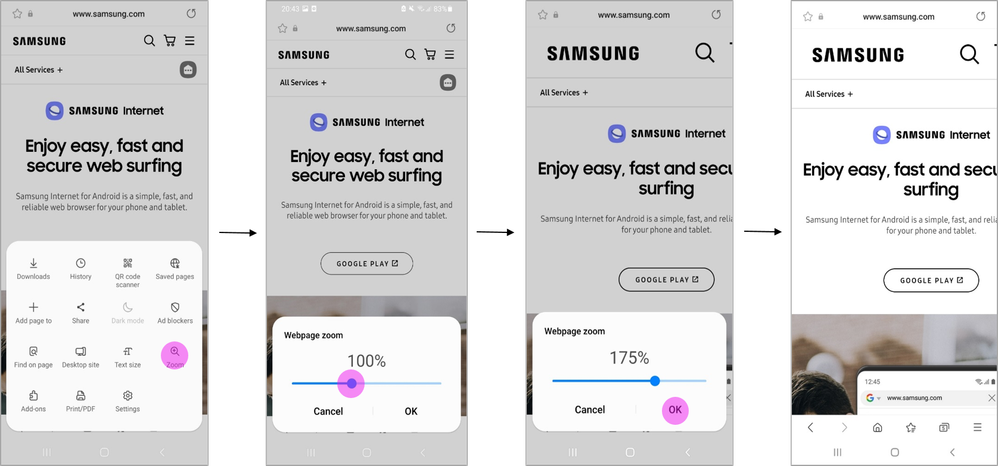 Show Go to Bottom button
A button to go straight to the bottom of the webpage had been provided in the earlier versions.
You can now control the visibility of this button by going to More -> Settings -> Webpage view and scrolling -> Show Go to bottom button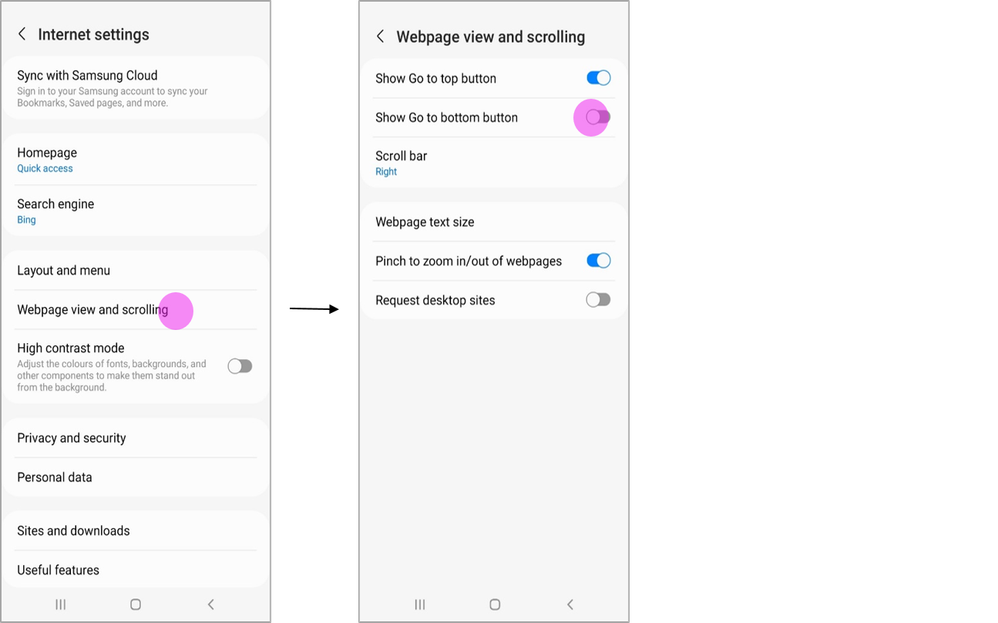 In addition to the above, a new extension 'Subtitles' has been added in the more menu which will provide subtitles in your preferred language and the Web Engine has been upgraded to Chromium M92.
Upgrade to Samsung Internet v16.0 now and check out these exciting features!
For app users - Click Here
For web users- Click Here
Drop us a note in the comment section for any queries or feedback and we'd be happy to assist you.
Thank you for being a part of the Samsung Internet Browser family!