MPSM (Max Power Saving Mode) is a Samsung feature that enables you to extend the battery life of your device. It changes certain settings and applies some restrictions on apps to extend battery. It also supports light-weight home screen which consumes minimal battery.
The feature is supported by 8 apps, four of them are pre-set and the remaining four can be set by choice.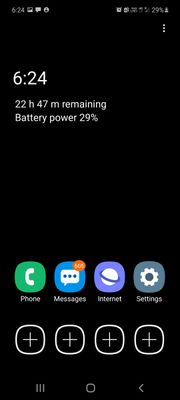 Steps to activate MPSM
Using MPSM is a simple and convenient process.
The following figure illustrates the process to turn on MPSM.

Method 1: Using quick setting "Power saving mode" to turn on MPSM
Method 2: Using Settings app to turn on MPSM
Go to Settings -> Device Care -> Battery -> Turn on "Limit apps and Home screen" -> Turn on "Power saving mode"
To turn it off, click on "Menu" and then turn off "power saving mode".
Functionalities of MPSM
MPSM provides functionalities to add and remove apps on the home screen.
Manage the apps according to your needs. If an app is added, the restrictions are removed for it.
Process to add apps

Process to remove apps
MPSM supports option menu located at the top-right corner.
1. Click on the option menu
2. Select "Edit" option
3. MPSM screen changes to "Edit" mode as displayed in the following figure
4. Select the app which needs to be removed. In the figure, Chrome has been selected
5. Click on "Done"
6. Selected app is removed and MPSM main screen is displayed