Did you ever face any issues making Bixby understand what you are saying? How many times did you have to repeat those Indian names to Bixby, be it Mahatma Gandhi, Chandni Chowk or Ganesh Chaturthi? Some of you probably thought that why do we need to use the US or British accent when interacting with Bixby. Well, the wait is over. Bixby can now effortlessly recognize Indian names, places and even more.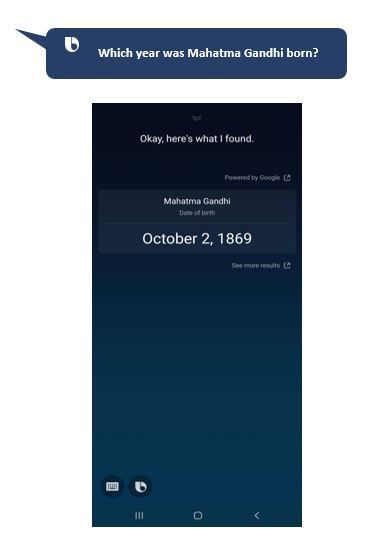 Bixby enabled mobile devices and TV in India are now smart enough to recognize Indian accent. Bixby's sophisticated machine learning models for speech recognition are trained to understand Indian English accent. Your intelligent voice assistant, Bixby will continue to get better with time as it learns more about Indian names.
There is a steady increase in the Bixby active user base on the mobile devices since we started supporting Indian English. Bixby can assist you with a number of things throughout the day - set up alarms, find out news headlines or play music on YouTube. Your voice assistant can also chat with you for some fun and entertainment activities, call someone, or set a reminder.
Bixby can help you start your day with weather updates and news headlines. For the latest updates on news and weather, just ask, "Brief me".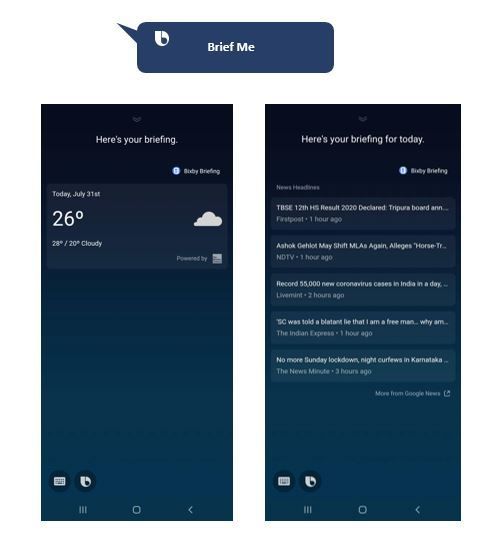 Wish Bixby Good Morning or ask Bixby for a joke for some fun and entertainment. Bixby will keep you engaged with personalized responses for questions such as "Hi Bixby, how are you?", "What's up?", "Good morning!", "I'm home" or "Tell me a joke". You can ask Bixby to help with the navigation. Say "Navigate to Shivajinagar" to get help with the route map and direction.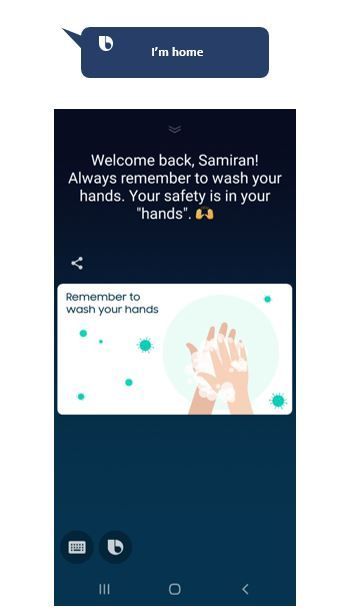 Bixby can help you make phone calls easily. You can just say, "Call Bhupendra" and let Bixby do the job for you. The reminder feature will help you to set a reminder for any given time. To set a reminder, you can say, "Set a reminder for a meeting at 4 PM tomorrow".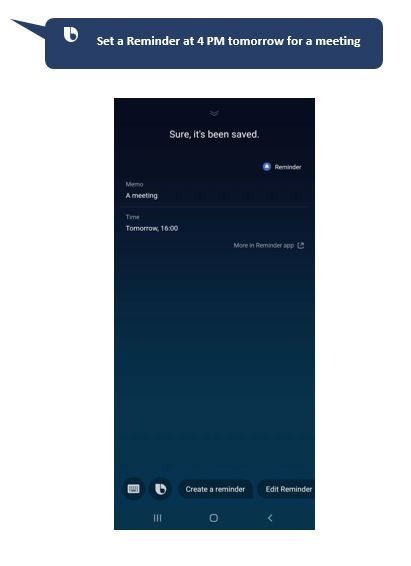 You can just ask Bixby, "How is the weather in Jalandhar now?", "What about tomorrow?" to find out weather specific information. When in doubts, you can use the Q&A feature to find out information about anything.
Bixby on TV offers a wide array of intelligent voice features. Bixby can help you control the TV settings (audio and display), media playback (audio or video play, fast forward, rewind and next), channel (change channel) and lot more while you enjoy watching the TV on your couch. For example, you can simply say "Play Bollywood songs on Youtube" and Bixby will do the rest for you.
In India, Bixby is currently available on Samsung Galaxy A Series (Galaxy A51, Galaxy A50, Galaxy A50s, Galaxy A70, Galaxy A70s, Galaxy A71 and Galaxy A80) and Flagship devices (Samsung Galaxy S Series* and Samsung Galaxy Note Series*)
As for the Smart TV, Bixby is available on the following Samsung models - LS03, Q900R, Q90R, Q80R, Q70R, Q60R, RU8000, RU7470, RU7100, 43R5570 and 32R4500.
* Samsung Galaxy S8, Galaxy S8+, Galaxy S9, Galaxy S9+, Galaxy S10, Galaxy S10e, Galaxy S10+, Galaxy S11, Galaxy S20, Galaxy Note 8, Galaxy Note 9, Galaxy Note 10, Galaxy Note 20 and Samsung Galaxy Fold.