Options
Mark as New

Bookmark

Subscribe

Email to a Friend
Alt Z Life
A "Make for India" Innovation
An "Alive Intelligence" feature
We are all familiar with the feeling of anxiety when someone in our family or friend circle suddenly asks for our phone. Well, there are some personal photos, messages or apps that we aren't comfortable showing to other people. More than that, our smartphone's Gallery may even have images of confidential documents such as Aadhar Card, Passport or Credit Cards.
Data security is key in today's times. We all require an additional level of privacy with the freedom to express ourselves openly in the public, while maintaining a private life. Many of you might have multiple profiles for social media and Instant Messaging, it could be a hassle to manage them all on the same app simultaneously.
Introducing Alt Z Life
Samsung is here to keep your personal data and apps safe with the Secure Folder powered by Samsung Knox, a platform for data security. Wait, it gets better! This feature has been updated to make it super smooth and convenient to manage your private life on your smartphone. And as we like to call it – the Alt Z Life!
Alt Z is a collection of features that have been added to the Secure Folder. From Quick Switch to enabling Content Suggestions, there's so much you can do in your Alt Z Life.
Step 1: Set up a Secure Folder
Step 2: Enable Quick Switch
Step 3: Enable Content Suggestions
That's simple, right? What's even more simpler is how you can set up Alt Z on your smartphone – it's a one-time activity and then you're good to go.
Step 1: Setting up Secure Folder
Powered by Samsung Knox, the Secure Folder can separately store apps and content on your smartphone.
From the Home Screen of your Samsung Galaxy smartphone, pull down from the top edge to bring up the Notification Panel.
Pull down again to bring up the Quick Panel.
Then tap on the Secure Folder icon to begin the set up (Screenshot 1).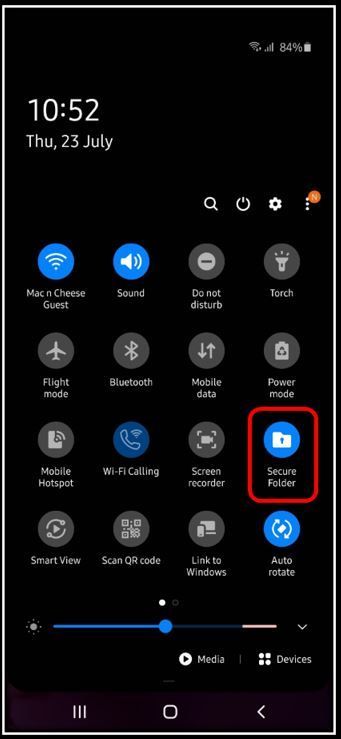 Screenshot 1
Make sure you have a Samsung account before setting up your Secure Folder (Screenshot 2). Create a new one in case you don't already have one. You can also use the "Continue with Google" option, which will use your existing Google account on this smartphone as your Samsung account.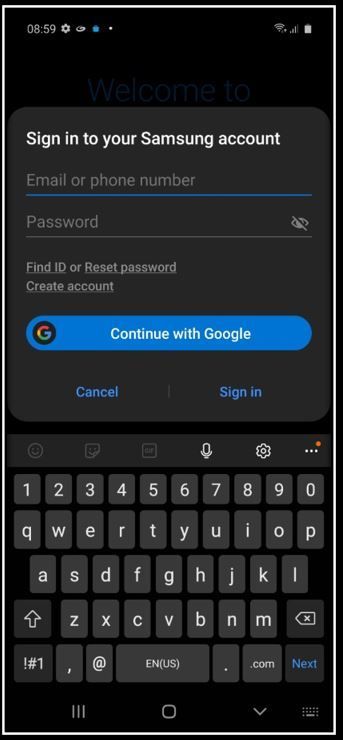 Screenshot 2
All the necessary information will be shared with you through these screens (Screenshots 3 and 4) while the Secure Folder is being set up on your smartphone.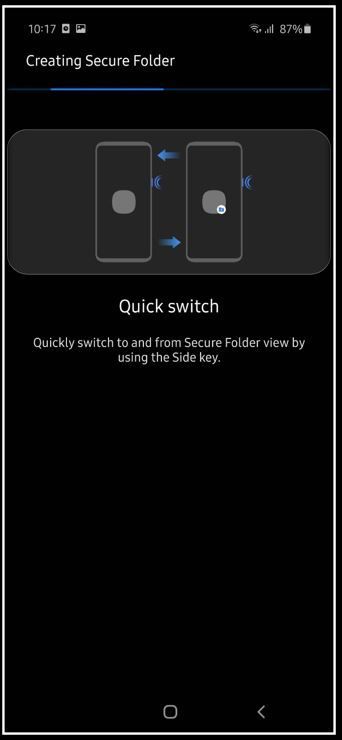 Screenshot 3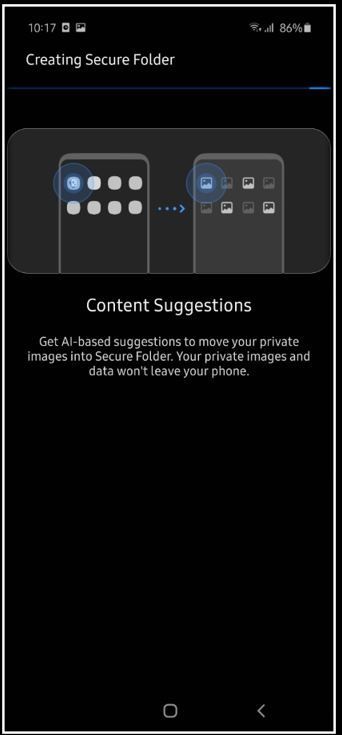 Screenshot 4
Secure Folder needs to be protected by an authentication method such as a Pattern, Pin, Password or Fingerprint (Screenshot 5). We strongly recommended that you use a different authentication from what you use to unlock your smartphone.
Screenshot 5
Once the setup of Secure Folder is complete, you will land on the home page of the Secure Folder (Screenshot 6). This home page contains secure versions of core apps such as Gallery, Camera and Contacts. You will also see the new Content Suggestions app on this page.
Screenshot 6
Step 2: Enable Quick Switch
All it takes is a double-click on the power button to enable the Quick Switch. To make the Alt Z Life even simpler for you, a setting is provided within Secure Folder to enable Quick Switch (Screenshot 7). A friendly reminder also appears occasionally in case you haven't setup the Quick Switch yet (Screenshot 8 ). All you have to do is select the "Quick switch to Secure Folder" option from the side key settings (Screenshot 9).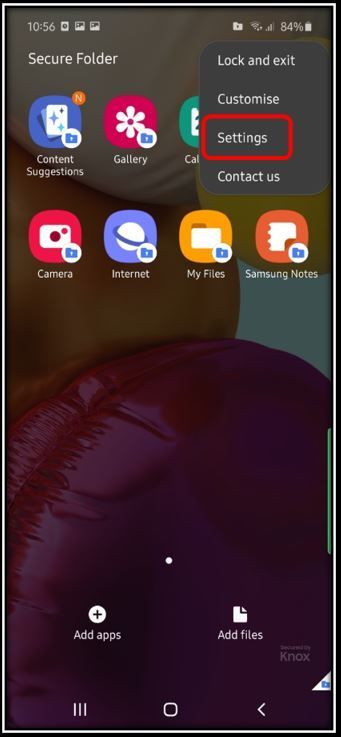 Screenshot 7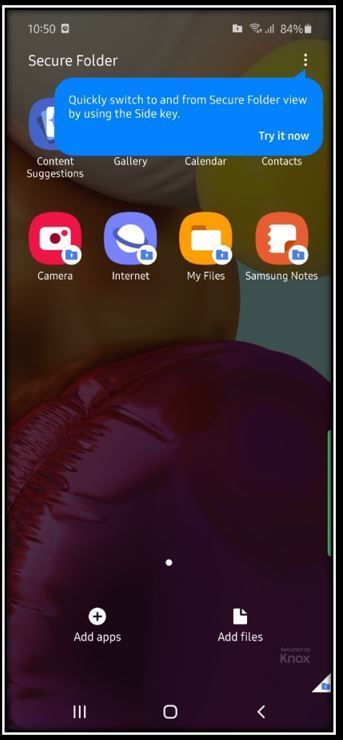 Screenshot 8
Screenshot 9
Once the Quick Switch is set up, you just need to double-click the side key to switch between public and private space on your smartphone. Here is an example of Quick Switch for Gallery. (Screenshot 10)
Screenshot 10
Immediate Lock of Secure Folder
When you use Quick Switch to move from your private space to public space, you may also want to lock your Secure Folder immediately. There is a setting in Secure Folder that lets you configure when the Secure Folder should be locked. You'll receive a friendly reminder for the same (Screenshot 11).
Once on the settings page of Auto lock Secure Folder, select the option "Immediately" (Screenshot 12).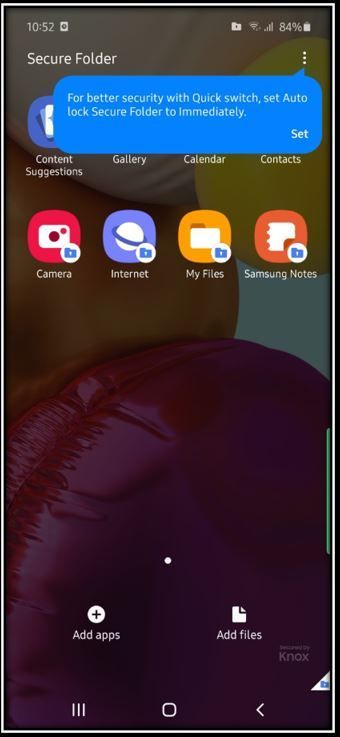 Screenshot 11
Screenshot 12
If you select to lock your Secure Folder immediately, it means that Secure Folder will be locked as soon as you leave the Secure Folder. By doing so, you assure an additional level of privacy.
Hide Secure Folder
For extreme level of privacy on your smartphone, you can completely hide the Secure Folder by simply tapping on the Secure Folder icon in the Quick Panel (Screenshot 13).
Screenshot 13
When you hide the Secure Folder, two things happen:
The app icon of the Secure Folder gets hidden from the app drawer on your smartphone.
Even if you were recently using an app such as Gallery in the Secure Folder, it will not appear in the Recent apps menu on your smartphone. (Screenshot 14)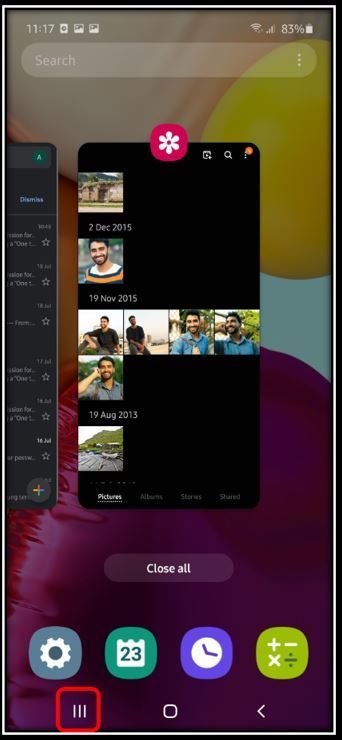 Screenshot 14
Step 3: Enable Content Suggestions
Content Suggestions is a new app that has been added to the Secure Folder. This is an AI driven app that analyses images on your smartphone and suggests if any private and personal photos should be removed from the main Gallery and moved to the Secure Folder Gallery (Screenshot 15). This app runs entirely on your smartphone and doesn't send any of your photos and other content outside of your smartphone to any server or cloud.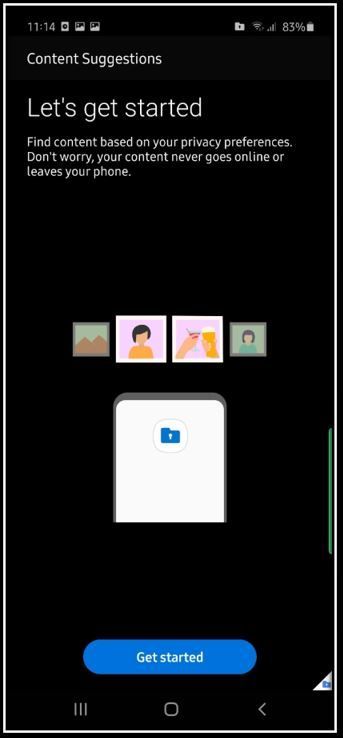 Screenshot 15
While setting up the Content Suggestions app, just choose which type of photos you want to be suggested by this app. This includes photos that you may have clicked or downloaded (Screenshot 16). This also includes photos that you may have received via social messaging apps. You can also choose specific faces of people in your Gallery whom you consider personal (Screenshot 17).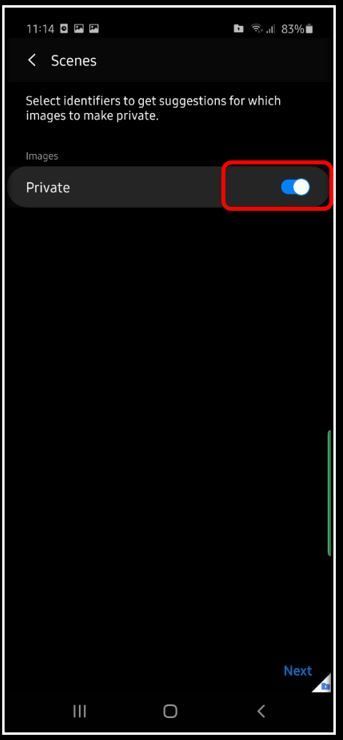 Screenshot 16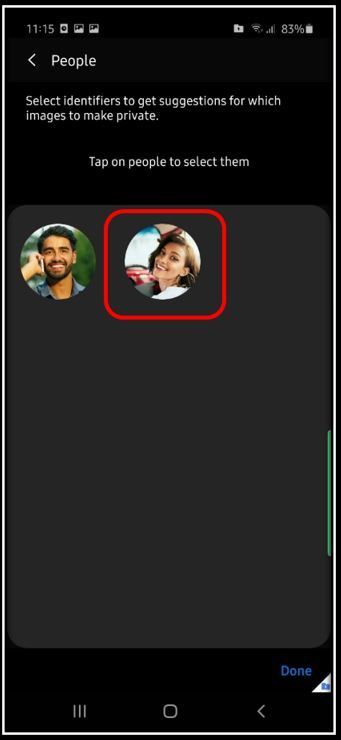 Screenshot 17
Once configured, this app will notify you anytime it finds new photos that may need your attention. You can view the suggested photos (Screenshot 18) and then select the ones you want to move to the Secure Folder (Screenshot 19).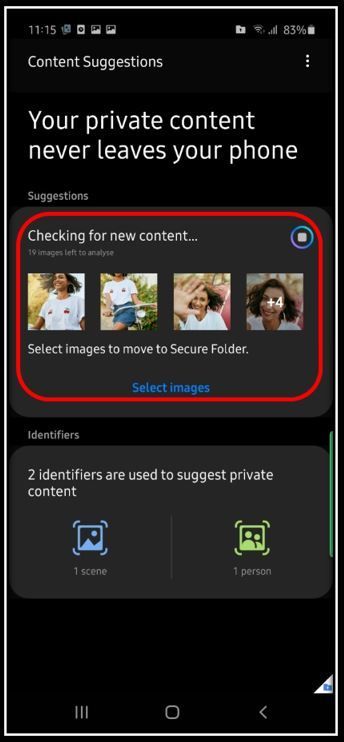 Screenshot 18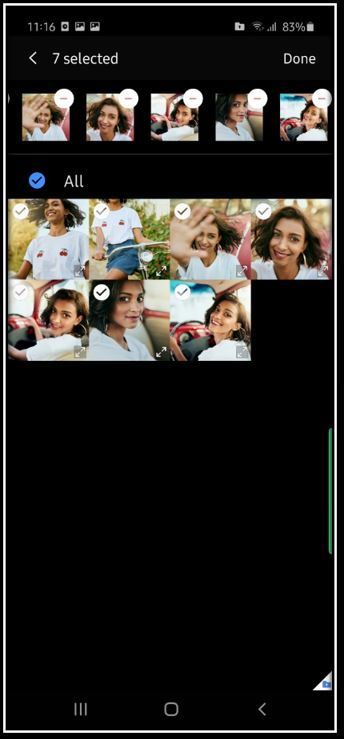 Screenshot 19
Screenshot 20
Once moved, these photos will not show in your main Gallery. You can always view them in the Gallery in your Secure Folder (Screenshot 20).
Note: This feature is currently available on Samsung Galaxy A51 and A71 smartphones in India. For existing users of Galaxy A51 and A71, this feature is available via a software update.