Options
Mark as New

Bookmark

Subscribe

Email to a Friend
Live the Alt Z Life
Where your private content remains private
Have you ever been in a situation in which you are planning a surprise birthday party for your best friend and suddenly your friend wants to check what you are chatting about? Now you can't close the messaging app as it may further ruin the surprise.
Or
Have you ever been in a situation in which you are looking at some personal photos in Gallery and suddenly your little sibling asks you what photos you are looking at?
If these situations sound familiar, you would love to know what Samsung's Make-for-India team has in store for you. Samsung's latest privacy feature 'Alt Z Life' - where your private content, apps, and interactions stay private with Quick Switch & Content Suggestion - was developed primarily keeping in mind the privacy needs of India Millennials and Gen Z. These Alt Z features are a part of Secure Folder, a separate container inside the phone where users can keep important apps, documents, files and images under Knox security.
Quick Switch
The Quick Switch feature lets users instantly switch between main and private mode of the same application with just a double-press of the power (side) key. All private apps, images and folders can be accessed or exited by double-pressing the power key. Users must set an authentication method such as password, pattern or pin that will be asked before entering the private space. Authentication is not required while exiting the private space.
Fig1. Users can enable Quick Switch from Secure Folder settings
Content Suggestion
The Content Suggestion app gives users intelligent suggestions to identify private content. Content Suggestions app uses AI to intelligently recognize and suggest images that might be considered private and allows them to move the suggested images to the private gallery.
Users can also pick face identifiers and AI will start suggesting any picture with that selected face in it.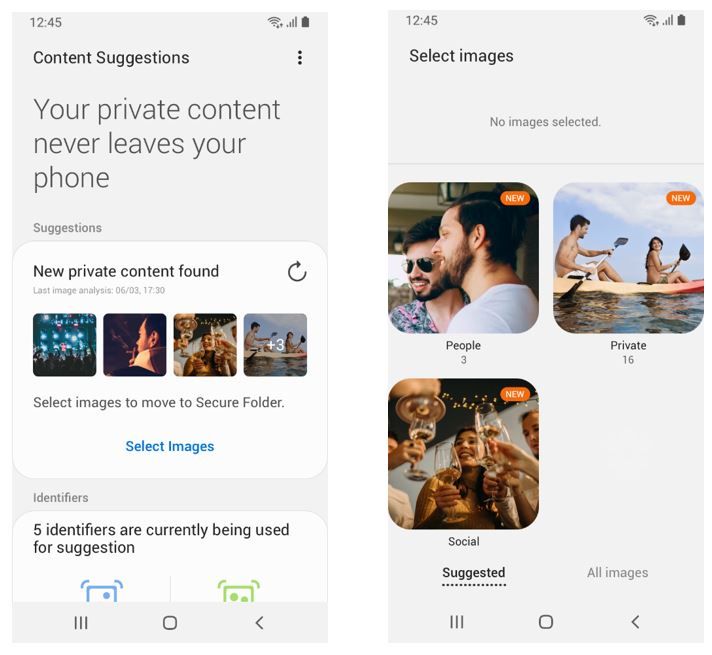 Fig2. Users can use Content Suggestion app from Secure Folder home page
Awesome Alt Z Life Hack!
After configuring Secure Folder and then configuring Quick Switch within Secure Folder, users can hide the Secure Folder from the app drawer by unselecting Secure Folder from the quick panel. Quick Switch will continue to work, however, by double-pressing the power key. The best part about this mode is that apps being used from the Secure Folder will not be visible in the Recents menu if the user uses Quick Switch to exit from the app.
What's more?
Samsung launched Alt Z Life in Galaxy A51 & Galaxy A71 in August last year. Since then, we have seen that Alt Z life has gathered an amazing response from our users; so we are happy to announce that Alt Z Life will soon be supported in most A series and a few M and F series device models in India.
Current list of Alt Z Supported Models:
A31, A50, A50s, A51, A70, A70s, A71, A80
M31s, M51
F62
At Samsung, user's privacy has always been of the utmost importance. We place our highest value on your trust. We plan to bring several privacy features going forward but for now, we would like to know what privacy features would you like to see in upcoming Samsung phones? Please share via the Comments section below.


If you liked the Alt Z features and would want to see them soon in upcoming software updates, then please tweet #AltZLife with your phone's model name on twitter and tag @SamsungIndia.