Smart Crop in Screenshot
Wish to ask your friend about which pair of shoes should you buy? It's simple, just take a screenshot of the e-commerce page and share it with them. Taking screenshots, to capture your smartphone screen, has become a very common behavior. Be it social media content, online bill payments, WhatsApp chats or e-commerce products, one can easily take a screenshot. But there's a little catch here! Most of the times, you'd want to get rid of non-relevant details before sharing a screenshot. To your surprise, one in every five smartphone users edit their screenshots before sharing or saving it.
It sure can become a task to edit the screenshot every time. And that's where the role of Alive Intelligence comes in! Imagine a feature in your smartphone that can make taking screenshots more intelligent. Wondering how?
Introducing Smart Crop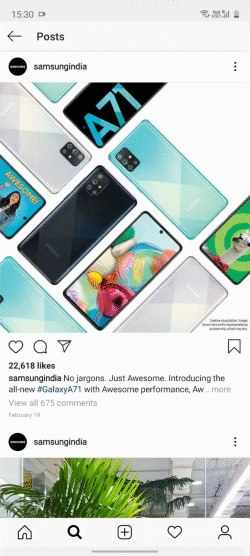 You'd be glad to know that Samsung has launched a new feature called Smart Crop which will automatically identify the most prominent region in your screenshot and highlight it. A Smart Crop icon will appear next to the highlighted region. As soon as you click on the icon, it will intelligently crop the highlighted region. This feature of Alive Intelligence will save your effort and time that goes into manually cropping a screenshot.
What's next? Simply proceed to share or save the cropped portion of the screenshot image. In case you need to adjust the cropped portion, you can always resize the highlighted region by dragging the edges. Let us know what you think!
*This feature is currently available on Samsung Galaxy A51, Galaxy A71, Galaxy M31, and Galaxy M21 in India. It will be available on upcoming Samsung Galaxy devices soon.