Useful Cards in SMS Messages
An Alive IntelligenceTM feature
Do any of these situations sound familiar to you?
The Messages app on your Samsung smartphone contains a lot of useful information in the form of SMSes. Travel itineraries, event bookings, appointments, ecommerce deliveries, discount coupons/offer codes are a few examples. However, this useful information usually gets lost among many other SMSes in your Messages Inbox.
Here is how a typical Messages Inbox (the "Conversations" tab) looks like:
The result is that due to the unwanted clutter in your Messages Inbox, important and useful information becomes hard to find.
Useful Cards
Samsung has introduced a new feature in the Messages app that will help you find useful information quickly and easily. This feature is called "Useful Cards" and it is available as a tab at the bottom of the Messages app. The best part is that you do not need to do anything to enable it. It does all the hard work for you in the background and presents you with useful information at the right time.

How does it work?
Using sophisticated AI technology running entirely on your smartphone, your smartphone identifies important and useful messages among all messages. These important messages are then classified as travel tickets, appointment reminders, offers, OTPs, bill payments, ecommerce deliveries, etc. Based on the category, key data such as PNR, dates, amount or discount code is extracted. Finally, a graphical card showing only the relevant data is created.
Here are some examples of such cards:
Movie Ticket Card:
Bill Payment Reminder Card:
Shopping Cashback Card: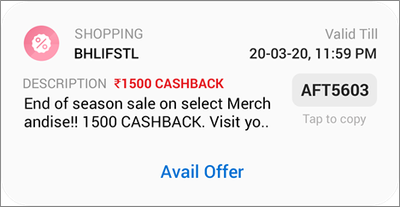 Train Ticket Card:
Flight Ticket Card: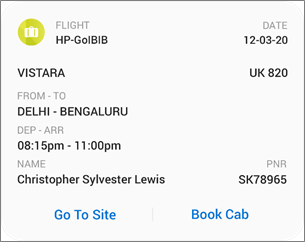 Besides showing the most relevant information, each card also provides a link to the appropriate action that you may need to take for that card. You can book a cab, view a ticket, copy an offer code, or pay a bill among other actions.
This is how the Useful Cards tab finally looks like:
The useful cards are categorized as either Upcoming reminders or Offers. Clicking on any card will take you to the original SMS. Any card that is no longer valid gets removed automatically. However, the original SMSes are always retained.
If you want to be reminded about any upcoming event, just long press a card and then select "Send to Reminder" from the Menu.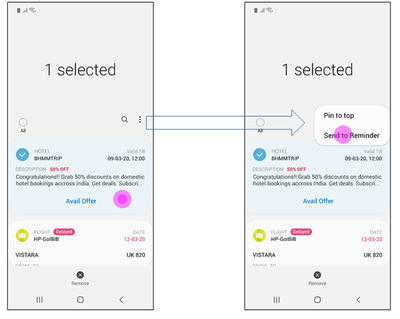 User Privacy
User data and privacy are of utmost importance to Samsung. The data in your SMS Inbox belongs to you and always stays on your smartphone. This data is never sent outside your smartphone at any time while building the useful cards. So you can be rest assured that your privacy is not compromised.
*This feature is currently available only on Samsung Galaxy A51 in India. It will be available on other Samsung smartphone models in India at a later date.