Hello all.
My Samsung Pay on A12 seems to only ask for credit card. Is there an option where I can add my debit card.
Thanks in advance.
4 Solutions
You can consult a Samsung agent on
www.samsung.co.za
and ask cuz I don't have that kind of knowledge
You can add your debit card although it asked you to enter your credit card.
Here is how:
1. Open Settings
2. Select your Account/Profile at the top of Settings
3. Select Payment methods
4. Select Payment methods a second time on next screen
5. Under 'My credit cards', select +Add credit card
6. On next screen, you can scan the card with your camera to automatically add your card or select 'Add card manually' then fill in your card details.
Note: Add the card manually if you find it difficulty scanning through camera.
7. Follow prompts (if any) and you are good to go for your next purchase.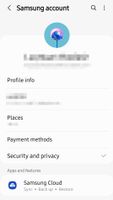 It's funny to see 'add credit card' everywhere which makes the user believe he/she can only add a credit card when actually the user can also add a debit card. Not a user friendly system at all.