Samsung, Sri Lanka's No. 1 smartphone brand, recently launched their photography competition titled "Rediscover Sri Lanka with Galaxy" to great acclaim.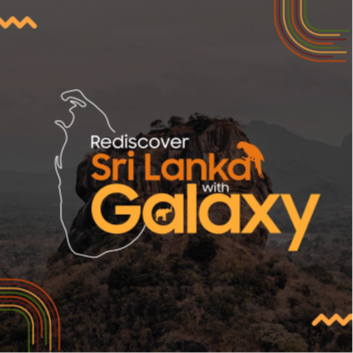 Samsung has stepped forward to share Sri Lankan beauty and culture with the world by connecting #SriLanka and #withGalaxy while promoting Sri Lanka's tourism to rise and contribute towards the economy. This photography competition is open to Samsung mobile users who love to travel and take scenic shots of Sri Lankan landscapes.
Winners will receive a getaway for two in the paradise island through Samsung, by using the hashtags #SriLanka and #withGalaxy, uploading their best photos of Sri Lanka to their Instagram or Facebook pages and sending a DM to the official Samsung Sri Lanka page. Five winners each will be selected from five categories: Nature, Culture , Beach, wildlife and lifestyle.
Samsung has launched this competition to show the beauty of Sri Lanka, the lush green hills, the pristine beaches and streets that whisper stories of historic battles, the delicious food from street food to curries and sweetmeats that are loved by all Sri Lankans, a love language that we speak well. Samsung would also want to bring attention to the hospitality of the people who love to call this island home.
Samsung intends to do this through people telling stories. A picture is worth a thousand words and, therefore people will populate pages with shots of beautiful locations found in Sri Lanka. Because seeing pictures of the beauty of the country will add to the sense of wanderlust individuals have, hopefully pushing Sri Lanka to the top of the list for their next holiday adventure.
"Sri Lanka was dealt a tough blow that we all faced. And therefore, our national image has taken a low blow as well, reducing confidence in travelers to visit our island paradise. And we at Samsung wanted to change this sentiment. Our goal is to flood the hashtag with the beauty of Sri Lanka," said Mr. SangHwa Song, Managing Director, Samsung Sri Lanka.
Take this as your sign to take part in #RediscoverSL if you haven't already! Bring out your inner photographer with Galaxy and rediscover the beauty of Sri Lanka once more and you can stand a chance to win weekly vouchers or a getaway in this island paradise.
More information will be available at Samsung Sri Lanka social media pages.
Always at your Service, wherever, whenever. Enjoy peace of mind when you choose to buy a Samsung Galaxy smartphone. The interactive diagnostics and optimization on the Samsung Members app make it easy to tune up the performance of your devices, while our helpline lets you troubleshoot problems when you need extra support.
In Sri Lanka, Samsung has been recognized as the 'People's Youth Choice Brand of the Year' for four consecutive years by Slim Sri Lanka's review of the country's most valuable brands. As Sri Lanka's No.1 smartphone brand, Samsung's customer base in the country spans all age groups, particularly the Gen Z and Millennial segments.