Options
Mark as New

Bookmark

Subscribe

Email to a Friend
SAMSUNG FLOW FOR RIZE

FALLING (TO INSTALL FROM THE SAMSUNG GALAXY APPS STORE AND IT.S ALSO FALLING TO UPDATE EVEN AFTER BEING UNINSTALLED AND RE-INSTALLES IT CONTINUESLY IS COMMING UP WITH THE ERROR MESSAGE AND .SAMSUNG.ANDROID.GALAXYCONTINUITY EVEN AFTER CLEARING THE CACHE AND DOING A FACTORY RESET DOESN'T EVEN HELP THE PROBLEM WITH THE LATEST SAMSUNG GALAXY APPS STORE MAY UPDATE BUT MY OTHER SAMSUNG APPLICATIONS UPDATE AND INSTALL WITHOUT ANY PROBLEMS AND YET GOOGLE PLAY STORE INSTALLS THE SAMSUNG FLOW APPLICATION WITHOUT ANY HICKUPS OR ERRORS OR ERRORS MESSAGE OR GLITCHS
Options
Mark as New

Subscribe

Email to a Friend
WHAT IS GOING ON WITH THE SAMSUNG GALAXY APPS STORE THAT SAMSUNG FLOW FOR RIZE FALLING TO INSTALL FROM THE SAMSUNG GALAXY APPS STORE AND IT.S ALSO FALLING TO UPDATE EVEN AFTER BEING UNINSTALLED AND RE-INSTALLES IT CONTINUESLY IS COMMING UP WITH THE ERROR MESSAGE AND .SAMSUNG.ANDROID.GALAXYCONTINUITY EVEN AFTER CLEARING THE CACHE AND DOING A FACTORY RESET DOESN'T EVEN HELP THE PROBLEM ???
❗
️
❗
️
❗
️
😡
❓
️
❗
️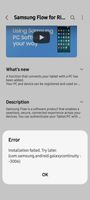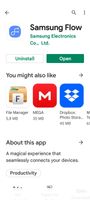 Good day donovangregg,
Kindly be advised that Samsung Flow is not compatible to the Galaxy A series hence you are unable to download it from your Galaxy Store. You may alternatively use the Microsoft link to windows.
To access link to Windows.
1. Access the phone notification panel.
2. Tap the link to windows button.
Options
Mark as New

Subscribe

Email to a Friend
While I have bad news for you I have previously downloaded and installed Samsung flow from the galaxy apps store before the may 2022 galaxy apps store (galaxy apps) update installed