Options
Mark as New

Bookmark

Subscribe

Email to a Friend
Options
Mark as New

Subscribe

Email to a Friend
After update it may happens but still you feel then do visit service centre if possible and get reinstall ur software it may help or wait for next update also You can send feedback to Samsung by using get help section
GetHelp>>SendFeedback>>ErrorReport/AskQuestion>choose appropriate section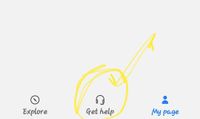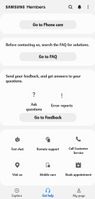 Options
Mark as New

Subscribe

Email to a Friend
And as of now if you want then do these settings and observe for next 1-2 days, it will give a noticeable difference

1. Settings>Connection>more connections settings> disable nearby device settings.

2. Settings>>Location>improve accuracy >disable
A. Wifi scanning
B. Bluetooth scanning .

3. Device care>battery >power mode>select "optimised" and "adaptive power saving".

And then click on "app power management >
And enable these 2 options.
A. Adaptive battery
B. Put Unused Apps to Sleep.

FOR ANDROID 11;
A. DEVICE CARE > Battery>Background Uses Limit > Put Unused App to Sleep
B. Device care>click on 3dot at top right corner>automation>adaptive power saving
C. Device Care > Battery> More Battery Settings>Adaptive Battery


4. Long press on each app specially 3rd party app(LIKE FACEBOOK, YOUTUBE) and rarely used apps and also ON "GOOGLE APP" as well, then click on>app info(ibutton)>> go to these 3 options below on by one

A. Mobile data> allow background data usage>off

B. Battery >allow background activity >off

C. Notification >disable unnecessary notifications like promotional and unnecessary reminder notifications.

5. Go to settings> privacy > permission manager > location> and check which app have accessing your location all the time and if you not using that apps much, then deny access or set as " allowed only while in use"
As unnecessary location access by 3rd party app causing battery drain.

6. Go to settings > Google > on device sharing> check which 3rd party apps present there for e.g. if you use paytm , paytm will shared data to show recommendation and suggestion which also cause battery drain

7. Go to settings > account and backup> Manage account > check which app syncing automatically there, and if any app which not necessary to auto sync then click on it and "disable sync"

8. Go to settings >apps>search "weather" >click on weather settings (icon)> change "auto refresh" settings as per your requirements and disable some unnecessary reminder. ( due to auto refresh it continuously consuming battery)


9. If you use Facebook frequently then disable "auto play video"
And if you are mostly uses mobile, on wifi connection then also disable "auto play videos" in YouTube.

10. Settings>Google >click on 3dot at right top corner>usage and diagnostics >off this option.

Dear Samsung Member,


Greetings from Samsung Customer Support!

To resolve your device battery drain issue please visit this link: https://www.samsung.com/in/support/mobile-devices/samsung-mobile-battery-drain-issue/

For further assistance, register your concern in Samsung Members Application (Open Samsung Members Application > Get help > Send Feedback > Error report/Ask questions).

Thank you for writing to Samsung.
Warm Regards,
Samsung Customer Support