Good evening I have a problem with calls, I can not see the numbers come out as unknown and when I miss the call I do not know who to call, this problem started in the last update I had on the cell phone I was recommended to format the factory mode lohice 2 times and I still have the problem I do not know how to solve and my problem is very serious since I lost a lot of calls and I do not know how to see the numbers I need help.adjusted some photos of the problem.
buenas noches tengo un problema con las llamadas, no puedo ver los números me salen como desconocidos y cuando pierdo la llamada no se a quien llamar, este problema comenzó en la última actualización que tuve en el celular me recomendaron que formatear al modo de fábrica lohice 2 veces y aún tengo el problema no se como solucionar y es muy grave mi problema ya que eh perdido muchas llamadas y no se como ver los números necesito ayuda.adjunto unas fotos del problema.error de registro de llamada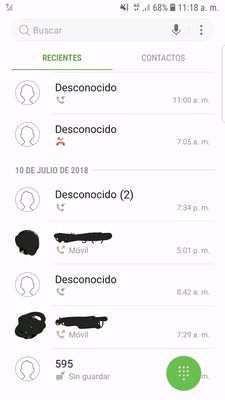 alguien tiene una solución????