I Pre order my S23 Ultra on first day and I use trade in program for the first time. Strange thing happened to me that day. After I pay 5015 AED and order new S23 Ultra I apply for my S20+ 5G phone register to trade in program because in trade in I am getting 1000 AED cash back.
After i register in trade in program within 1 hour of order a green lined appeared from no where on my S20+ Screen. I went to the Samsung store to check what is the issue. They checked my phone and told me to pay 1200 AED to screen replacement. They checked my phone there is no physical damage form inside or outside.
it happens with everyone or its me only ?
I don't know if it's you who I see in the Twitter have the same green line problem.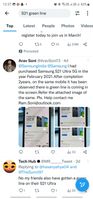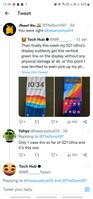 Hello,
Thank you for contacting Samsung Gulf Customer Care
​
Kindly be noted that you need to visit our service center, so they check what is the exact issue.
Follow the below link to find the nearest one to you:
https://www.samsung.com/ae/support/service-center/
​