Please note that this is a subjective personal review that reflects my own experience.
S23 Ultra 512GB / 12GB RAM 5G Snapdragon 8 Gen 2
UAE.
This year's device is all about improvements from last year's S22 Ultra which is already an amazing device to begin with. Last year was special, the Note was finally gone and S22 Ultra replaced it, now, I'm reviewing an already great device that was definitely improved in every aspect there is, maybe not the design. However, nothing is ground breaking in 2023, anything overhyped in ads is just a gimmick or two that you will use twice maybe.
Design:
There's nothing to the naked eye you can spot as different. I personally don't care about the design and colour, I use a skin and a case, the phone is always on its back and screen facing me, so it's 99% the same as the S22 Ultra. If you use it without a case, you will notice a small difference when holding it, as well as less curves on the screen. It's a few grams heavier but you will not feel it. Samsung is using this year the Gorilla glass Victus 2 instead of last year's Victus+ which is better for drops, but same scratches resistance. I tried to fit in the extra Dbrand skin I have on the back of the phone, the camera lenses are few millimetres larger with a few millimetres shifts, so it didn't fit, and that's the only proof to me that the phone is "Different" in terms of design.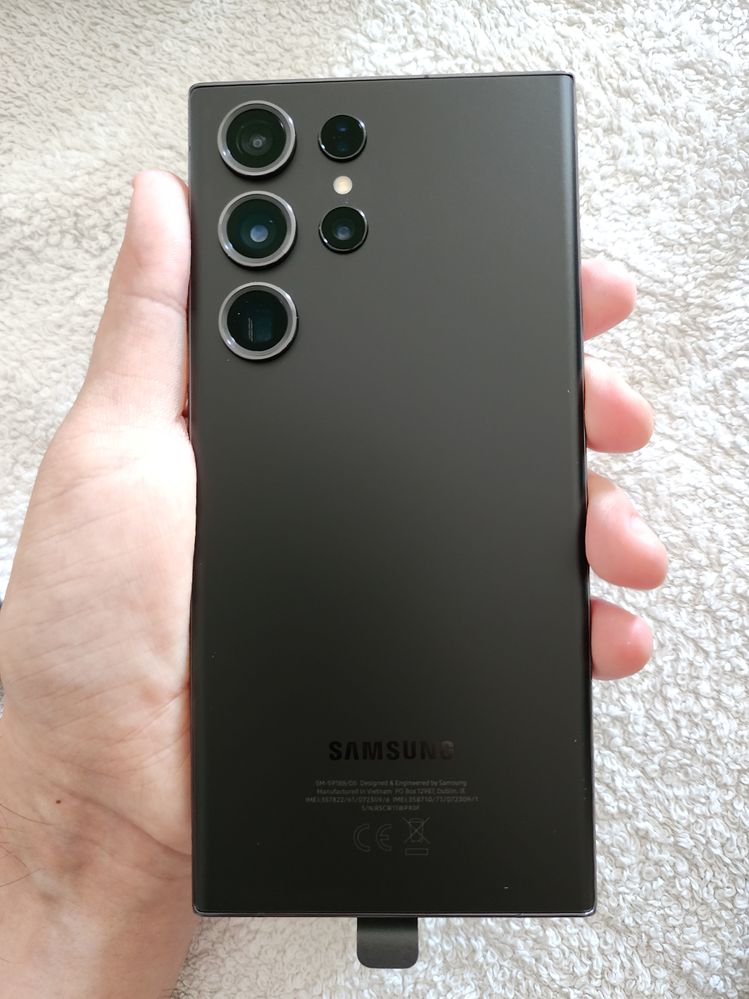 Display:
Same story as last year, the display is amazing. Even more efficient in terms of battery consumption due to the new technology they used(LTPO 3.0 display), so that's your first improvement from last year. Very bright, very crisp. If you want more details on the 120HZ in it, and how it DOES NOT GO DOWN TO 1HZ, here's what I said last year and still applies this year.
Camera:
The camera is improved too, that's your second improvement. 200MP instead of 108MP, but this doesn't mean it's 2 times better. It's around 20% better, I took photos using both phones, I can see it's crispier and with better colours on the S23 Ultra, but that's just it.
The selfie cam is now 12MP instead of 40MP but with better images due to better hardware and software.
All cameras are better honestly, even the Ultra wide, and now you can take 8k 30fps videos unlike the 24fps of last year, but unless you have an 8K TV to enjoy them, I don't know the benefit.
Night mode is also greatly improved on both front and back cameras, everything else about it like ASTROGRAPHY (lol) is just Marketing material, 99% of you will use those modes maybe 4 5 times, the other 1% will enjoy it more(There's always that one that is more excited than everyone else)
There's still a shutter lag, yes it's there in 2023, on the 50MP and 200MP modes, another year with this not improved.
We are not far from Apple anymore, catching up in areas, better in other, and a great improvement by Samsung in 1 year, specially the stabilization.
Battery:
The battery was already good on the S22 Ultra, and now it's even better! Usually the phone consumes more during the Pattern Learning period(First couple of days of use) but I am getting to date, a better battery life than the S22 Ultra after optimization!! this is due to the Snapdragon 8 gen 2 used along with the screen efficiency. The phone will drain very slowly if not used or when left alone. So far very pleased with it and that's your third improvement.
We still have the 45W charging in the S23 Ultra.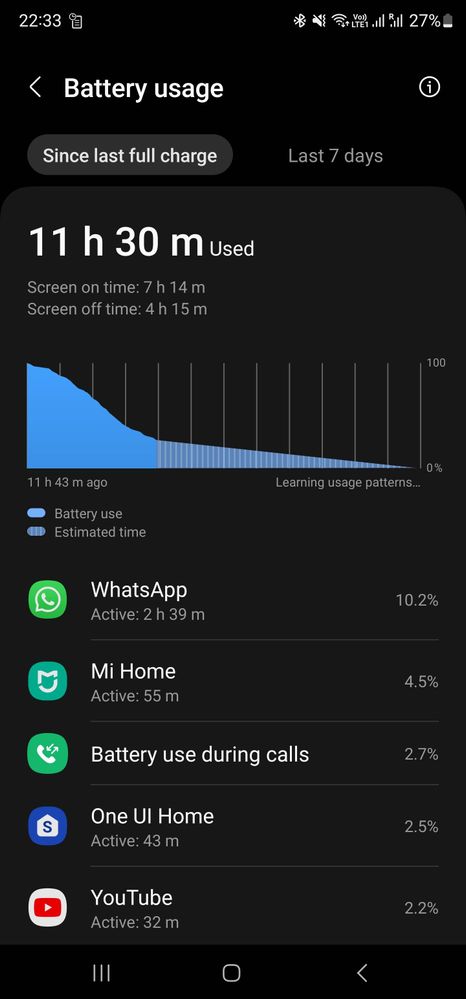 Ram and Storage:
I spoke last year about the UFS 4.0 storage, here's a link to the article, it's much better, faster, and I copied all the data from the old phone to the new one from an SSD, it took around 30 mins to copy 300GB.
The DDR5 RAM makes the phone snappier and faster, I am opening the apps next to each other on both phones, there's a difference that you will see with your eye and feel, another amazing improvement.
Sound/Speaker:
Surprise surprise, I couldn't believe it's a Samsung speaker, you will feel a bass punch, never heard before on a Note or S series or maybe a Samsung device I have used, so happy with it, and yes, another improvement.
Performance:
It's only normal that the phone is better than last year's. But the combination of the "Snapdragon for Galaxy" which was overclocked specially for Samsung, with the UFS 4.0 storage and DDR5 ram used along with the OS and efficiency of the screen, gave us a device that is so far awesome in terms of performance, with very good battery efficiency. I did a couple of tests on Geekbench, and below attached the results.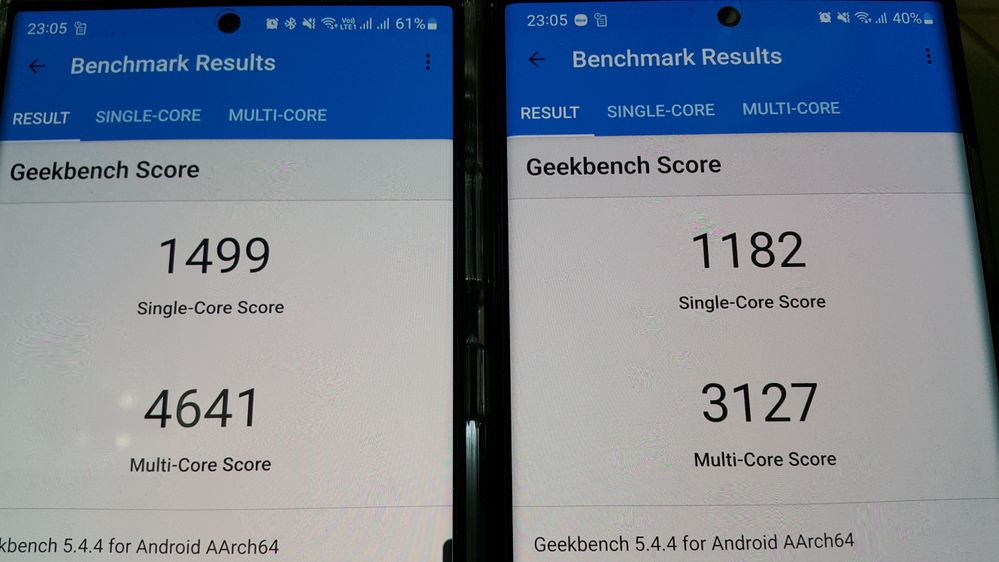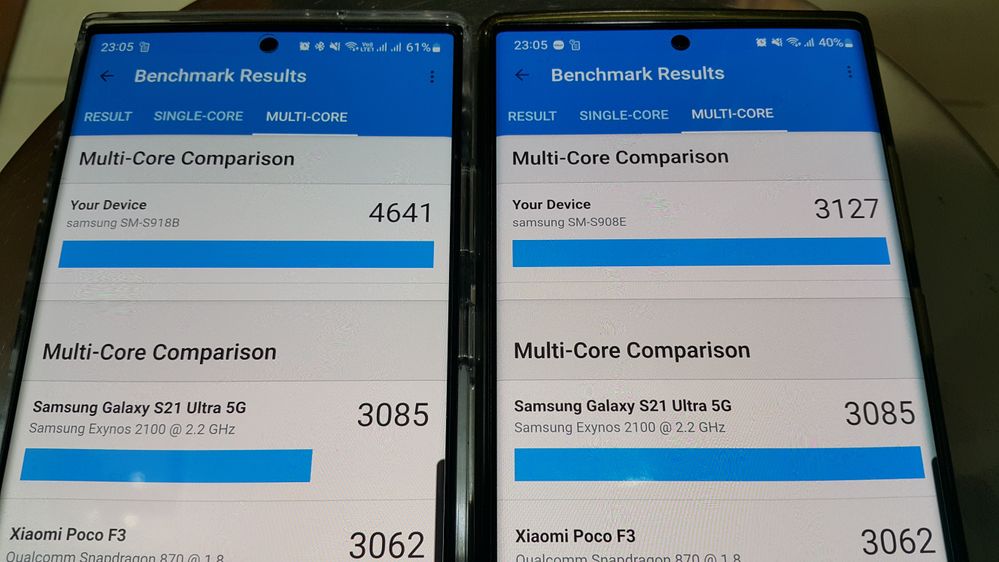 Should you upgrade?
S22 Ultra users, it's up to you honestly. There's nothing ground breaking in the device, don't get fooled by any EPIC or Astrography ads to buy the phone. It's definitely better than the S22 Ultra, like 20% better, but keep in mind, the S22 Ultra is already awesome. If you feel you need that percentage upgrade go buy, if not, maybe wait a bit. [EDITED] The Trade In program this year is good, i previously said it's not but changed it as the price for my S22 Ultra went from 1847 AED to 2847AED.
Any other users of Note 20 or earlier, S22 series or any other model, yes, go ahead, don't think twice, what are you waiting for? this phone is amazing for you.
Verdict:
An amazing successor to an amazing S22 Ultra, definitely improved, but nothing ground breaking in terms of innovation, just improving every aspect of the device on the inside, a true power house, and i love it.
Make sure you pre-order online from Samsung.com to benefit from everything Samsung is offering like exclusive colours, 500AED(UAE Only) voucher that can be redeemed on checkout to buy accessories(I redeemed my 500AED for 1 Case, 1 small wireless charger, 1 large wireless charger, 1 45W charger) or other items(while they are available, hurry up), 2 years instead of 1 year of Samsung Care+ as well as other freebies like subscriptions, and 5X Samsung points which can be converted to credits you use on your next purchase to discount any item you buy(I used mine and saved 750AED because i accumulated 75 000 points from previous purchases)
Go to Samsung.com and check what your country is offering, and remember to activate the Samsung Care+ within the 1st 30 days of receiving the device. Here's a link from last year on how to:
Cheers and congratulations on your new device, if you have any questions before buying, please let me know.
I will try to post in a couple of days a 10 or 12 days review of the device, my findings, the battery life, what is good and what is bad if any.
J.