So got fed up with my s20 fe shitset. The battery fuck ups, phone getting super warm during calls and most annoying touch screen issues I cant even attend calls after i take my set out of my jeans the screen just wont respond.
Leaving samsung for ever.
Brother I haven't faced issues your talking about.
I get minimum 5hrs sot, heating is something we'll known to 990 processor but it's not as effecting performance. Just use it and enjoy. See my battery timing charged last night still on 87% aster 2hr sot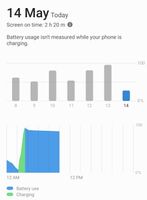 I only get 4 hours of SOT if i do nothing except using whatsapp md fb and the phone is on 60fps. On 120 fps not more than 2 n half hours. For me the most annoying issue is the ghost touches. It just makes impossible to write a single sentence without missing or mistyping 40% of letters. 7 out of 10 times i have to turn screen turn on & off multiple times just to make it function. Else no response. I dont know if this set has a faulty panel or what. Never dropped it or got it damaged in anyway. Its from the day first.