let me tell you guys' what happened with me
This phone (Galaxy S22+) was meant to be a gift for my wife
Day 1 - Date 07/09/2022 - My phone got delivered to my home, I opened it checked everything found front camera not working.
Day 2 - Date 08/09/2022 - I went and showed the phone to Mall of emirates service center, they said no worries. your phone will be replaced with new, as you bought it yesterday.
Day 3 - Date 09/09/2022 - No response
Day 4 - Date 10/09/2022 - I followed up with I-Cell and they told me, yes you can come and collect the paper that will help you in your replacement. I rushed to mall of emirates to get the phone. But to my surprise, they told me to go and collect the device from Etisalat as I have bought it from them. I went to Etisalat and they said; we don't do any replacement as we are not the manufacturer and its a manufacturer defect. Now I am running back to Samsung service center who are not willing to take the phone back from me. Then I called 800-Samsung they said; no, Samsung should replace the phone so kindly give the phone back to them. The Samsung representative talk to I-Cell rep and made him take my phone.
Day 5 - Date 11/09/2022 - No response
Day 6 - Date 12/09/2022 - I am following up with the service center, instead of them. Now they tell me that your phone will be replaced by Eros in Dubai Mall. So kindly collect the defective phone from here and take it to Dubai Mall and they will replace it. this was confirmed by the Samsung Rep online as well. As you can see in the screenshot of my chat.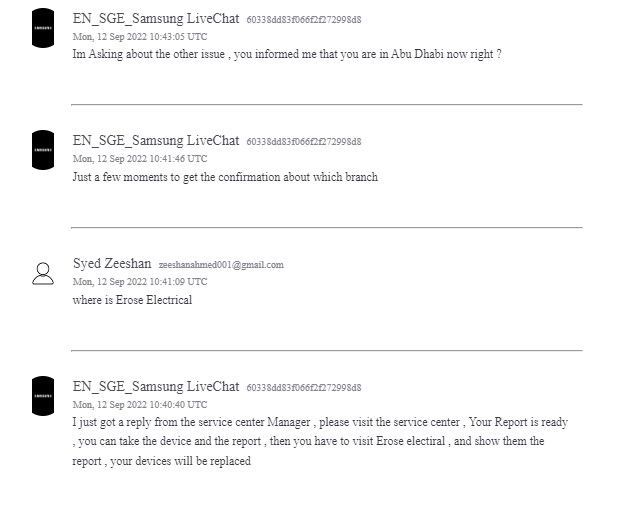 I reached Mall of emirates collected the defective phone and now proceed to Dubai mall for replacement. I reached there and surprise, they have no clue about it. Now they took my defective phone and told me to wait 3-4 working days.
Day 7 - Date 13/09/2022 - No Response
Day 8 - Date 14/09/2022 - I follow up for my request, the person on the other end informs me that we have send an email and they will give you a call in 2-3 working days.
Its been 7 Days now since I asked for a replacement. I have never been this angry in my life. People told me to go for an Apple and I didn't listen.
How long does the replacement of a device should take????
Hi,
Please be assured, that your request has been shared with our concerned team and is under proper investigation.