One UI 6 Beta S22 Ultra Series
Flash manually to your phone according to your model. Complete list of model is given in the list.
Don't do it if you dont know what are you doing.
It wont trip knox or samsung warrenty. Do it at your own risk .
S22 ULTRA U1 UNLOCKED One UI 6 Beta 1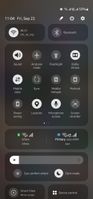 Acessei aqui SAMSUNG Member e nao tem baner e nem notificação pra se tornar testador beta , pelo que intendi nao saiu para o Brasil !
Mais se eu baixar a firmware da india e instalar no meu S22 ultra e depois acessar SAMSUNG Member sera que vai aparecer o baner ou a notificação pra testar versão beta?