Options
Mark as New

Bookmark

Subscribe

Email to a Friend
LetsGoDigital has received reliable information from a source closely associated with Samsung Electronics. This source also provided us with images of the new devices.

However, in order to guarantee the anonymity of our source, it is unfortunately not possible to put these images online. These images have enabled us to make very accurately designed 3D product renders of all three expected models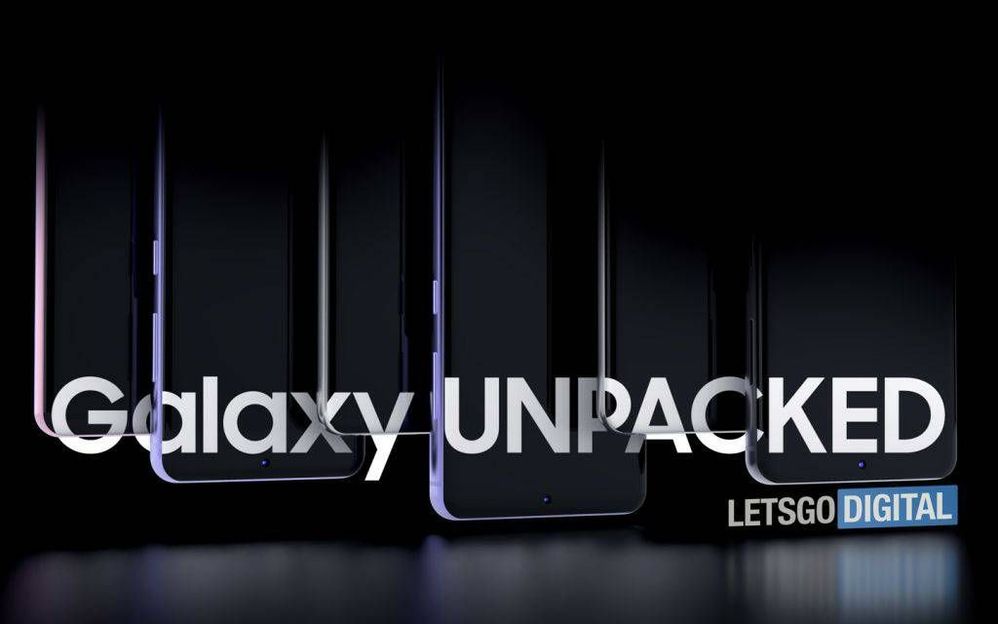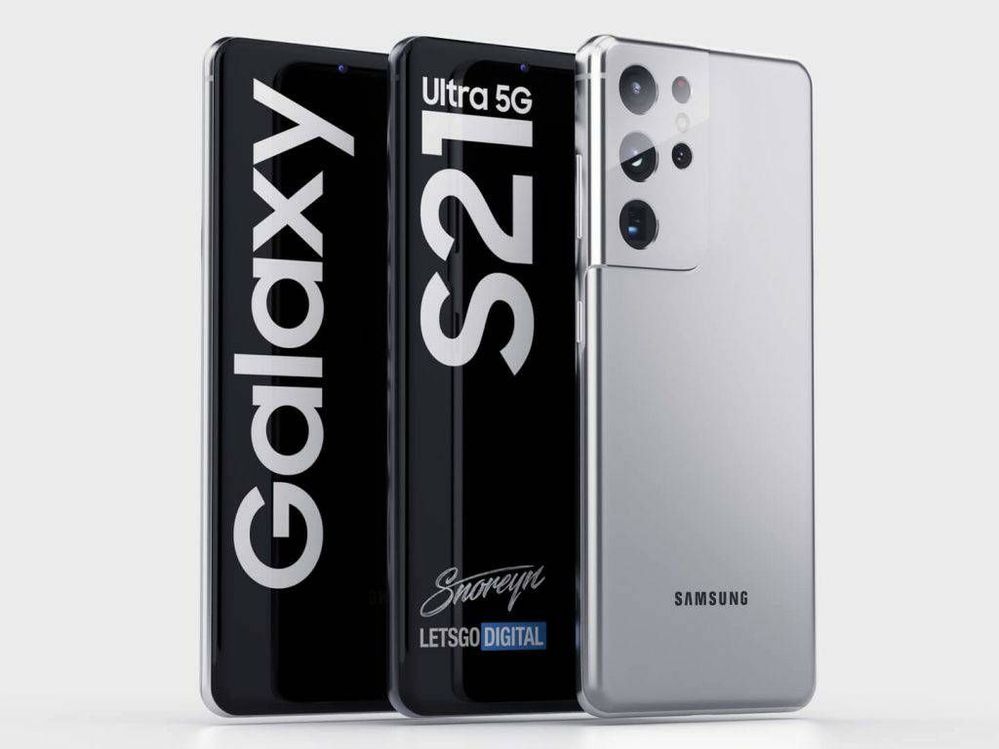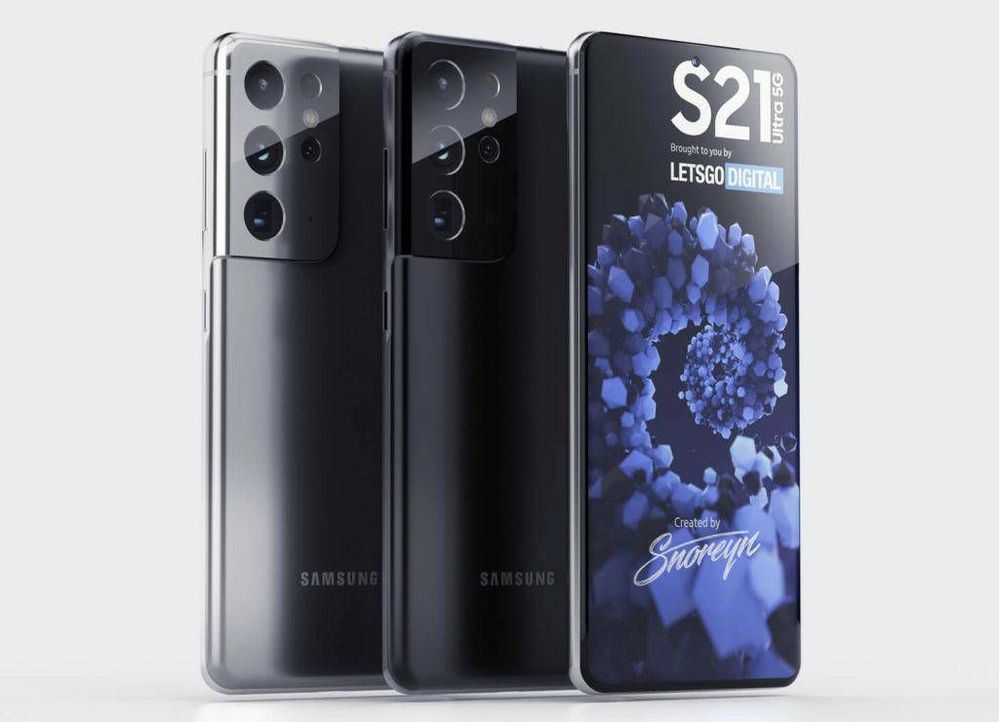 Galaxy S21 models, the Ultra will have a curved display - this gives the smartphone an extra premium look-and-feel. The rounded 6.8 "screen has a QHD + resolution and supports an adaptive 120 Hertz refresh rate.

As for the processor, as we have become accustomed to from Samsung, the European Galaxy S series models will be powered by Samsung's Exynos chipset. It is the Exynos 2100. The recently introduced Qualcomm Snapdragon 888 is used for the South Korean and American models.
This octa-core Kyro 680 CPU offers up to 25% better performance than its predecessor; the Snapdragon 865. The Snapdragon 888 also has an integrated X60 modem, which supports 5G at mmwave and sub-6GHz frequencies. The Samsung Exynos variant will deliver comparable results to a large extent. Although the Exynos version generally delivers slightly less good performance and is also slightly less energy efficient than the Qualcomm variant - as shown by various benchmark test results.
As for the device colors, it is expected that Samsung will release the Galaxy S21 Ultra at the time of the market launch in two colors: Phantom Black and Phantom Silver. Usually, Samsung introduces one or two extra color variants a few months later - before the summer - to provide an extra sales boost. The unique Mystic Bronze color scheme, which was so typical for the 2020 model series, will unfortunately expire next year.

Galaxy S21+
The Samsung S21 Plus will most likely get a 6.7-inch screen. The 120 Hertz refresh rate is maintained, except that only the Ultra model supports an adaptive refresh rate. In this way, the smartphone can determine itself when which refresh rate is best to apply. For example, when consulting internet pages, 60Hz is more than sufficient, but if you are playing a mobile game, 120Hz is desirable. This ensures extra smooth images. Unfortunately, the S21 + will not support this adaptive refresh rate.
In terms of camera system, no major changes are expected compared to last year. The S20 + received the same camera configuration as the base model, with one important difference. The Plus model was provided with an extra DepthVision camera - which was also integrated into the Ultra model. This DepthVision camera will most likely expire with the Galaxy S21 series.
The Samsung Galaxy S21 Plus gets a 12-megapixel wide-angle camera, a 12-megapixel ultra-wide-angle camera and a 64-megapixel telephoto camera. The latter makes 3x Hybrid zoom functionality possible. This is the same camera configuration as the S20 / S20 +.
Galaxy S21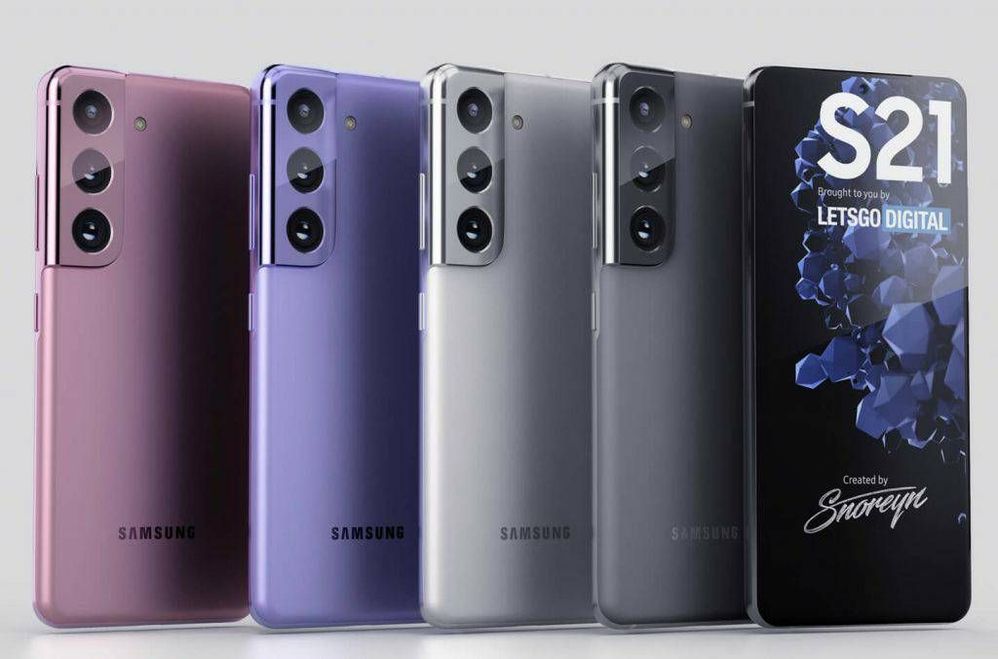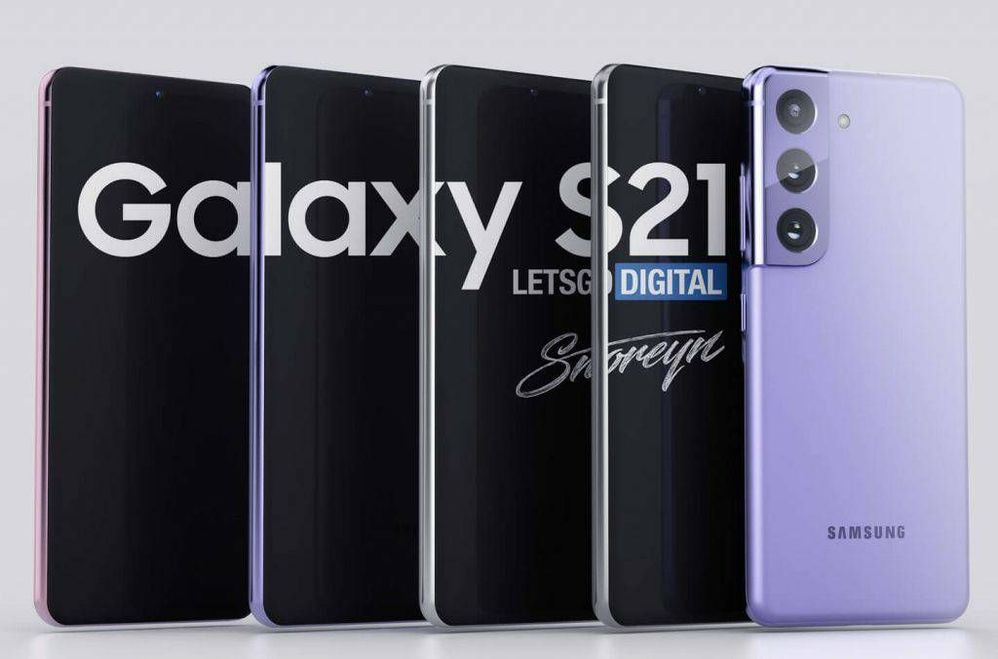 The S21 will be the cheapest addition to the three expected S-series smartphones. Later in the year, a Galaxy S21 FE is also expected, as a cheaper alternative. Just like last year, the basic model is designed the smallest. The display size is therefore the main difference with the Plus model. The Samsung S21 is equipped with a 6.2-inch screen. This will also be a flat display with a Full HD + resolution. Just like the Plus model, the basic model will also be provided with a plastic back.
The triple camera system at the rear will be identical in configuration to last year. It concerns a 12 megapixel wide-angle camera, a 12 megapixel ultra-wide angle camera and a 64 megapixel telephoto camera with 3x Hybrid zoom and 30x Digital zoom. Videos can capture all 2021 S Series models in an 8K resolution. In terms of design, the camera of the S21 will correspond to the S21 +.
Due to the smaller display, a smaller battery will also be built in. The Galaxy S21 is expected to feature a 4,000 mAh battery - again no changes with the 2020 model. Charging is possible with a maximum charging power of 25 Watt, although a 15 Watt adapter will probably be supplied as standard.
As for the colors, Samsung S21 users get the most choice of colors. This smartphone will be released in four colors at launch - the available colors may vary by region. These are Phantom Gray, Phantom White, Phantom Violet and Phantom Pink.
SAMSUNG NEON
Samsung is also expected to pay attention to Samsung NEON during the official introduction of the Galaxy S21 . This Artificial Human was introduced at CES 2020. However, it seems that NEON is now also coming to mobile - as the CEO of STAR Labs (Samsung Technology & Advanced Research Labs) hinted via Twitter . Initially, NEON willnonly be intended for B2B applications. It will be made available as an API to integrate NEON real-time calling experiences with third-party mobile apps and web services.
Users can generate their own virtual AR person with Samsung NEON, so you can create your favorite character that helps you with your daily tasks. You can determine, among other things, whether you prefer a woman or a man.

- LETSGODIGITAL