Why doesn't Samsung clock have world clock widget the vanilla clock widget if Google has the world clock widget .
Can this be added as a functionality it will be really helpful.
I know we have dual clock I need 4 timezones ios had that widget and Google clock has that widget
Like this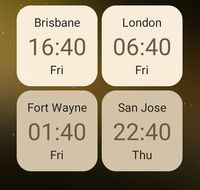 Google clock has this feature of adding upto 6 Timezones. As for samsungs vanilla clock app their doesn't seem to be this option. And you want it for samsung clock app right? Unfortunately, their isn't a solution. If you really want 4 timezones, then Google clock is the way to go. I hope I helped you in some way.