Options
Mark as New

Bookmark

Subscribe

Email to a Friend
Good Morning, Night dwellers
As I was bored and got nothing better to do. I have decided to conduct my own experiment on battery life according to my daily usage. This is follow up to my previous post and I will conclude the usage pattern, battery life and charging speed/time as well.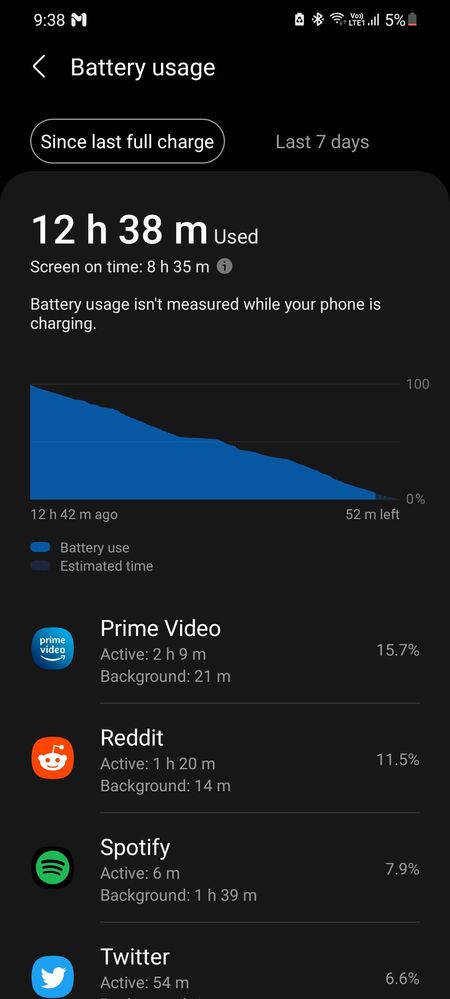 The two photos shows usage pattern and SoT from 100-15%(adaptive brightness and 120Hz) and 15 - 2%(on power saving mode) respectively. I was pretty amazed with the battery life.
8.35hours of SoT is mind boggling.
Now coming to charging speed. I used the in box type C to type C charging cable and samsung's original 25W charger(official samsung store bought).
I started from 2%(~0% here on)
9:39PM ~ 0%
10:05PM - 42%
10:10PM - 50% (almost 30mins)
10:39PM - 88% (1 hour mark)
10:49PM - 93%
10:57PM - 100%(1hour and 18min)
While charging power saving mode was disabled and I did not wake up the phone single time.
Charging is sufficient given 30mins can give you 50% of battery. More than enough for emergency. As a chemical engineer I'm somewhat familiar with the battery dynamics that goes on while charging and discharging and it's good that samsung has not up their charging speed by alot unlike some chinese companies. Charging at ultra fast speed is not good for battery life no matter what companies says. Yes, they have developed better technology and all but still not favourable and that's the reason samsung and apple still sticks to lower wattage compared to other brands.
To conclude I was bored and I'm impressed with the experiment I have done today.